Giuliani Could Face Expulsion From New York State Bar Association
@jarrell_zach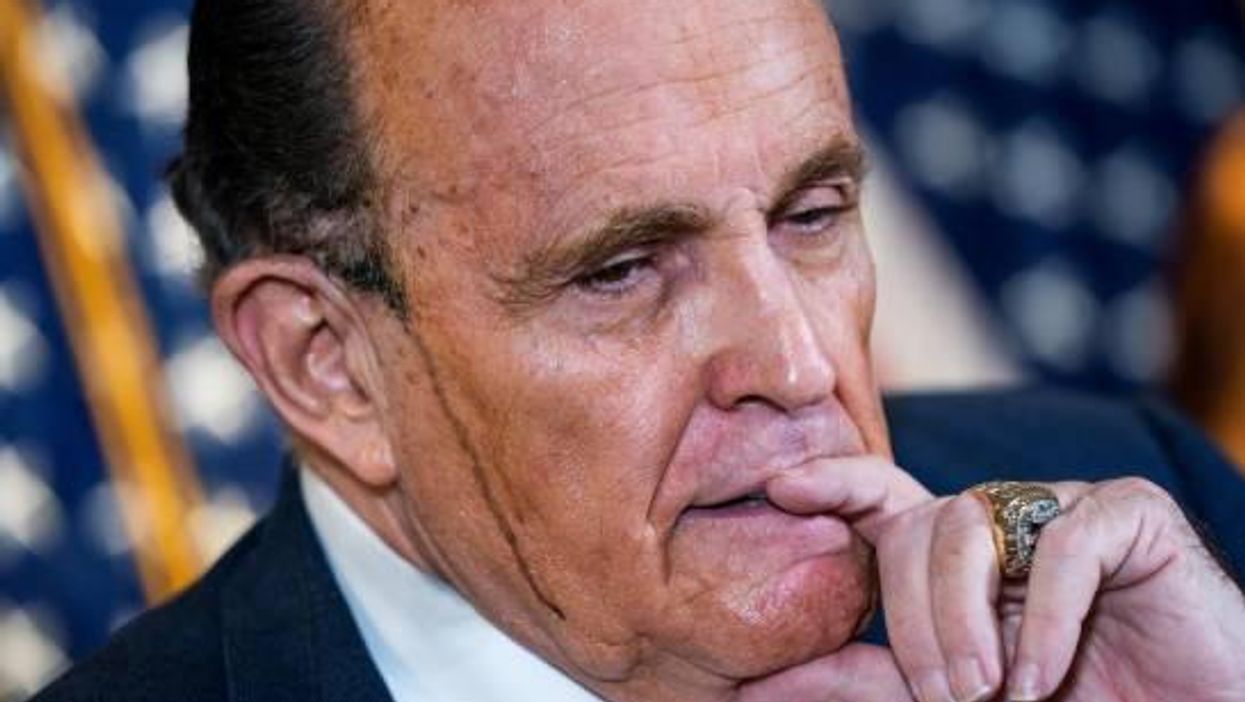 The New York State Bar Association(NYSBA)is launching a probe that could lead to Rudy Giuliani's expulsion from its membership, according to anNYSBA blog post. The inquiry will investigate statements President Trump's personal attorney made leading up to the assault on the Capitol by MAGA rioters last Wednesday.
"As the nation's largest voluntary state bar association, NYSBA has a responsibility to defend and protect the rule of law," the post said. "Based on these complaints, and the statement Mr. Giuliani uttered shortly before the attack on the Capitol, NYSBA President Scott M. Karson has launched an inquiry pursuant to the Association's bylaws to determine whether Mr. Giuliani should be removed from the membership rolls of the Association."
The statement they refer to is a comment Giuliani made addressing a crowd of Trump's staunchest supporters at the White House:
"If we're wrong, we will be made fools of, but if we're right a lot of them will go to jail. Let's have trial by combat."
The NYSBA said that Giuliani would be given "due process and have an opportunity – should he so choose – to explain and defend his words and actions," but they "cannot stand idly by and allow those intent on rending the fabric of our democracy to go unchecked."
The news comes the same day that the Treasury Department announced sanctions against the inner circle of Andrii Derkach, the pro-Russian Ukrainian lawmaker who aided Giuliani's efforts to investigate wrongdoing of President-elect Joe Biden's family, even though the allegations were unsubstantiated, according to Politico.
"Russian disinformation campaigns targeting American citizens are a threat to our democracy,"
Treasury Secretary Steven Mnuchin said
in a statement, quoted by
Politico
. "The United States will continue to aggressively defend the integrity of our election systems and processes."
The news organization also noted that "the department had previously designated Derkach himself for sanctions related to foreign interference in the 2020 election in September. But on Monday, the department 'took additional action against seven individuals and four entities' that it alleged were 'part of a Russia-linked foreign influence network' associated with him."
As for the NYSBA probe, Giuliani has a good chance of losing his membership because Politico says that their bylaws "prevent membership for anyone who advocates the overthrow of the United States government or of any state or locality by force or illegal means." But "expulsion from the association would not affect Giuliani's ability to practice law in the state."
The NYSBA also took the time to condemn the president for his part in inciting the violence that led to five deaths and the vandalizing of the historic US Capitol building.
"We must address the root cause of this abhorrent incident," they said. "The blame for which lies first and foremost with President Donald Trump."