Where's The Bread And Butter?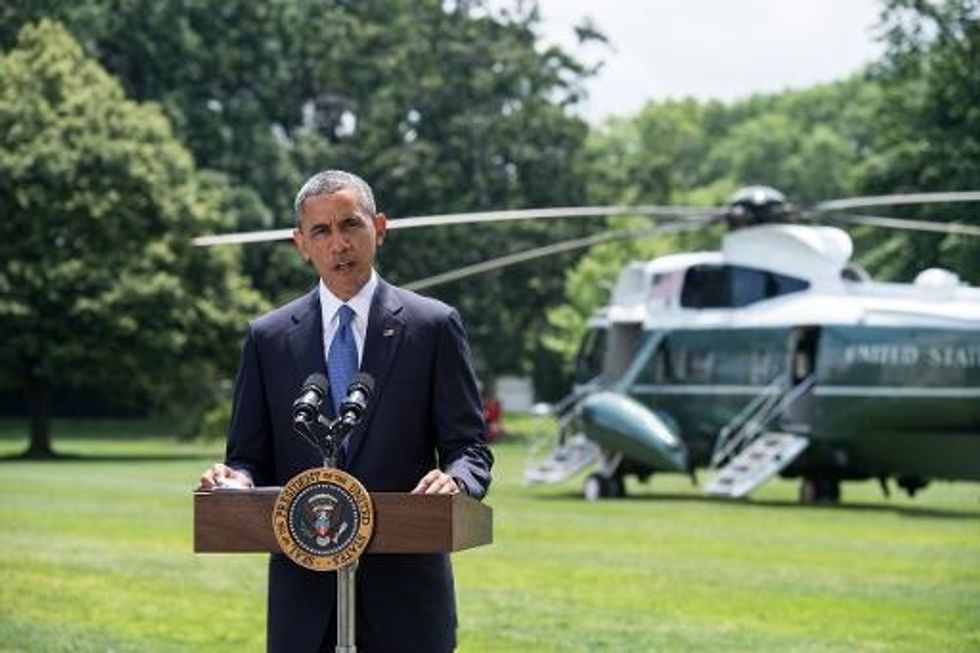 WASHINGTON — What if they held an election and nobody talked about how to improve people's lives?
The 2014 campaign is being waged against a backdrop of national news dominated by everything except the core economic worries of most Americans. Benghazi and Sgt. Bowe Bergdahl have been getting more attention than job opportunities and student borrowing costs. We are said to be a nation focused on the homefront, yet the foreign policy news — from Ukraine, Syria, Afghanistan and now, with extraordinary drama, Iraq — has been relentless.
The nature of the public discussion has been a strategic advantage for the GOP. Partly through their own efforts but also because of the flow of events, Republicans have kept President Obama on the defensive and the spotlight off themselves — at least until Majority Leader Eric Cantor's primary loss threw the Republican Party into chaos. Bread-and-butter concerns are the stuff of Democratic victories because the polls show that most voters still think of the GOP as more protective of the interests of the wealthy than of their own. The less we hear about economics, the better it is for Republicans.
It's not that the Democrats aren't trying. Last week, Obama and Senate Democrats touted steps to ease the burdens on the holders of student loans. The president issued an executive order that will give an additional 5 million Americans a chance to cap their student-debt payments at 10 percent of their income. He also endorsed Senator Elizabeth Warren's bill — it's part of the Democrats' "Fair Shot for Everyone" agenda — that would make it easier to refinance debt at lower rates. It would be paid for by closing some tax loopholes.
College access is an important issue. The average tuition at public universities has more than tripled over three decades that saw, as Obama noted, only a 16 percent increase in "the typical family's income." The average borrower owes nearly $30,000 by graduation day and Americans now owe "more on student loans than they do on credit cards."
And at one point, Obama interrupted himself to say: "I don't know, by the way, why folks aren't more outraged about this." How, he asked, can anyone justify allowing "tax loopholes for the very, very fortunate to survive while students are having trouble just getting started in their lives?"
His frustration reflected the way in which Washington gridlock may have a larger cost for Democrats than Republicans — even if Republicans are the ones foiling Democratic proposals such as the student loan bill. Because the Democrats' stock in trade is to use government to solve voters' problems, their own supporters become especially disheartened when the legislative process grinds their initiatives to pieces. Obama knows this. "Think about how much more we could do if they were not standing in the way," he said.
Also curious is how little traction Obama is getting out of the ongoing recovery. When Ronald Reagan ran for re-election in 1984 and his commercials announced it was "Morning Again in America," the nation's unemployment rate averaged 7.5 percent over the year. Unemployment stands at 6.3 percent now. And as Bloomberg Businessweek reported, if the pace of job growth "is sustained for the remainder of the year, it would mark the fastest-growing labor market in the U.S. since 1999."
Why is no one declaring it "Morning in America" now?
Part of the answer lies in how much damage the Great Recession did — the labor force participation rate is at its lowest level since 1978, median income is still below its 1999 peak, and wage growth has been sluggish, though there are signs it's picking up. Many Democrats worry that touting success could make them look out of touch. But the party's difficulty in moving the national conversation to economics is also helping to bury promising tidings.
Senate Democrats say that their "Fair Shot" agenda is helping shape the debate in competitive states, despite the national media's obsessions. The seeds they're planting now, they argue, will bear fruit in the fall, when it matters. In the meantime, Cantor's defeat at the hands of the Tea Party will push Republicans to be even less cooperative and more fixated on conservative ideology. Democrats hope that their practical focus will now have even more appeal.
All this translates into a race between Republicans who want the campaign to be about Obama's shortcomings, real and invented, and Democrats who want it to focus on what they could accomplish in an unobstructed environment. That contest will decide the election.
E.J. Dionne's email address is ejdionne@washpost.com. Twitter: @EJDionne.
AFP Photo/Nicholas Kamm
Want more political analysis? Sign up for our daily email newsletter!