Whining Trump Fails To Observe 9/11 Minute Of Silence
@EricBoehlert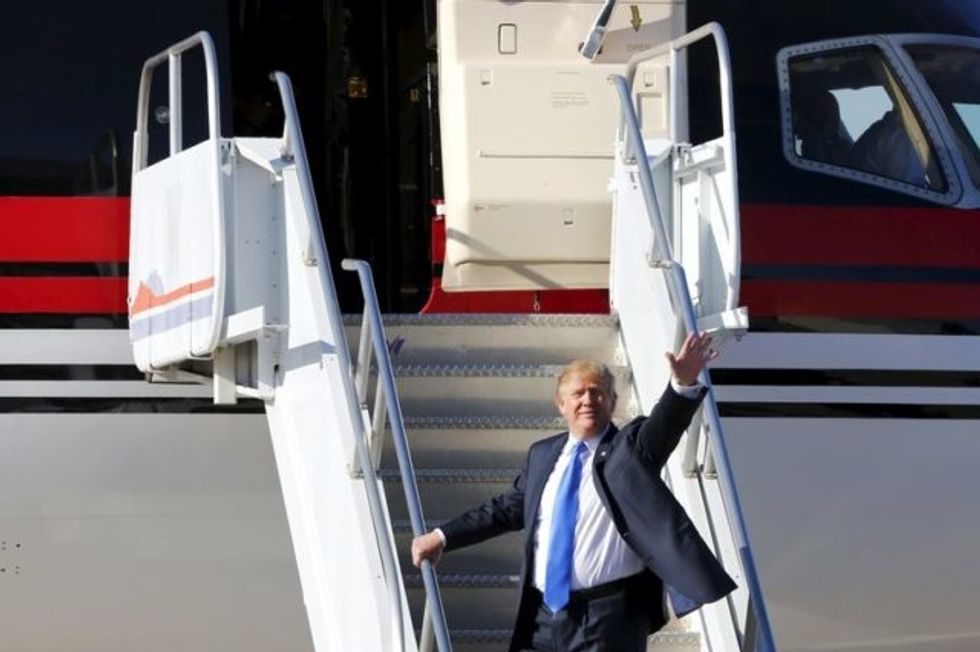 Reprinted with permission from Shareblue.
For sixteen years, American presidents marked the terror attacks of 9/11 by publicly observing a moment of silence at 8:46 a.m., commemorating the time of the first strike on the World Trade Center.
On Tuesday, Trump ended that tradition.
Instead of marking that somber moment on the grounds of the White House, as he did last year, and as Presidents George W. Bush and Barack Obama did every year before him, Trump instead was out of view.
At 8:44 a.m. Trump tweeted out a picture of him and his White House staff on the lawn with everyone's hands over their hearts, apparently honoring the victims on 9/11.
But a pool press report from Tuesday confirmed Trump arrived at 8:11 a.m. at Andrews Air Force Base to board Air Force One to travel to a 9/11 memorial service in Shanksville, Pennsylvania, where 40 passengers and crew members died when hijacked United Airlines Flight 93 crashed into a field on Sept. 11, 2001.
The Pennsylvania event on Tuesday didn't start until approximately 10:30 a.m. Trump did not observe a moment of silence at the Pennsylvania event, either.
Note that the first thing Trump did on the morning of September 11 this year was turn on a recording of Monday night's Lou Dobbs' program on Fox Business and begin live-tweeting whiny complaints about special counsel Robert Mueller's Russia investigation:
"We have found nothing to show collusion between President Trump & Russia, absolutely zero, but every day we get more documentation showing collusion between the FBI & DOJ, the Hillary campaign, foreign spies & Russians, incredible." @SaraCarterDC@LouDobbs

— Donald J. Trump (@realDonaldTrump) September 11, 2018
Later, he blurted out a confusing proclamation about the deadly day: "17 years since September 11th!"
When Trump landed in Pennsylvania for the memorial of the dead, he seemed oddly excited to greet supporters at the airport:
.@realDonaldTrump First Lady Melania Trump greet supporters as they arrive in Johnstown, PA to attend the Flight 93 September 11 Memorial Service in Shanksville, PA pic.twitter.com/SRMBvlDLKJ

— Doug Mills (@dougmillsnyt) September 11, 2018
Trump has a long history of making wildly offensive and inappropriate comments about the deadly terror attacks on 9/11.
Just hours after the historic killings, Trump bragged to a local New York City television station that, with the collapse of the Twin Towers, his building at 40 Wall Street was now the "tallest" in Downtown Manhattan.
It wasn't.
Years later, while running for president, Trump lied when he said he saw "thousands" of Muslims in Jersey City, New Jersey, celebrating the 9/11 terror attacks.
Trump can't even do the right thing on September 11.
Published with permission of The American Independent.