White House Abandons Promise Of 'Spectacular' Healthcare Plan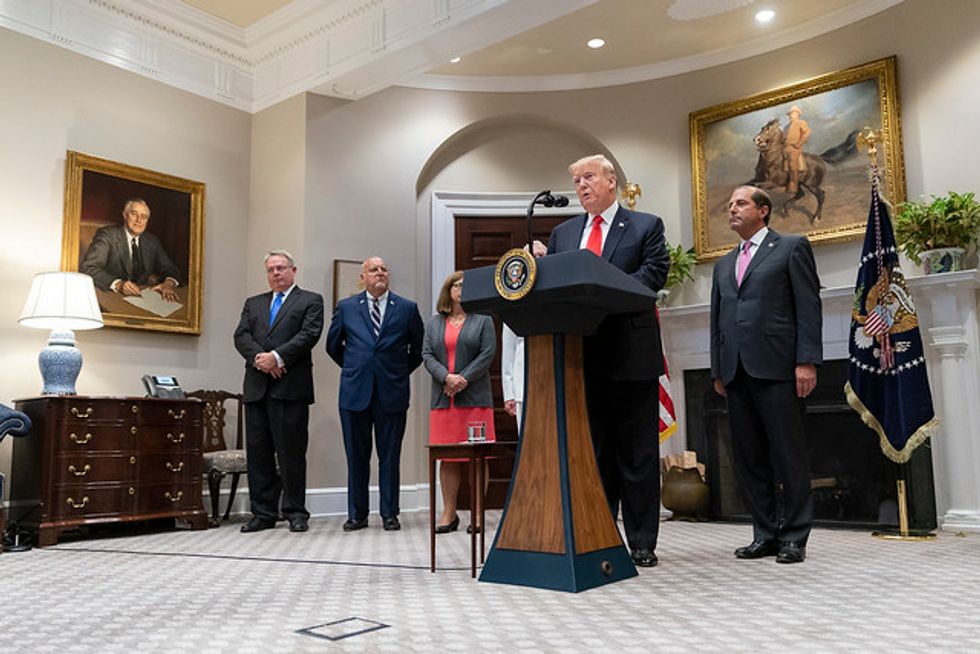 Trump promised to release a new health care plan before the 2020 election, but those close to the White House told the Washington Post on Thursday that no such plan is going to materialize.
Rather than come up with a plan to replace the popular Affordable Care Act, one former White House official said the plan is to prepare for massive political fallout if the Trump-backed lawsuit to destroy the ACA is successful.
"There seems to be a decreasing appetite for the 'big plan' reveal and instead just focusing on responding to the 5th Circuit with prudence and a minimum of hysteria," the official told the Post. Congressional aides told the Post the same thing, and outside conservative groups confirmed that they have not seen a health care plan.
In March, Trump insisted to reporters that the White House was working with Republican senators on a new health care plan, and vowed it would be "something that's really spectacular." When asked about a timeline for his plan, Trump declared, "We're working on a plan now."
In April, Trump said health care would be "a great campaign issue" even though the majority of American trust Democrats, not Trump and Republicans, on the issue.
Six months later, neither Trump nor Senate Republicans have released any sort of comprehensive health care plan. A White House official told the Post that reports it had stopped working on a health care plan were "false," but refused to provide any details of such a plan.
The only tangible public stance from Trump regarding health care is that the Department of Justice has put its full weight behind a lawsuit seeking to dismantle the ACA. If the lawsuit is successful, 20 million Americans could be left without health insurance.
Beyond those who would lose access to affordable health care, millions of Americans with preexisting conditions could see their health care costs skyrocket. Under the ACA, health insurance companies can neither deny insurance to people with preexisting conditions nor charge them more for coverage.
But Trump's Department of Justice wrote in a court briefing that the entire law, including these protections, "must be struck down" in its entirety. When given the opportunity to oppose Trump's stance, most Republicans in Congress sided with Trump and against protecting people with preexisting conditions.
Since Trump entered the Oval Office, his efforts to sabotage the health care system have caused millions of people to lose access to health insurance. His administration's attempt to destroy the ACA would cause millions more to lose insurance.
Published with permission of The American Independent.