Why So Many 'Exclusive' Interviews Of Discredited Bannon?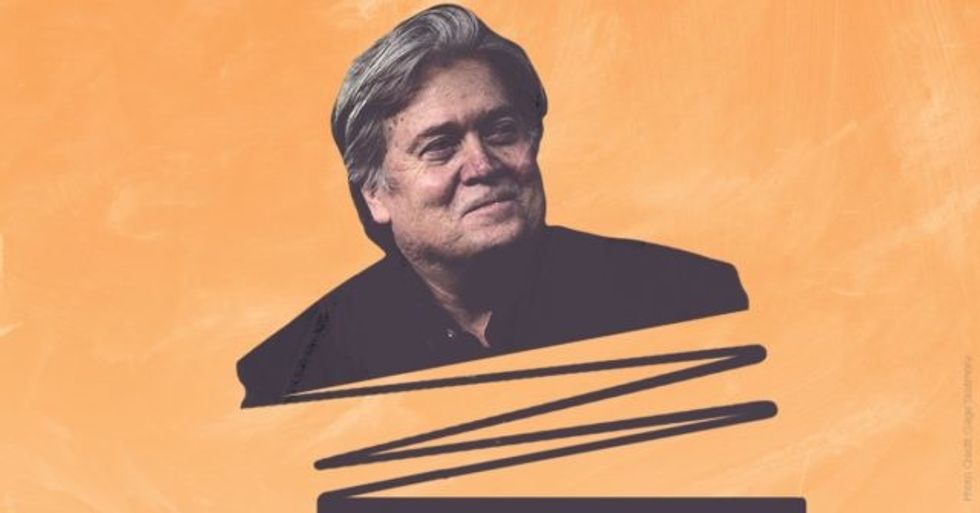 Reprinted with permission from MediaMatters.
In late February, six months after he was unceremoniously fired from the White House, Steve Bannon sat down for a "wide-ranging and challenging conversation" with GQ, which wrote up the interview under the headline "Steve Bannon is hatching his comeback." In early March, Bannon gave a "sprawling interview" to the New York Times about his "international mission" to "demolish [Europe's] political establishment." That same month he was a featured interviewee at a Financial Times Future of News conference.
On April 4, Bannon gave an interview to Reuters about tariffs. Less than a week later, he gave another interview to the New York Times, also about tariffs. A couple of days after that, Bannon talked to The Washington Post about the Justice Department's Russia investigation. On May 22, Bannon talked to the Post again ahead of a debate in Prague. The next day, Bannon gave an "exclusive" interview to the BBC about the Russia investigation.
On June 1, he "spoke exclusively" to CNN's Fareed Zakaria for a program the network hyped as "The Steve Bannon Interview." Two weeks later, ABC's Jon Karl went "one-on-one exclusively" with Bannon in what was billed as "his first Sunday morning show interview since leaving the White House." Three days later, Bannon gave an interview to The National Interest. On July 8, he was interviewed by The Sunday Times. Ten days later, CNBC snagged an "exclusive interview" with Bannon. Two days after that, Bannon talked to The Daily Beast. A few days later, he talked to Reuters (again). Less than a week later, Politico interviewed Bannon about the Koch brothers.
August 10: New York magazine. August 12: "a wide-ranging interview" with The Sunday Times (again). August 15: The New York Times (again). August 15: Politico (again). August 16: Axios.
And tonight, Steve Bannon "will join anchor Ari Melber one-on-one for an exclusive television interview on MSNBC."
Bannon on MSNBC tomorrow night. This ought to be fun. 🍿🍿 pic.twitter.com/BjDcUzXicR

— David Martosko (@dmartosko) August 16, 2018
That's at least 22 interviews over the course of six months (it's entirely possible that I missed a few Bannon interviews while compiling this list, since he will talk to literally anyone). By now it seems reasonable to ask what, if anything, we stand to learn from this many-times discredited former White House official who is hanging out with far-right European extremists and whose most recent foray into U.S. politics was his failed attempt to elevate an accused child molester to the U.S. Senate.
Back in March, I wrote that Bannon "is looking to prove once and for all that a whack job extremist — no matter how disgraced or putrefied by white supremacist politics — can still command the attention and respect of America's elite." Congrats, Steve: mission accomplished.
Header image by Melissa Joskow / Media Matters