Will The Electoral College Save Us From A President Trump?
@JamieStiehm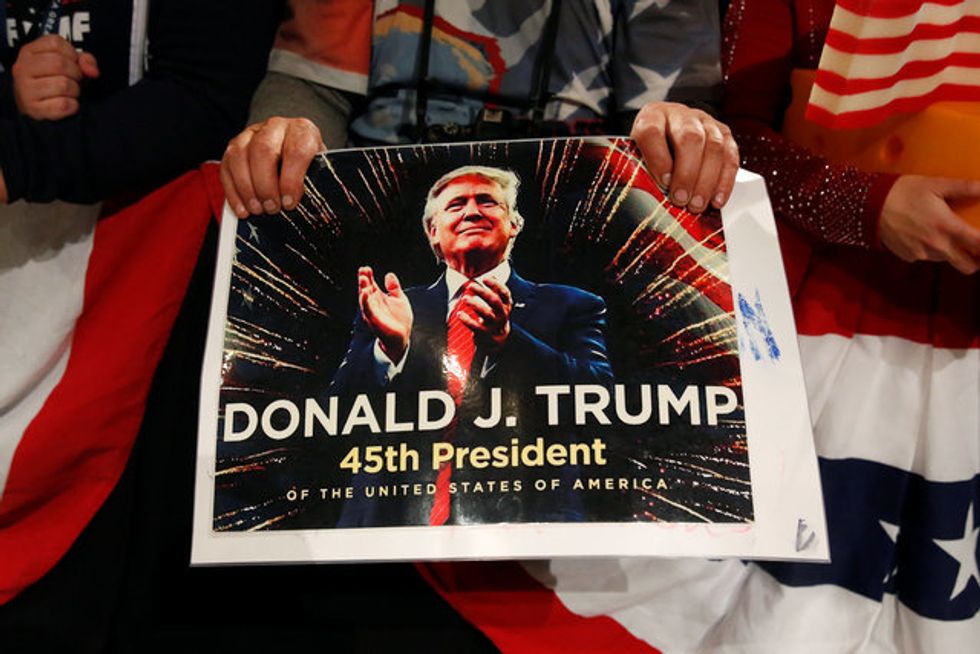 WASHINGTON — Glum, my head is not dancing with visions of sugar plums as Christmas comes near. All that matters is Monday, when the Donald J. Trump presidency will likely be sealed by the Electoral College. Or will it save us?
"Time to get over it."
That's what they tell me — my Republican friends. They are, of course, talking about the 2016 election. Then there was Charles Lane's column in today's Washington Post: "We Need to Get Over the Popular Vote." And you, Chuck?
And I say unto them: "I will never get over it."
All votes are not created equal. Aye, there's the rub.
Hillary Clinton got nearly three million more votes than Trump, but somehow she lost. America lost. Little girls who campaigned lost a dream of democracy: the first American woman president.
Some predict scattershot plots in the Electoral College. In the ritual state-by-state tally, a handful of "faithless electors" may flip from Trump. But likely not enough to get our hopes up.
Two legal experts, Slate writer Dahlia Lithwick and professor David S. Cohen, wrote in The New York Times, "As Monday's Electoral College vote approaches, Democrats should be fighting tooth and nail."
That is not happening. Even as Trump alienates every government agency under the sun — especially the CIA, insulting its Russian intel — there are no signs of life in the Democratic winter. Nobody is sending Christmas cards. Bracing for the storm that's coming, the party has gone into a mass slumber.
Oh, I might add, I'm not even over the brutish 2000 election, settled by the Supreme Court, 5-4. It gave new meaning to "one man, one vote."
That broke my heart pretty good, given Al Gore won half a million votes more than George W. Bush in the closest election I've seen. Antonin Scalia, the late member of the Supreme Court, snarled on 60 Minutes: "Get over it." Gore was a good loser.
Look how well that turned out. Bush turned out be a war president who ran the economy down. He ignored a beguiling city drowning. His Patriot Act created a surveillance state. Torture happened on his watch. Bush was the worst president of my lifetime.
Now and then, the Electoral College deals a deathblow to democracy. Under the unfair system set up more than 200 years ago, the state results "trump" the national popular vote. Often that does not matter, but in really close elections, the victor can be the loser of the national popular vote.
Constitutional law expert Garrett Epps observes that the Electoral College has brought the country "to the edge of collapse" several times.
Alexander Hamilton and James Madison convened the bright white men who met in Philadelphia in 1787 at the Constitutional Convention. Hamilton and Madison were about 40, at the zenith of their powers, but weighted small states and slave states with too much power. Hamilton let Madison, a Southern slaveholder, get away with the vast disparities in the design.
So, populous Pennsylvania and tiny Delaware had both two senators. California and Wyoming are a wild imbalance of power in the Senate. That matters because College electors equal the number of Senate and House members. (Slaves used to be counted for representation.)
The Electoral College — which does not meet in person — can distort the true national will.
That's exactly what happened in the tragic election of 1876. I'm not over that, either. Democrat Samuel Tilden tied Republican Rutherford B. Hayes. The deadlock was settled with the dirtiest deal ever done in American history.
Civil War cannons were silenced with the surrender at Appomattox in 1865. To pursue a settlement for racial justice, after slave emancipation, the Union created a post-war program in the conquered South. Reconstruction was hated as Yankee meddling. That's how the Ku Klux Klan was born.
To this day, American black families speak of 1876 as a terrible turning point, backward. Reconstruction was abolished. Jim Crow was their new "law and order." The betrayal was complete.
Hayes lost the popular vote. As did the younger Bush. As did Trump.
Republicans know this is worth fighting for, as Lithwick and Cohen remind us.
Too bad Democrats are such good losers, even when they win.
To find out more about Jamie Stiehm and read features by other Creators Syndicate writers and cartoonists, visit www.creators.com.
IMAGE: A supporter of U.S. President-elect Donald Trump holds a sign at the USA Thank You Tour event at the Iowa Events Center in Des Moines, Iowa, U.S., December 8, 2016. REUTERS/Shannon Stapleton