Will Supreme Court Endow Corporations With A Soul, Too?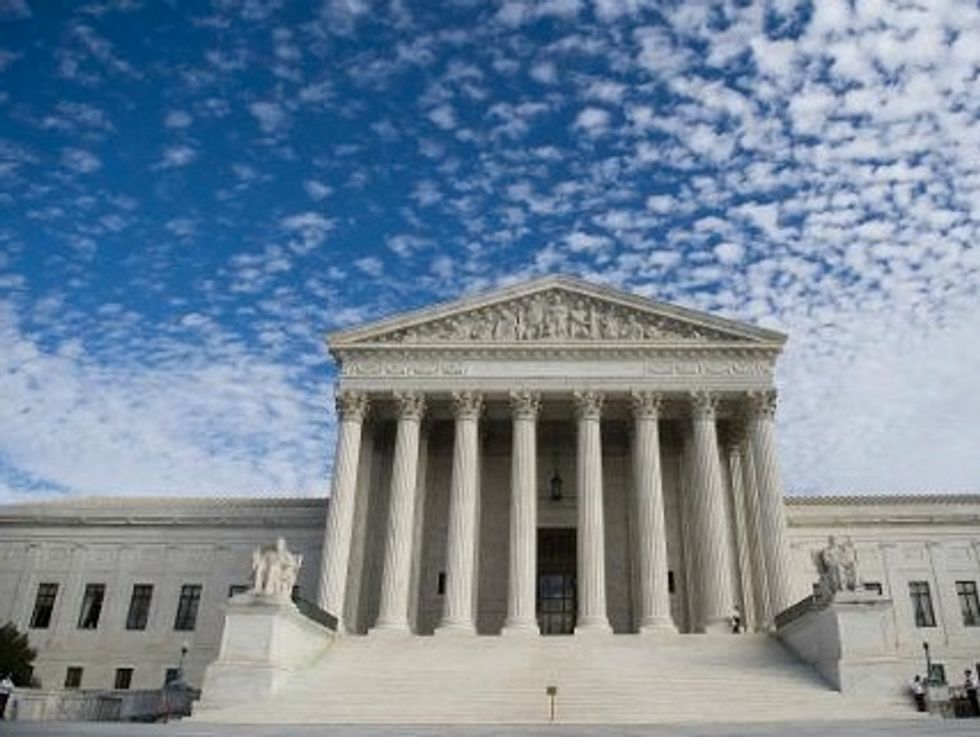 Private businesses are trying to block Obamacare on religious grounds? What do companies worship besides, perhaps, the almighty dollar?
That's the question at the heart of two conflicting rulings from lower courts that the Supreme Court has decided to take up in its second constitutional showdown over President Barack Obama's Affordable Care Act.
Since the law also known as Obamacare was passed, dozens of Christian employers have challenged its birth-control mandate that requires employers to provide health insurance coverage for FDA-approved contraception.
Abortion rights opponents believe some of the allowed contraceptive methods block fertilized eggs from implanting in a woman's uterus. That's disputed by other research findings that the methods in question actually work before fertilization occurs.
To placate such objections, the Obama administration has changed the requirement to allow explicitly religious organizations and some other nonprofits to opt out of paying for insurance directly, passing the costs on to their insurance provider instead.
But that doesn't apply to the big for-profit corporations at issue in the two cases that the Supreme Court has agreed to hear.
In one of them, the 10th Circuit Court upheld the argument of Oklahoma City-based Hobby Lobby Stores Inc., a chain of 500 arts-and-crafts stores with 13,000 full-time employees, that the mandate would violate the rights of owners David and Barbara Green under the Religious Freedom Restoration Act of 1993. That law says that a "person" can seek to opt out of a law under some circumstances if obeying it would "substantially burden" the exercise of his or her religion.
But is a corporation a "person?" Yes, says the 10th Circuit, under the Citizens United decision, which holds that corporations have the same First Amendment rights as individual people to spend money as a form of speech in political campaigns.
Not so, says the 3rd Circuit Court of Appeals, in the second of the two decisions the justices will review. In rejecting the arguments of Conestoga Wood Specialties, a Pennsylvania manufacturer of wooden cabinets owned by a Mennonite family, the appeals court wrote that corporations "do not pray, worship, observe sacraments or take other religiously motivated actions separate and apart from the intention and direction of their individual actors."
That sounds right to me. Even if the corporations qualified as "persons" under the 1993 law, which I am sure would surprise many of those who voted for it, the law cites a "substantial burden" on the exercise of religion.
If any "burden" is imposed on the employers in these cases, it hardly can be called "substantial" any more than the burden government routinely imposes on taxpayers to fund overseas wars or domestic social programs to which they personally object.
But if the high court grants corporations a religious license to pick and choose whichever government rules they want to follow or taxes they want to pay, a substantial burden would be imposed on the ability of the health care law to work — which would be just fine with some of its critics.
The impact of such a decision would reach far beyond Obamacare. That's why the Supreme Court has drawn boundaries around the First Amendment's "free exercise of religion" clause since its ruling in the 1878 test case of the bigamy conviction of George Reynolds, the personal secretary to Mormon leader Brigham Young.
Reynolds contended that his bigamy conviction violated his First Amendment rights as a member of the Church of Jesus Christ of Latter-Day Saints, which would not renounce bigamy until 1890. He lost, mainly because of legal reasoning drawn partly from a letter by Thomas Jefferson in which he drew a sharp distinction between religious belief and religiously motivated actions.
Because belief "lies solely between man and his God," Jefferson wrote, "the legislative powers of the government reach actions only, and not opinions." In that spirit, the Supreme Court' wrote, "Suppose one believed that human sacrifices were a necessary part of religious worship, would it be seriously contended that the civil government under which he lived could not interfere to prevent a sacrifice?"
One hopes not. Government should not intrude on religious faith, but for the sake of the common good, it occasionally must intervene in acts that are motivated by religious belief.
(Email Clarence Page at cpage@tribune.com.)
AFP Photo/Saul Loeb