Work On Berm To Begin To Help In Mudslide Search Effort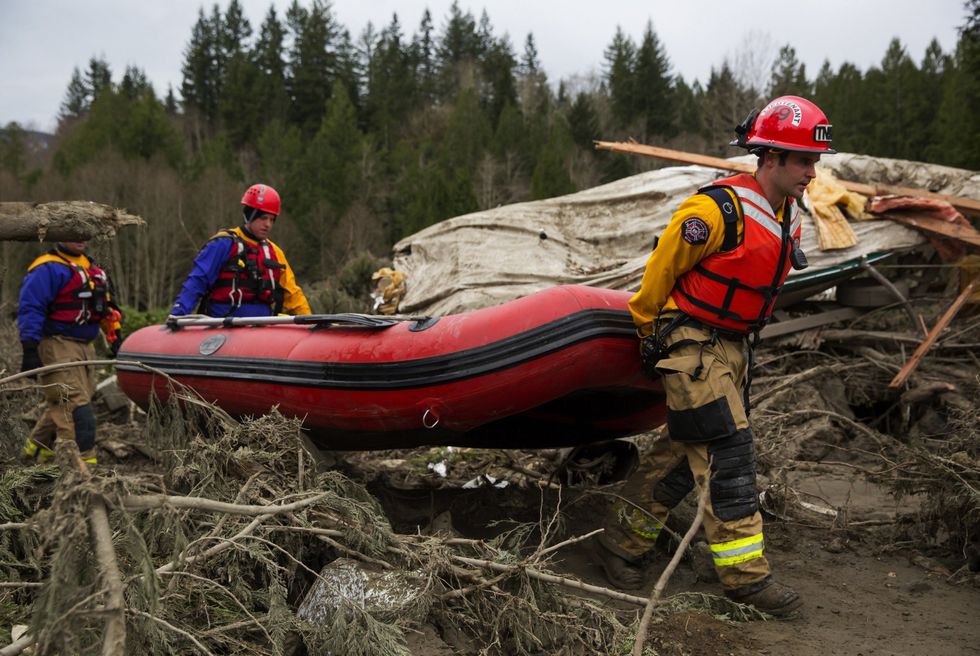 By Sandi Doughton and Katherine Long, The Seattle Times
SEATTLE — The U.S. Army Corps of Engineers will begin work Monday on a berm to allow workers to pump river water out of a 260-acre area of the Washington state mudslide, making it safe to continue the search for the missing.
The area on the northeast side of the slide is covered by water that stands five to 10 feet deep, and "we haven't been able to see what's under the water there," said Owen Carter, Snohomish County deputy public-works director and engineer, during a news conference Sunday evening.
13 people are still missing after the March 22 slide. Of the 30 bodies recovered so far, 29 have been identified.
On Sunday, U.S. Homeland Security Secretary Jeh Johnson toured the site and pledged continued federal support.
"It is clear there is more work to do," he said in a news conference at Paine Field in Everett, Wash. "I am here to tell the community and the state that the federal government is with you."
Accompanied by Federal Emergency Management Agency (FEMA) Administrator Craig Fugate, Johnson met with several first responders and emergency personnel, including some who were the first to arrive on the scene.
He also spoke with members of the aircrews who rescued 14 people immediately after the slide.
"The community has come together in a profound way," Johnson said.
About 900 people are still involved in the search, including 350 National Guard members.
It will take Army Corps workers about a week to 10 days to construct the berm, which will be made of rock and embankment material. When it's finished, or possibly earlier, workers will begin pumping water out of the area and back into the North Fork of the Stillaguamish River.
The berm will also help prevent rising river levels from flooding straight down the rest of Highway 530 toward Arlington, which could damage more homes, Doug Weber, chief of emergency management for the Army Corps of Engineers' Seattle district said Saturday. Without the berm, it's highly probable that flooding would occur farther down Highway 530, according to Mike Asher operations section chief for the state incident-command team in charge of the response effort.
Controlling flooding in the search area continues to be a problem. Rainfall overnight Saturday caused water levels to increase as much as a half-foot in some places, said Meg Matthews, a spokeswoman for the Snohomish County Joint Operation Center. She said warmer, drier weather is forecast for this week, which should help.
Elsewhere in the slide zone, hundreds of searchers are continuing to look for victims, "excavating layer by layer until they reach native soil," Matthews said.
Fugate, of FEMA, called the recovery a team effort and underscored FEMA's ongoing commitment. "We're not going anywhere until this is done," he said.
Johnson praised the recovery effort and the work of local volunteers, some of whom rushed immediately to the scene.
"I just wanted to convey my personal appreciation to the volunteers and let people know the federal government is here to assist," he said.
Gov. Jay Inslee, who accompanied Johnson and Fugate, said federal assistance will be vital to rebuilding Highway 530.
"It's important for the people of Darrington to know that highway will be restored," he said. Some of the material being used to construct the berm will later be used in highway construction.
Johnson urged people affected by this slide to register with FEMA for assistance. "The sooner you register with FEMA the faster we can get help to you," he said. FEMA is a branch of the Department of Homeland Security.
Matthews said the community is no longer in need of donations such as food or clothing, but monetary donations are still welcome. Information on where to donate is on the Snohomish County website, www.snohomishcountywa.gov.
Marcus Yam/Seattle Times/MCT