Alex Jones Earns $25K Daily Contempt Fine For Evading Sandy Hook Deposition
@wallein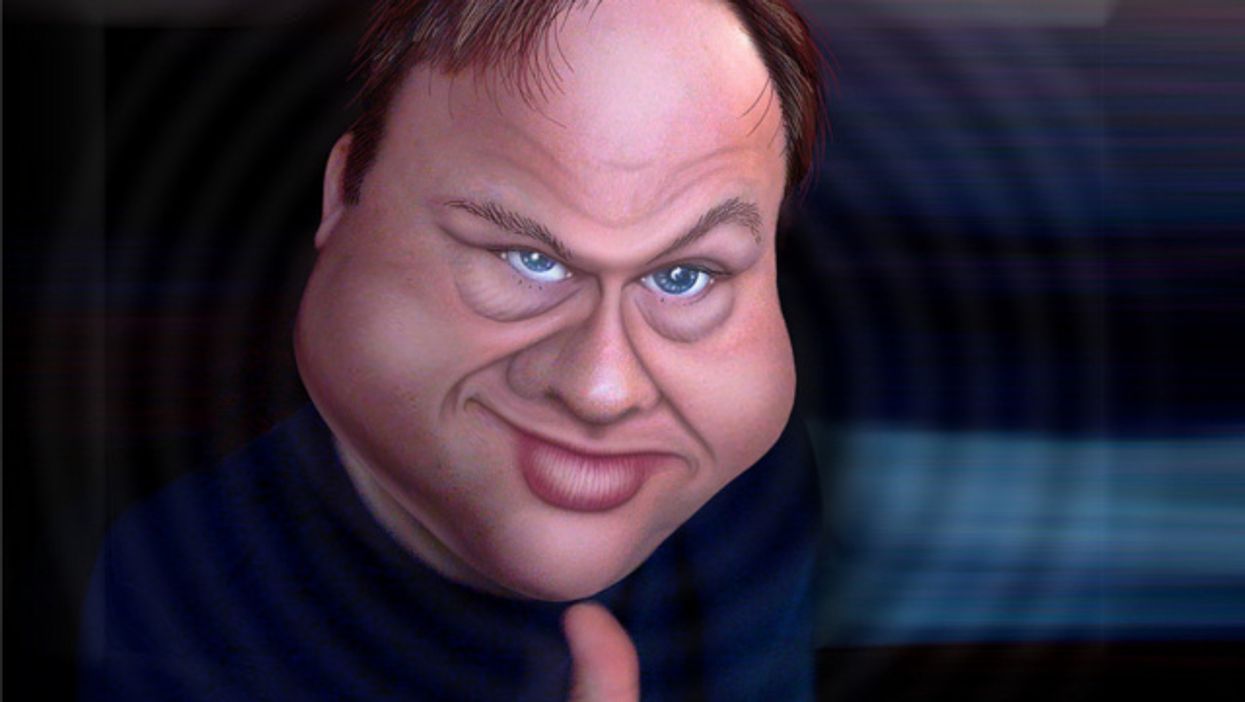 Ever since many of the families who lost loved ones in the tragic mass shooting at Sandy Hook Elementary school in 2012 sued InfoWars misinformation giant Alex Jones, he's been running scared. He has dragged his heels, he has attempted to walk back the many hours of lies he told, and he has stalled. His attempts to play vile legal games in court against the Sandy Hook families he called "crisis actors" who he said helped perpetrate a "false flag" hoax on Americans have not fooled the judges presiding over his cases. In fact, his attempts to draw out what is already an unconscionable process for the families still grieving led a Connecticut judge to rule that Jones was liable to the families of eight of the victims killed at Sandy Hook Elementary School.
Along with other similar rulings, Jones faces liability to the families of 10 people killed that terrible day in total. Jones and his legal team have continued their defense strategy of running and hiding and dragging their feet. In the most recent defamation case against Jones, Superior Court Judge Barbara Bellis has had to watch as Jones produced a dubious doctor's note saying he could not come to court to sit for a deposition and watch as Jones proceeded to tape a four-hour episode of his InfoWars show at home.
After missing a second deposition and multiple orders from Bellis to appear, Jones is now being slapped with a contempt of court charge from the bench.
During a hearing on Wednesday, Bellis told the court she is holding the conspiracy theory snake oil salesman in contempt of court as Jones has "intentionally failed to comply with orders of the court" and his excuses have not held up. "The court finds by clear and convincing evidence that the defendant Alex Jones willfully and in bad faith violated without justification several clear court orders requiring his attendance at his depositions on March 23 and March 24," Bellis said, but she did not go as far as issuing a bench warrant for Jones' arrest, though the plaintiffs in the case asked the judge to issue that arrest warrant.
In arguing for Jones to spend time in jail, the attorney representing the Sandy Hook families in this case, Christopher Mattei, told the court: "It seems to us that Mr. Jones has made a deliberate decision that he would rather suffer the contempt of court rather than expose himself to deposition." Mattei did not comment on the judge's contempt decision.
Bellis put Jones' contempt punishment at $25,000 a day, beginning on April 1. According to reports, Jones will be fined for every business day he misses in court until he sits for two days of depositions before April 15. If Jones does comply before April 15, his contempt charge "will be purged," at which point he would be able to apply for a reimbursement of any fines he accumulates. Jones' attorney asked Bellis to belay the fine until April 11, saying there was "a scheduling conflict." There is no word yet on whether or not Bellis will alter her contempt ruling.
Jones and his legal team's strategy is the kind of time-wasting that big business does in the hopes of winning a war of attrition against overwhelming odds of being found liable or guilty. On Tuesday, just one day before this contempt charge against Jones, the families rejected an attempt by Jones to settle the case for $125,000 per family. The families released a statement saying that this pittance of a settlement offer was a "transparent and desperate attempt by Alex Jones to escape a public reckoning under oath with his deceitful, profit-driven campaign against the plaintiffs and the memory of their loved ones lost at Sandy Hook."
Reprinted with permission from Daily Kos