Today's Republican Party Emits Sinister Echoes Of 'America First'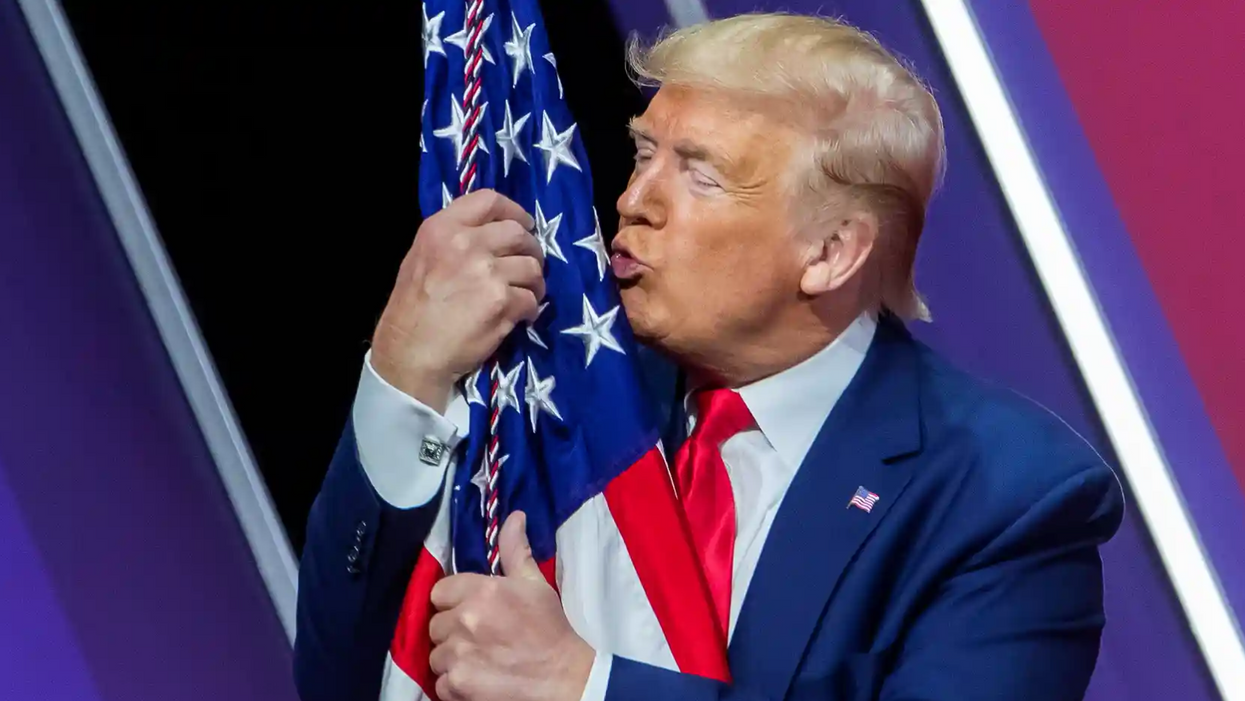 When Donald Trump first adopted "America First" as a slogan for his movement, it was unclear whether he had done so from sheer ignorance of its disgraced history or as a slyly malevolent tribute.
Now, as Trump and his far-right acolytes like Fox News' Tucker Carlson try to drum up support for Vladimir Putin and the Russian invasion of Ukraine, that old phrase eerily resonates with its original sinister intensity. Goose-stepping in line with European neo-fascists who oppose liberal democracy and seek to impose authoritarian rule, the Trumpists are serving Russia first against America and our Western allies.
Suddenly the disturbing parallels between "America First" during the 1930s and the "America First" propagandizing of today are all too clear. Then and now, a global wave of authoritarian movements and governments posed a mortal threat to democracy here and around the world. Then and now, hostile foreign powers reached deep into the United States through political proxies whose influence was at once obvious and subtle. Then and now, those forces wrapped themselves in the American flag and insisted that they were super-patriotic, the defenders of hearth and home against "alien" influences.
Of course, not every member or leader of the original America First organization, founded in 1940 to oppose US entry into World War II, was a fascist or a Nazi sympathizer; indeed, many were sincere and respectable, who were pacifists or wanted to avoid another war in Europe. But their naivete and isolationism enabled the enormous Nazi spy agencies in Berlin, which sent agents into America First to take over its local chapters and transform the entire operation into a vehicle for anti-Semitism, sedition, and vile slurs against President Franklin D. Roosevelt.
Brazenly pro-Hitler organizations such as the Ku Klux Klan, the Silver Shirts, and the American Bund (founded as the "Friends of Hitler") directed their members to join America First as a front for treasonous plotting. They penetrated American institutions, with particular success in the Republican Senate and House caucuses – and at the same time recruited platoons of criminal thugs, not unlike the Proud Boys, into "Christian Front" militia groups that engaged in street violence. Their attempts to undermine the Roosevelt administration only ended after the Japanese attacked Pearl Harbor.
The Axis propaganda apparatus, operating as the "World Service" press agency, looks laughably primitive in comparison with the media now exploited by Russian intelligence and its proxies. While mass media has advanced far beyond the technologies available back then, the themes exploited by the enemies of democracy are remarkably consistent: not only the dog whistles of anti-Semitism, but also the demonization of racial minorities, the paranoid attitudes toward democratic government, the populist fury toward "elites," and the promotion of outlandish conspiracy theories and smears.
When Hitler's war machine began its rampage across Europe, starting with Poland in 1939, the voices of "America First" laid blame on everyone except the Nazi dictator. If America went to war, they insisted, the fault would lie with the British, the Jews, the international bankers, and especially Roosevelt, who was disparaged as a liar and worse. Today, as Putin attempts to overthrow an elected democratic government and impose a puppet regime in Kiev, the right-wing noise blames President Biden, Hillary Clinton, environmentalists, gays, and literally anybody except the Russian dictator.
One lingering question about Trump – and those who line up with him and Putin – is to what extent they are sponsored by the Kremlin or are simply "useful idiots." The mystery of Trump's relationship to Russia still remains to be fully explored.
To students of history, however, the behavior of Trump and his sycophants is darkly familiar. Across media and politics, the fans of our own authoritarian demagogue at Mar-a-Lago and his admired friend in Moscow are doing Russia's dirty work here. In the 1930s, more than a few of the America First leaders like Charles Lindbergh were in thrall to Hitler. Now, Tucker Carlson is in thrall to the Hungarian authoritarian Orban and to the would-be czar Putin. What the American Firsters have in common then and now is hostility to liberal democracy.
Standing against them, then and now, has always meant upholding real American values. The talk is over—the test has come.