Amy Schumer Promotes Gun Check Legislation With Cousin Sen. Chuck Schumer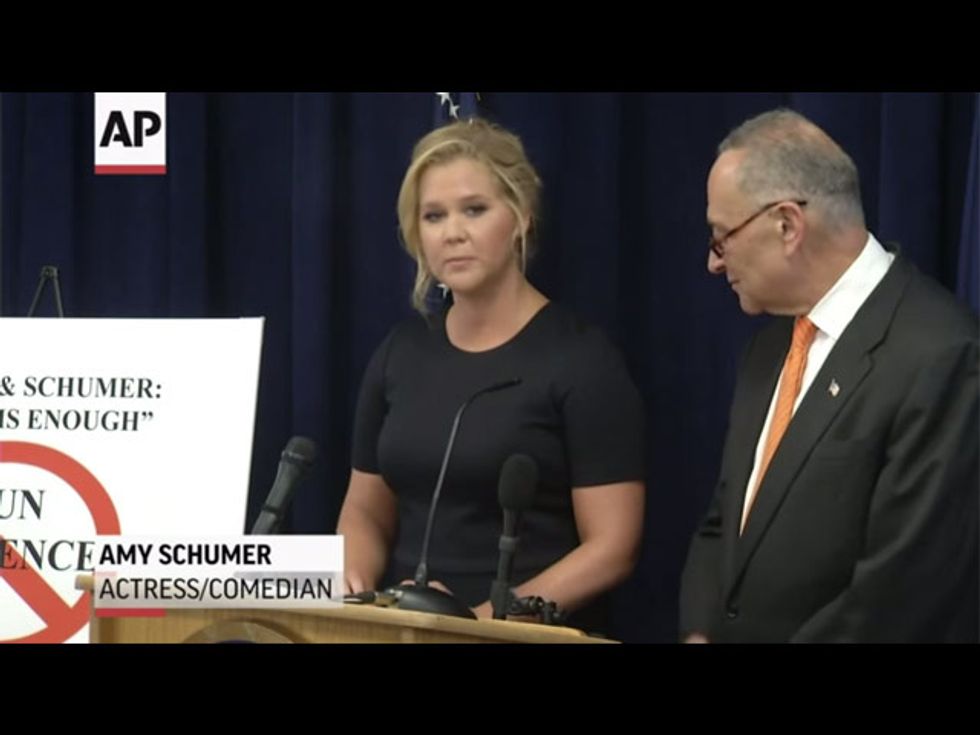 Comedian and actress Amy Schumer went to Capitol Hill on Monday, teaming up with a famous cousin of hers — Senator Chuck Schumer (D-NY) — to promote legislation to strengthen background checks for gun purchases.
A visibly emotional Ms. Schumer highlighted the matter's relevance, after the mass shooting late last month at a movie theater in Lafayette, Louisiana.
"For me, the pain I share with so many other Americans on the issue of gun violence was made extremely personal to me on Thursday, July the 23rd when John — I'm not even gonna say his name — when this — he sat down for my movie Trainwreck at the Grand Theatre in Lafayette, Louisiana. Two lives were tragically lost, and others injured. And I've thought about these victims each day since the tragedy."
The shooter, John Russell Houser, killed two people and injured nine others, then fatally shot himself. Houser bought his gun legally, despite a history of legal and mental health issues.
According to The Hollywood Reporter, evidence suggests that Houser might have targeted a showing of the movie Trainwreck because of its feminist themes, or his decision may have been driven by anti-Semitism toward Schumer herself.
"We'll never know why people choose to do these painful things. But sadly, we always find out how," she added. "How the shooter got their gun — and it's often something that shouldn't have happened in the first place. And today's push makes so much sense, because it seeks to address the 'how.' We need a background check system with holes — without holes and fatal flaws. We need one with accurate information that protects us like a firewall. The critics scoff and say, 'Well, there's no way to stop crazy people from doing crazy things.' But they're wrong — there is a way to stop them. Preventing dangerous people from getting guns is very possible."
(Video via The Associated Press.)