CNN Airs Soft-Focus 'Profile' Of Violent Capital Rioter
@EricBoehlert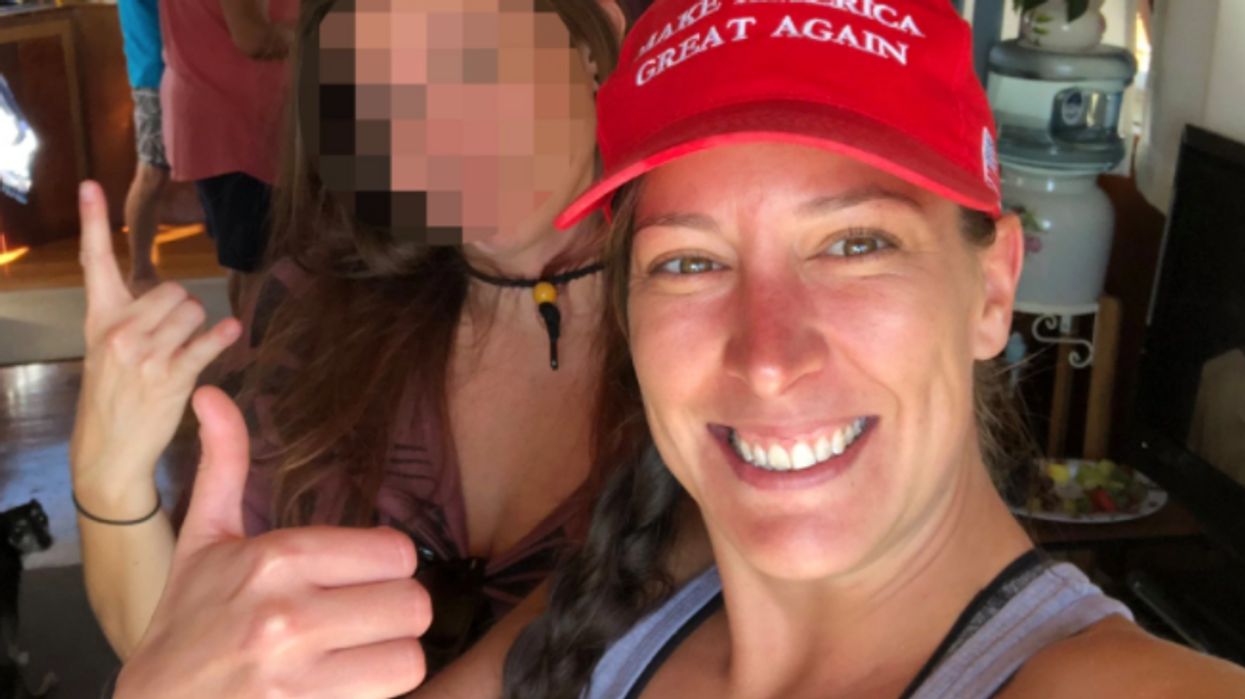 Reprinted with permission from Press Run
Five months after rioters smashed windows, hung nooses, brawled with cops, and desecrated the U.S. Capitol, CNN decided to portray a killed Trump insurrectionist from January 6 in a positive light. Leaning into interviews with the family of Ashli Babbitt, CNN did its best to present a pleasing picture of the mob member who was shot and killed by U.S. Capitol police as she and a lawbreaking Trump gang tried to force themselves into the Speaker's Lobby as all hell broke loose that dreadful day.
It was a bewildering and misguided profile that whitewashed a deadly serious topic —radicals who wanted to invalidate an American election and use overwhelming physical force to make it happen. The lawless, violent mob rampaged inside the Capitol for hours, knocking officers unconscious and destroying offices of Democratic members.
CNN framed the report as a Both Sides one: Supporters see Babbitt as a patriot, while liberals see her as a terrorist. CNN then proceeded to completely ignore the liberal perspective for the entire Babbitt report. Readers were repeatedly told what a kind and conscientious person she was. But they were never given the other side of that Both Sides equation.
The CNN misfire was a classic example of what happens when journalists land sought-after interviews, in this case with members of Babbitt's family, and then spin the story in their favor. They tell the tale just as the interview subjects would want it to be told.
"She was brave. She came out that way. Always was that way," Babbitt's mother told CNN. "Elizabeth Babbitt grew up a tomboy in a suburb of San Diego. She kept pace with four brothers and their friends, riding bikes, jumping them over ramps, skateboarding and "playing in the dirt,"" CNN gently reported. As for the deadly insurrection, "I feel like she went to the Capitol because she felt like her voice wasn't being heard," Babbitt's brother told an understanding CNN.
It's impossible to think that if Babbitt weren't a white woman who grew up in suburban America that CNN would ever consider publishing a feel-good piece about a possible terrorist who's been turned into a martyr by the radical right. The report, with its soft family lens, reflects a larger media obsession over the last five years to help humanize Trump's extremist and dangerous white voter base.
Routinely depicted as hard-working folks in search of a political path, and thankful for Trump leadership, Trump voter coverage for years failed to pull back the curtain and reveal a small glimpse of the vicious mob that emerged in January. Even a Trump supporter who had nice things to say about Nazis received a gentle New York Times profile.
Last winter, as Trump supporters rallied around the deranged idea that the election had been stolen, too many journalists expressed empathy for them. In an interview with Vanity Fair, CNN's Jake Tapper said, "I feel sympathy for them, is the truth," he said. "I feel bad. They're outraged because they're being told things that aren't true."
In terms of CNN's Babbitt profile, there's nothing wrong with providing context and detail about her life, particularly since she seems to be a textbook example of someone whose life, even before January 6, was swallowed whole by the cultist, far-right movement to worship Trump like an idol. Since her death, friends have expressed shock at the fanatical and anger-filled turn her politics took, as well as the rabid and often incoherent screeds she began posting online. ("They can try and try and try but the storm is here and it is descending upon DC in less than 24 hours.") If Babbitt wasn't a full-on QAnon devotee at the time of her death, she was awfully close.
But that's not the type of context CNN provided. Instead, the network worked overtime to play down Babbitt's actions on January 6, as well as the actions of thousands of insurrectionists who did their best to overthrow democracy by pummeling police officers for hours on end. Not once in the 2,000-word piece did CNN mention the raging violence that Trump's mob unleashed, as members of the Capitol police force battled in hand-to-hand combat with the remorseless, bloodthirsty gang.
One day before CNN published its insurrectionist valentine, the Department of Justice released additional head cam video from the riot, showing officers being mauled by the deranged mob. Specifically, it showed a retired NYPD officer charging through metal barricades and attacking police with a flagpole during the riot. "You communist motherfucker, fuck you!" the retired cop screamed, before pushing down the crowd-control barrier and swinging a flag pole. He then tackled and began beating an officer.
Multiply that by hundreds, if not thousands of times, to create the deranged bedlam of that day. More than 480 people have been charged with federal crimes related to the riot. From a May report: "One video shows a rioter trying to rip off a police officer's gas mask, then picking up a baton and hitting officers with it. Another video shows a rioter punching officers while wearing gloves with metal knuckles."
But CNN's report breezed right past those difficult truths in order to present Babbitt as a slightly misunderstood "patriot," in the eyes of her family. CNN made no effort to get a comment from any members of the Capitol police force, some of whom had to beg for their lives at the hands of the January 6 mob that Babbitt so proudly championed.