New York Prosecutors Intensify Fraud Probe Of Steve Bannon
@next2godwin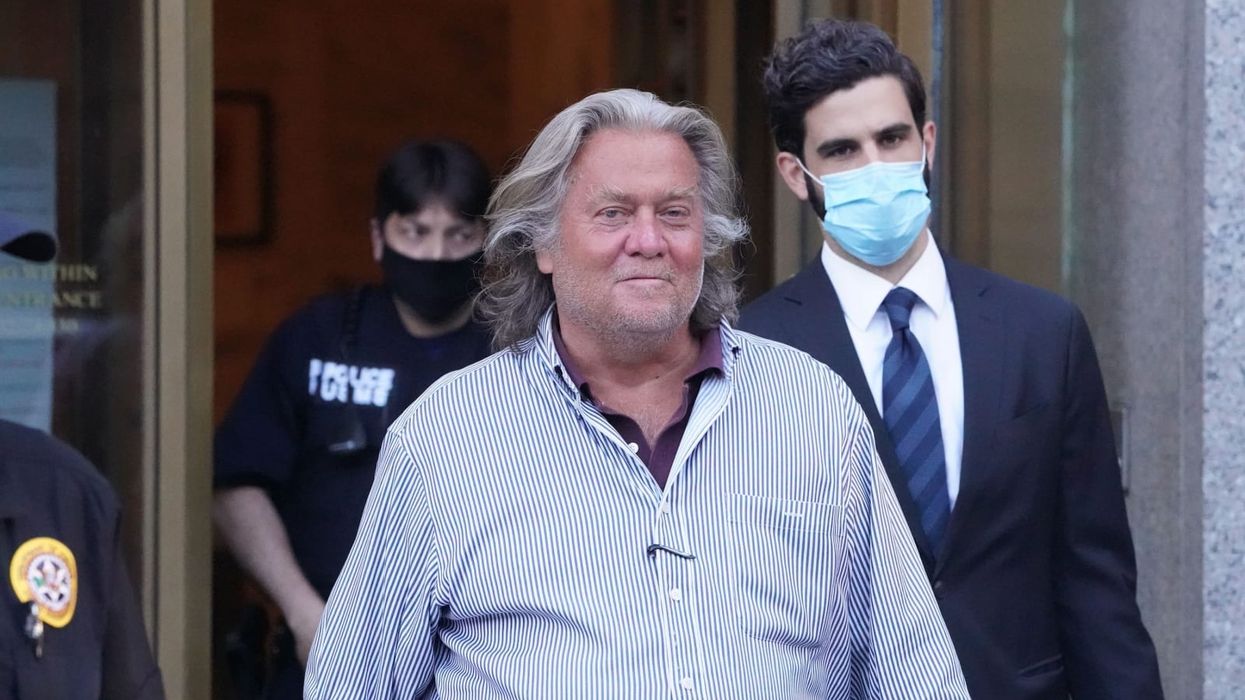 BRYAN R. SMITH/AFP/Getty Images North America/TNS
In recent weeks, several people close to Steve Bannon, former President Trump's erstwhile adviser and strategist, received subpoenas to testify before a New York state grand jury about the ex-adviser's fundraising efforts for a private border wall, which Trump promised to build and make Mexico pay for, CNN reported on Friday.
The subpoenaed testimony will aid the Manhattan District Attorney's probe into Bannon, which kicked off shortly after Trump pardoned Bannon, CNN stated, citing unnamed sources privy to the investigation.
The subpoenas underscore the intensification of the Manhattan DA's investigation, which could lead to criminal charges against Bannon. Trump's pardon may shield Bannon from federal charges, but it does not affect state prosecutions.
Federal prosecutors accused Bannon and three others — Brian Kolfage, Andrew Badolato, and Timothy Shea — of fraud and money laundering for allegedly siphoning hundreds of thousands of dollars from "We Build the Wall," a crowdfunding campaign for Trump's border wall that raised $25 million.
Prosecutors in the U.S. Attorney's Office for the Southern District of New York said Bannon siphoned $1 million from We Build the Wall through a non-profit group he controlled to "secretly pay" Kolfage, a disabled Air Force veteran and face of the crowdfunding initiative. Bannon was also accused of diverting hundreds of thousands of dollars for his personal use.
"We're off the coast of Saint-Tropez in southern France, in the Mediterranean," Bannon said, sitting beside Kolfage on a yacht in 2019. "We're on the million-dollar yacht of Brian Kolfage. Brian Kolfage, who took all that money from 'We Build The Wall.' No, we're actually in Sunland Park, New Mexico."
However, the looming investigation is not the end of Bannon's legal woes. He was charged with contempt of Congress for failing to comply with a subpoena issued by the House Select Committee, a congressional panel investigating the January 2021 insurrection. Bannon pleaded not guilty.
News outlets asked Bannon's lawyer about the subpoenas, and he replied, "I am unaware of these matters."
According to the 2020 indictment, Kolfage, who promised not to pocket a single cent of the donations, spent his million on home renovations, a boat, and even plastic surgery, among other things.
Trump, who made building a "big, beautiful wall" a central part of his 2016 election campaign, later criticized the effort — which, in 2019, constructed one mile of an 18-foot-high fence on a private property it owned — saying it was initiated "only to make me look bad."
Trump pardoned Bannon before leaving the White House but not his three co-conspirators. Last month, Kolfage and Badolato pleaded guilty to charges of conspiracy to commit fraud, and Kolfage also pleaded guilty to tax-related charges. Shea pleaded not guilty to wire-fraud, tax-related, and records-falsifying charges and is now on trial in federal court.