Ben Carson Tries Again On Fetal Tissue Research Story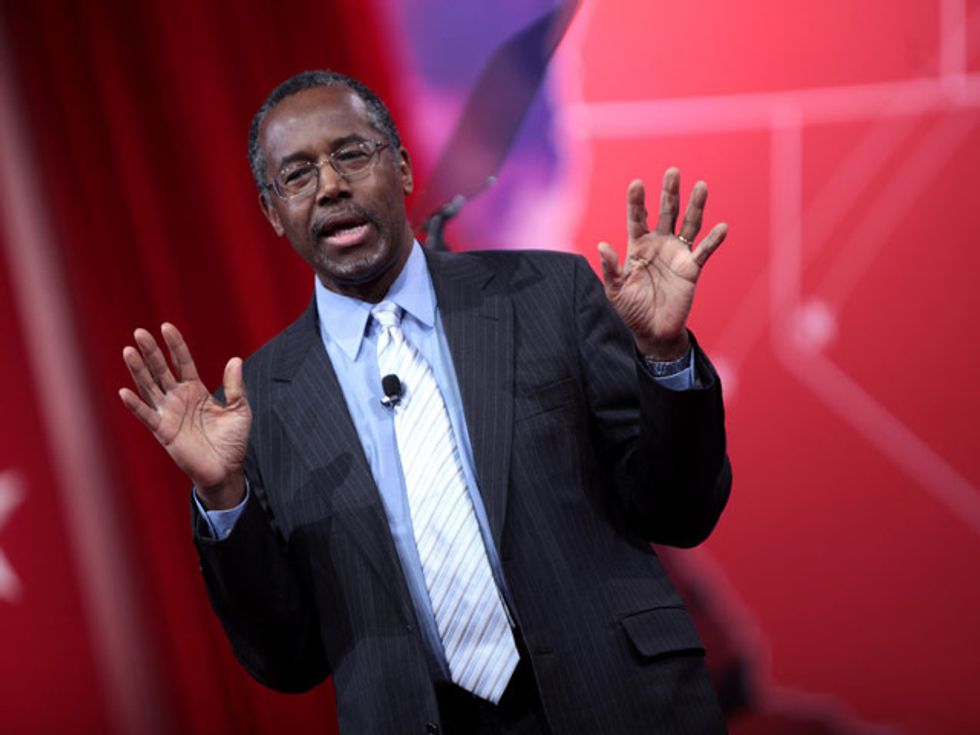 Ben Carson has mounted a full response to the story that he had reportedly participated in a study involving fetal tissue research — though even his answer isn't fully satisfying.
In a post published late Thursday night on Facebook, Carson said that the claim that he actually did research on fetal tissue is "simply is not true."
Instead, he explained, of the four doctors whose names were on the research paper, his own participation in the study was limited to supplying samples of brain tumors that he had collected from patients. Researchers then compared these with other tissue samples they already had on hand. "Pathologists do this work to gain clues about tumors," Carson wrote. He continued:
I, nor any of the doctors involved with this study, had anything [sic] to do with abortion or what Planned Parenthood has been doing. Research hospitals across the country have microscope slides of all kinds of tissue to compare and contrast. The fetal tissue that was viewed in this study by others was not collected for this study.

I am sickened by the attack that I, after having spent my entire life caring for children, had something to do with aborting a child and harvesting organs. My medical specialty is the human brain and even I am amazed at what it is capable of doing. Please know these attacks are pathetic attempts to blunt our progress.
It certainly makes sense that Carson himself has never performed an abortion — he is, after all, a brain surgeon.
The question does have to be asked, however: Doesn't participation in a study that involved pre-existing microscope slides of aborted fetal tissue itself legitimize the basic idea of medical research on aborted fetal tissue? And even if the fetal tissue samples were not specifically collected for this study, nor taken from any recent abortion, were they not obtained via an abortion at some point in time?
Indeed, Carson's initial comments Thursday in reaction to the original story — issued perhaps before he'd had the opportunity to refresh his memory on what exactly he had done in a study over 20 years ago — could've served as a decent lecture for the public on just how important such research really is.
"When we obtain tissue like that, we want to know what the origin of that tissue is developmentally," Carson told The Washington Post. "Knowing that helps us determine which patients are likely to develop a problem. It's one of the reasons why at the turn of the last century, the average age of death was 47. Now, the average age of death is 80. Using the information that you have is a smart thing, not a dumb thing."
Photo: Ben Carson speaking at the 2015 Conservative Political Action Conference (CPAC) in National Harbor, Maryland. (Gage Skidmore via Flickr)