Bigger: Alexandria Ocasio-Cortez Grows Every Time Far Right Attacks Her
@ParkerMolloy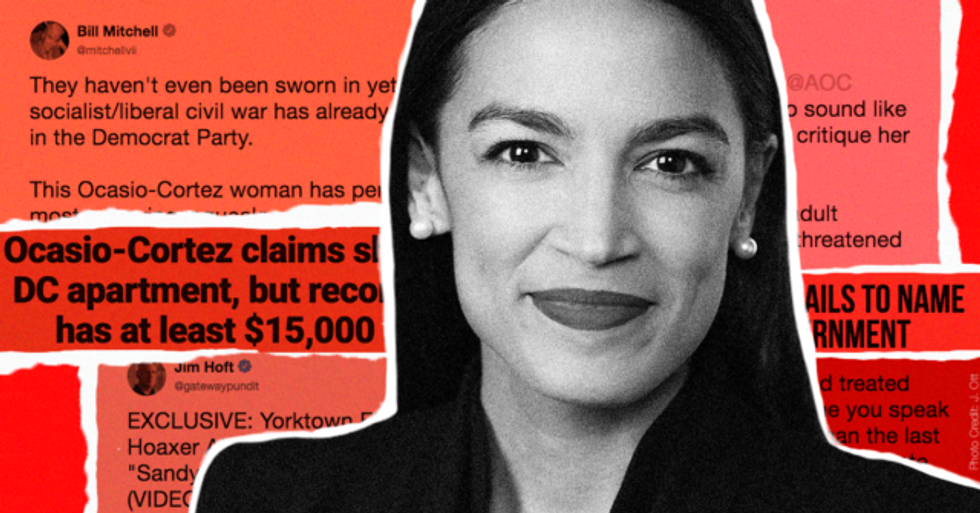 Reprinted with permission from MediaMatters.
When Alexandria Ocasio-Cortez defeated House Democratic Caucus Chair and 10-term Rep. Joseph Crowley in a June 2018 primary, The Associated Press didn't even bother to include her name in its tweet calling the race in her favor, referring to her as just "young challenger."
BREAKING: U.S. Rep. Joe Crowley defeated by young challenger in Democratic primary in New York.

— AP Politics (@AP_Politics) June 27, 2018
The Washington Post's Margaret Sullivan pointed to the lack of Ocasio-Cortez coverage during the primary race as proof that "Big Media" hasn't kept pace with American politics. Her win shocked political journalists and left publications such as The New York Times scrambling to cobble together explainer articles asking, "Who is Alexandria Ocasio-Cortez?"
It would be a massive understatement to say that newly sworn-in Rep. Ocasio-Cortez no longer suffers from a dearth of media attention — and, in a sense, she has conservative media to thank for that.
Within days of her primary win, right-wing news organizations and commentators latched on to Ocasio-Cortez as a target. As an unabashed democratic socialist who ran on the type of ambitious platform representative of virtually everything that conservatives oppose — such as Medicare for All, housing as a human right, gun safety, a federal jobs guarantee, the abolition of private prisons, free public college education, and climate change action — Ocasio-Cortez was fodder for Fox News segments declaring her the future of the Democratic Party.
On July 3, Fox & Friends co-host Ainsley Earhardt warned viewers that "socialism is surging in America," and insisted that this was "the new battle cry of the left." Her evidence: Ocasio-Cortez's primary victory. That same day on Fox Business Network's Varney & Co., guest Peter Morici called Ocasio-Cortez "the modern-day Saul Alinsky," a favorite bogeyman for conservatives.
Later that month, The Daily Caller published associate editor Virginia Kruta's account of seeing Ocasio-Cortez speak at a campaign rally. In the piece, Kruta describes the experience as "truly terrifying. I saw just how easy it would be, were I less involved and less certain of our nation's founding and its history, to fall for the populist lines they were shouting from that stage." What kind of populist lines? Kruta continues: "I saw how easy it would be, as a parent, to accept the idea that my children deserve healthcare and education. I saw how easy it would be, as someone who has struggled to make ends meet, to accept the idea that a 'living wage' was a human right." Everybody being paid enough to live, to not starve, to be able to go to the doctor without worrying that it will bankrupt your family? Oh, the absolute horror! Naturally, Fox interviewed the author soon after.
Fox News was taking a chance in elevating Ocasio-Cortez's visibility, banking on its viewers to grimace at the merest mention of socialism like a child being forced to eat broccoli. However, the outsized coverage relative to her actual level of influence within the Democratic Party — remember, at this point she hadn't even been elected to Congress — had the effect of actually increasing her power and popularity.
On June 25, Ocasio-Cortez had roughly 48,800 Twitter followers. By the end of July, after a month of laser-focused conservative media attention, she had more than 770,000. Today, that number sits at more than 2 million.
Right-wing criticisms of Ocasio-Cortez can be divided into a few categories with some overlap between them. Let's explore those for a moment.
A huge chunk of the conservative criticisms being made against Ocasio-Cortez can be summed up in two words: "She's stupid." From claiming that she "represents the need for an intelligence test before somebody is ever allowed to run and hold public office" to simply calling her "Dumb-dumb," taking jabs at her intelligence has become something of a favorite pastime for a number of conservative journalists and commentators. Here are a few examples:
There are also the conspiracy theories that she's secretly rich or that she somehow "lied" about being from the Bronx. Additionally, the fact that she used to go by the nickname "Sandy" (a common nickname for people named Alexandria) is a scandal of epic proportions for some reason. Oh, and she once borrowed expensive clothes for a photoshoot — emphasis on borrowed.
A June 27 New York Times profile explains her upbringing:
Ms. Ocasio-Cortez's mother was born in Puerto Rico. Her late father, Sergio Ocasio, an architect, was born in the Bronx. The family lived in Parkchester, a planned community of mid-rise buildings, in the same apartment where Ms. Ocasio-Cortez now lives, until Alexandria was about 5, when they moved an hour north to a modest two-bedroom house on a quiet street in Yorktown Heights, a suburb in Westchester County, in search of better schools.
How modest was that two-bedroom house in Yorktown Heights? Newsmax host John Cardillo decided to post a picture of it, seemingly to write her off as a rich elitist or something of the sort.
This is the Yorktown Heights (very nice area) home @Ocasio2018 grew up in before going off to Ivy League Brown University.

A far cry from the Bronx hood upbringing she's selling. pic.twitter.com/xyOtZzVJII

— John Cardillo (@johncardillo) July 1, 2018
Following her November election, Ocasio-Cortez gave an interview to The New York Times which discussed some of the steps she had to take to prepare for her transition to Congress:
Ms. Ocasio-Cortez said the transition period will be "very unusual, because I can't really take a salary. I have three months without a salary before I'm a member of Congress. So, how do I get an apartment? Those little things are very real." She said she saved money before leaving her job at the restaurant, and planned accordingly with her partner. "We're kind of just dealing with the logistics of it day by day, but I've really been just kind of squirreling away and then hoping that gets me to January."
This led to yet another right-wing media freakout and a lot of misleading headlines. "Ocasio-Cortez claims she can't afford DC apartment, but records show she has at least $15,000 in savings," read the headline of a post at FoxNews.com, noting that "records show she has more than enough to plunk down on an apartment in the U.S. capital." At no point did she say she couldn't afford an apartment; she did suggest that it would be hard to pay for one with a three-month gap in salary. She noted that she and her partner had saved, but her comments highlighted the broader point that it can be a major challenge for anyone other than the affluent to run for office. In any case, CNBC did a follow-up and found that Ocasio-Cortez actually had less than half of that in her account.
True or not, a narrative had been created and now she was going to be slimed for it.
"Alex from the Bronx" or "Sandy" as she called herself in high school, grew up in a wealthy Westchester area and went to a school that has a "history of successful lacrosse teams."

Another fraud politician appropriating victimhood. pic.twitter.com/fXuXal4Kfc

— Paul Sacca (@Paul_Sacca) January 3, 2019
And did you know that Ocasio-Cortez wants to turn America into Venezuela?! She doesn't, actually, but that hasn't stopped conservative media from invoking the troubled South American country to slam socialism in the same way they name-drop Chicago to dismiss gun safety measures. Pointing to Venezuela to explain why socialism doesn't work is much like pointing to the 2008 global financial collapse to explain why capitalism is ineffective; while both examples can certainly be used as part of an argument, invoking them as the entireargument is a faulty generalization.
In truth, the policies Ocasio-Cortez supports tend to either be things that the U.S. has successfully used in the past (such as a higher marginal tax rate), or they're policies that other countries have widely implemented (single-payer health care is used around the world). But to hear some of her loudest critics, she aspires to be an American incarnation of Venezuelan President Nicolás Maduro. On the plus side, this critique is actually related to her policy positions, so that's a nice change of pace!
Of course, to the great shock of absolutely no one, there's also a fair amount of garden-variety sexism thrown into a lot of the criticism for good measure.
GOP have been losing their mind + frothing at the mouth all week, so this was just a matter of time.

There is also a Daily Mail reporter (Ruth Styles) going to my boyfriend's relative's homes+offering them cash for "stories."

Women in leadership face more scrutiny. Period. https://t.co/KuHJ75sdMg

— Alexandria Ocasio-Cortez (@AOC) January 10, 2019
Before even taking office, Ocasio-Cortez was being scrutinized and held to a standard more fit for a presidential candidate than a freshman member of Congress. Like all politicians, she will occasionally misspeak, misstate a fact or a figure from memory, or inartfully articulate her message. For instance, Ocasio-Cortez once accidentally referred to the presidency and the two chambers of Congress as the "three chambers of government" during a video chat. Conservative news organizations pounced on the error, treating it as somehow newsworthy and running headlines like "Alexandria Ocasio-Cortez Flubs Basic Government 101 Facts" (The Daily Caller), "Ocasio-Cortez Has No Idea What The 3 Branches Of Government Are" (The Daily Wire), and "Ocasio-Cortez Fails to Name Three Branches of Government" (Breitbart).
Rhetorical slip-ups are common and politicians certainly understand that anything they say or do can and will be used against them in the court of public opinion. What's unusual is how focused the spotlight seems to be on Ocasio-Cortez so early in her career. When it comes to politicians who scare them — that is to say, politicians who exude charisma and can cut through the news cycle's noise to argue in favor of policies that may resonate with large swaths of the country — right-wing media will obsess over these gaffes for years to come. A great example occurred in 2008, when then-candidate Barack Obama slipped up and said that he had visited "57 states" instead of 47. While we all know that he knew how many states there were, this was instantly treated as a giant story by right-wing media. A conservative blog mocked him by selling 57-star lapel pins, and it was widely covered at the time (and still gets mentioned every so often).
So are right-wing media scared of Ocasio-Cortez and what she represents? Ryan Grim, the Washington bureau chief at The Intercept and one of the small number of journalists who covered the Ocasio-Cortez campaign well before her primary win, thinks there's a simpler explanation.
"I've noticed the alt-right has some admiration for her, which I think is sympathy for her anti-establishment bent," Grim wrote in an email before offering an explanation for why journalists not explicitly part of the "alt-right" (such as The Daily Wire's Ben Shapiro or The Gateway Pundit's Jim Hoft) are so focused on her. "I also think she's great for traffic, which explains some of the right wing fixation."
"They're entertainers and nothing more," he continued. "Understood through that lens, their approach makes financial sense for them. They're exploiting her for clicks and contributions from right wing readers the same way some grifters on the left have done with Trump."
Washington Post media columnist Margaret Sullivan has her own thoughts about why we're seeing so much Ocasio-Cortez press so early in her career.
"Some media and political figures apparently are deeply uncomfortable with her and what she represents: youth, diversity, grassroots authenticity, social-media savvy and a willingness to break with the pack," Sullivan writes in an email. "So the outsize attention is partly a sort of panicked, semi-aware effort to grapple with all that, and maybe put her in what some see as her place. Some of the media attention, too, simply arises from her being of significant interest to readers and viewers because of the qualities I mention, not from antipathy."
A handful of conservatives are starting to realize what's happening after early attempts to target her have only given her views more sway over American politics.
If you hold a microphone up to a speaker, the unpleasant noise you hear is a result of feedback. The longer you leave the microphone in place, the more that noise will be amplified. In running those early segments following Ocasio-Cortez's primary win, right-wing media placed the proverbial microphone in front of the speaker with the goal of creating a loud distraction ahead of 2018's midterm elections — but now they don't know how to make it stop.
Conservative radio host Wayne Dupree asked his followers whether they thought Ocasio-Cortez would be the rising star she is without the relentless right-wing attacks, correctly noting that the Democratic establishment was actually not very pleased with her primary victory.
Does anyone think Alexandria Ocasio-Cortez would have her growing social media army (2M followers) if conservatives wouldn't have attacked her relentlessly, calling her stupid?

Dems didn't push her ideas, as a matter of fact they were angry she beat their incumbent. #RealTalk

— Wayne Dupree 🎧 (@WayneDupreeShow) January 6, 2019
Right-wing writer Matt Walsh wrote that Ocasio-Cortez "is a star today in part because of the Right's weird fixation on her."
I reiterate that Ocasio Cortez is a star today in part because of the Right's weird fixation on her. Yeah she's got bad ideas and says dumb stuff, but that doesn't make her satan incarnate and it doesn't require or justify the disturbing obsession some conservatives have with her

— Matt Walsh (@MattWalshBlog) January 4, 2019
We have seen this scenario play out before in the way liberals elevate conservative figures they disagree with and mock. Tomi Lahren, for instance, was hosting a web show at TheBlaze just a couple short years ago. Sure, her videos had a wide reach, but she was hardly a household name until The Daily Show began making jokes about her show and eventually invited her on for the interview that set the rest of her career in motion. Soon after, she appeared on The View and made controversial comments about abortion that ended her career at TheBlaze, at which point she appeared on ABC's World News Tonight to complain that she was being "silenced." Lahren was quickly picked up by Fox News and is now one of the network's stars.
There's little doubt that the attacks against Ocasio-Cortez will continue, and there's even less worry that she won't be up for the task for fighting back. But she almost certainly wouldn't be sitting down for a widely watched interview on 60 Minutes had she not been intentionally elevated early on by conservative media. Instead, a socialist star was born, leaving right-wing news outlets with a tough decision to make about how they cover her going forward — one they may soon regret.
Parker Molloy is an editor at large at Media Matters, where she has worked since September 2018. She has a bachelor's degree in arts, entertainment, and media management from Columbia College Chicago. She previously worked at Upworthy as a senior writer.
Header image by Melissa Joskow / Media Matters