Uh Huh: DeSantis Explains That He Hasn't 'Seen' Musk's Antisemitism
@MJBoddie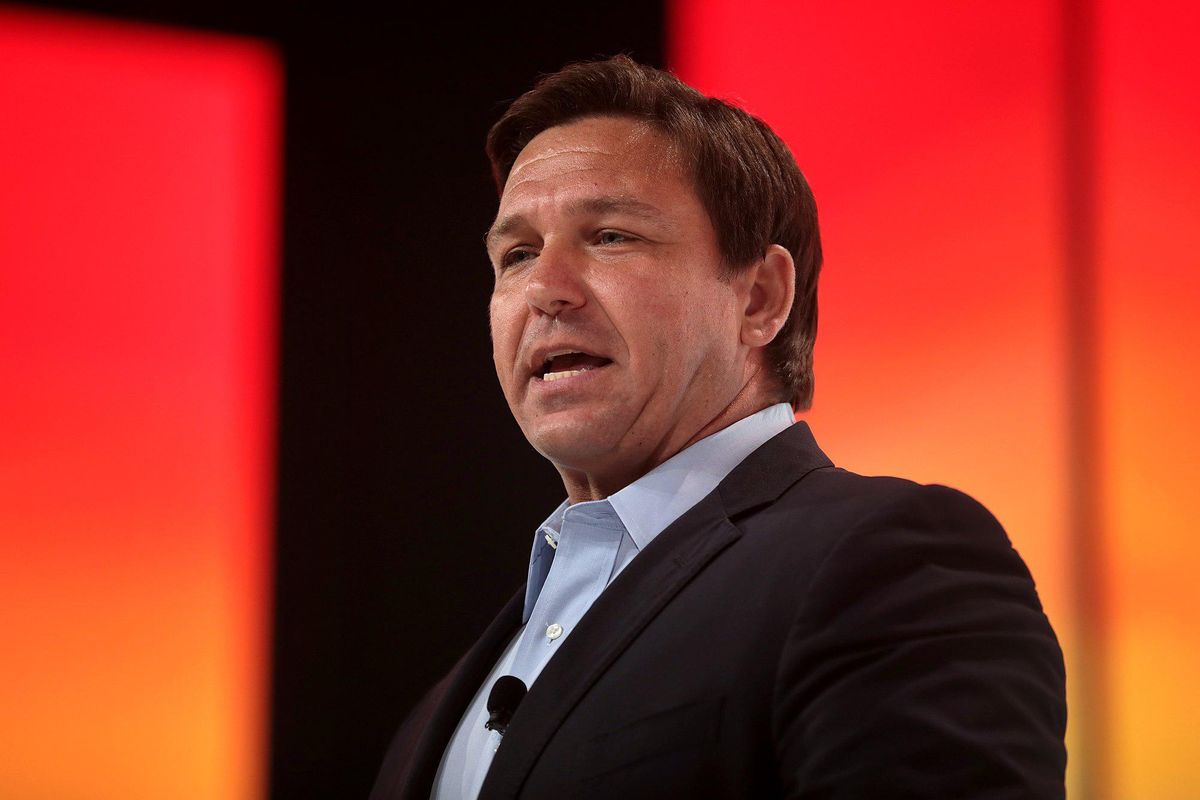 Ron DeSantis
In a one-on-one interview with CNN's Jake Tapper Sunday, Florida governor and 2024 GOP presidential candidate Ron DeSantis attempted to explain his stance on anti-semitic rhetoric from prominent leaders.
"Now you've been very out front when you see anti-semitism on the left. Is anti-semitism on the right something that concerns you as well?" Tapper asked the GOP leader.
"Across the board," DeSantis said. "And actually, I think in the advent of these attacks, the amount of anti-semitism that we've seen has really surprised me. and i'm somebody that's signed major legislation in Florida to combat anti-semitism on college campuses. and yet what you've seen come out since then, and you have seen it on both sides. but i would say this. the difference is that on the left, that tends to be attached to some major institutional power, like some of our most august universities, where on the route, it tends to be more fringe voices that are doing it. But it's wrong, no matter what, and I don't think that we've seen anti-semitism this bad in the world probably since the second World War."
Tapper said, "I don't know how fringe the voices are, to be completely frank. Elon Musk is the wealthiest man in the world, and we've seen some major conservative media figures — Charlie Kirk, Candice Owens and others — pushing really, really hateful stuff, backing this nonsensical theories of white genocide, white replacement theory, and I would ask that major Republican figures like you use your voices as well to stand against it. But let's turn to another topic."
DeSantis added, "Jake, with all due respect on that, to have somebody that's like blogging and doing stuff like that, okay, that's an issue. But to compare that with how some of these most powerful universities in the country have responded to this — we have Jewish students fleeing for their lives, because you have angry mobs and yet they have not done what they need to do to protect the safety and well-being of those students. I have constituents in Florida whose kids don't even want to go to campus in the advent of this because of such a hostile environment. I do think on the institutional side, you've seen this become part of a left-wing movement. a very significant pro-Hamas movement, and it is backed by institutional power."
Tapper replied, "Yeah, absolutely, Jewish students, just like Muslim students, Black students, gay students — all students should feel safe on campuses and the concern jewish students have right now is very serious. I'm just saying, Elon Musk is a pretty powerful guy and he's out there endorsing some pretty hideous anti-semitic conspiracy theories and I still haven't heard you condemn it."
The governor said, "Well, because I haven't seen it, I have no idea what the context is. I know Elon Musk. I've never seen him do anything. I think he's a guy that believes in America. i've never seen him indulge in any of that. It's surprising if that's true, but I haven't seen it, and I don't want to pass judgment on the fly."
Watch the video below or at this link.
Reprinted with permission from Alternet.