Endorse This: Back When Mitt Romney Loved Donald Trump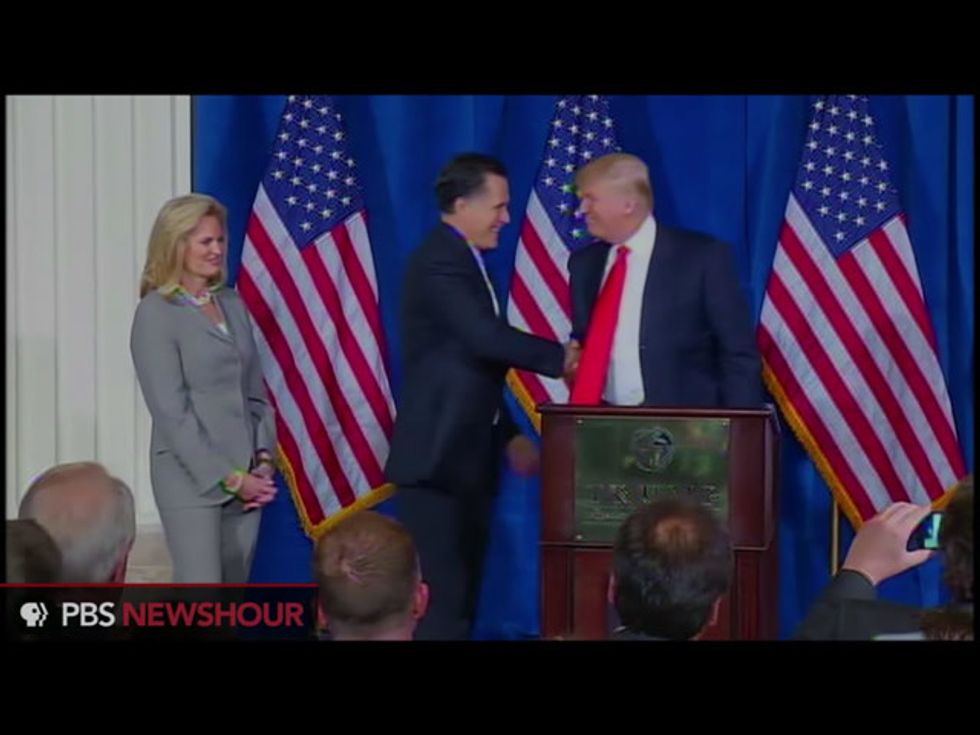 Mitt Romney made huge waves today with his speech denouncing Donald Trump's candidacy as dangerous to the Republican Party and to America itself, pulling out all the stops to call Trump a "phony" and a "fraud" who has stoked racism, sexism, vulgarity, and otherwise lowered the level of the public discourse.
But it turns out Mitt didn't always have such a low opinion of The Donald. Back in 2012, he avidly sought and received Trump's support for his own presidential campaign. He even joined Trump at his Las Vegas casino — for the endorsement of a man whose major claim to political fame at that time was stoking racist conspiracy theories about President Obama's birthplace, background, and personal accomplishments.
"There are some things that you just can't imagine happening in your life — this is one of them," said a bright and beaming Romney, in a display so obsequious to Trump that it would make Chris Christie shake his head. "Being in Donald Trump's magnificent hotel, and having his endorsement, is a delight. I'm so honored and pleased to have his endorsement."
Today, Romney called Trump a fraud with a string of failed businesses and a disgraced personal brand. But here's what he said back then: "Donald Trump has shown an extraordinary ability to understand how our economy works, to create jobs for the American people. He's done it here in Nevada; he's done it across the country."
And check this out, in contrast to Romney's denunciations today of Trump's protectionist economic policies: "He understands that our economy is facing threats from abroad. He's one of the few people who stood up and said, you know what, China has been cheating — they've taken jobs from Americans, they haven't played fair. We have to have a president who will stand up to cheaters. We believe in free trade and free enterprise — but we don't believe in allowing people to cheat, day in and day out."
And there was even this offhand remark, when Romney was pitching himself a businessman who could get the economy working again: "I spent my life in the private sector — not quite as successful as this guy — but successful nonetheless."
"So I want to say thank you to Donald Trump for his endorsement," he also added. "It means a great deal to me to have the endorsement of Mr. Trump, and people across this country who care about the future of America."
So why did Mitt so thoroughly debase himself as to grovel for The Donald's support? Maybe it's explained by his final remark in the video, as he was thanking all his endorsers in Nevada: "And make sure and vote on Saturday — I need every vote I can get."
Yeah, that's it.
Video viaPBS NewsHour.
Get More to Endorse Delivered to Your Inbox