Seeking October Trial, Fani Willis Calls Trump Co-Defendant's Bluff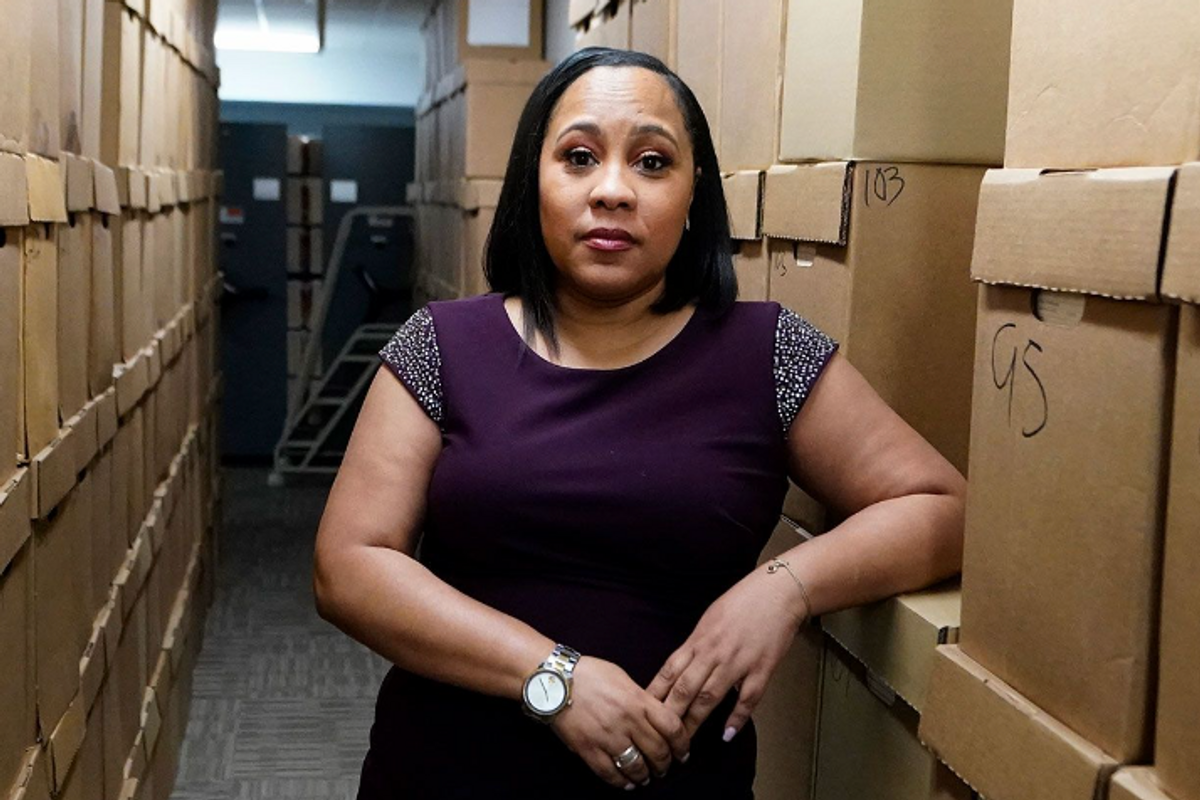 Fani Willis
Fulton County District Attorney Fani Willis on Thursday "effectively call[ed]" former Donald Trump lawyer Kenneth Chesebro's bluff , according to Atlantic Journal-Constitution reporter Tamar Hallerman.
Chesebro is one of 19 people charged earlier this month in a sprawling 41-count indictment accusing Trump and his associates of conspiring to overturn the results of the 2020 presidential election in Georgia.
Prosecutors say Chesebro wrote internal campaign memorandums that purported to offer a legal framework for appointing fraudulent electors to overturn the will of Georgia voters and give Trump the state's 16 Electoral college votes. Chesebro " is charged with racketeering and other offenses , such as conspiring to commit impersonating a public officer, conspiring to commit forgery in the first degree and conspiring to commit false statements and writings," the Atlantic Journal-Constitution reports.
Chesebro on Wednesday filed an " aggressive " motion demanding a speedy trial in the case. Reporters Hallerman and Bill Rankin described the motion as "the legal equivalent of throwing a bomb into the case," adding the move "could force Willis to try Chesebro by the end of December and scuttle her plans to prosecute all 19 defendants together."
But, as Hailerman and Rankin report, Willis on Thursday called for the trial " to commence for all 19 defendants on Oct. 23. "
"Willis is effectively calling Chesebro's bluff with this new filing — telegraphing to him and the 18th others that the state is indeed ready," Hallerman wrote in a tweet. "Will be up to Judge McAfee to weigh in now. There's also the question of what happens to the pending fed removal motions…."
McAfee indeed weighed in "a few hours later setting the trial date Willis wanted but ruling it would apply only to Chesebro," the reporters note.
"Due to the defendant's timely demand for speedy trial ... scheduling will occur on an expedited timeline," McAfee wrote in his decision. "At this time, these deadlines do not apply to any co-defendant."
As the reporters note, multiple legal issues interact Chesebro's with speedy trial request. For one, three defendants, including former White House Chief of Staff Mark Meadows , have asked to transfer their cases out of Fulton County Superior Court to U.S. District Court in Atlanta, and a number of legal experts say if one defendant is removed the other 18 would follow."
According to the reporters, there's no precedent for "how Georgia's speedy trial rule and the federal removal statute interact."
"There's no case law," Atlanta attorney Andrew Fleischman told Hailerman and Rankin.

The reporters add: "Under Georgia law, the speedy trial demand filed by Chesebro applies to all 19 defendants."
Reprinted with permission from Alternet .