Georgia Republicans Pass Bill Allowing Ouster Of District Attorney Willis
@next2godwin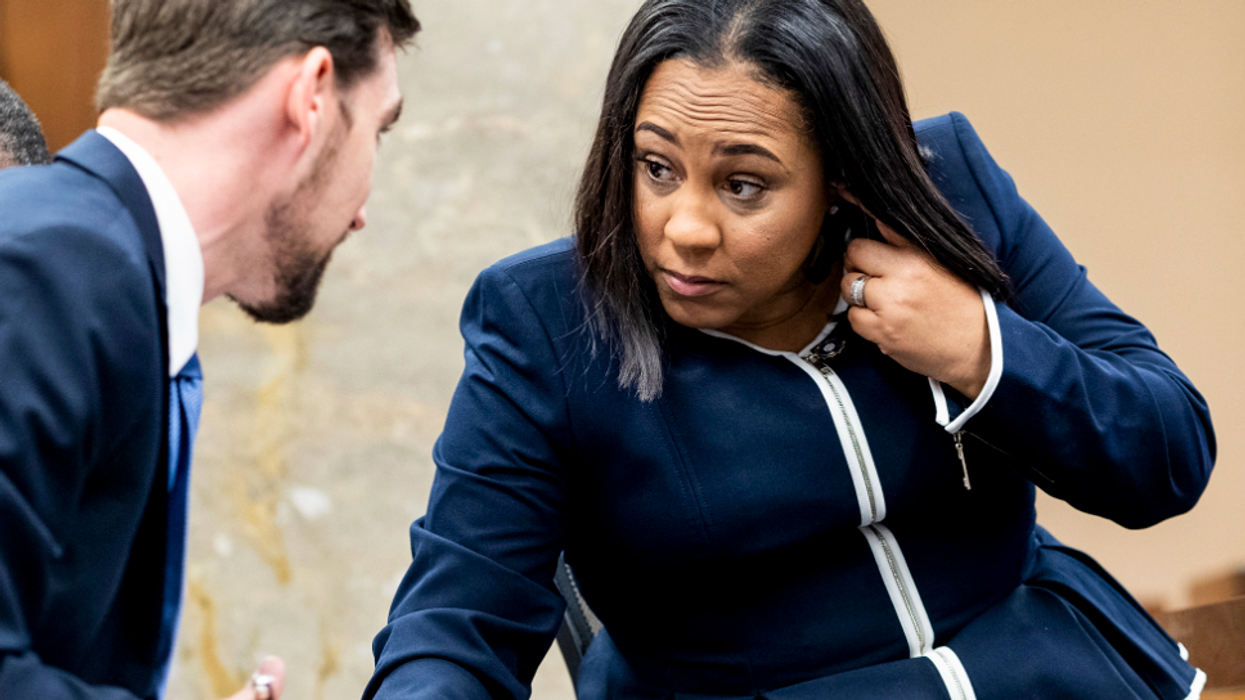 Georgia Republicans have passed a new law that allows for the removal of locally-elected prosecutors from office, which could include the Atlanta-area district attorney probing efforts by former President Donald Trump and his allies to overturn the state's 2020 election results.
The law, Senate Bill 92 — sponsored solely by Republicans — will establish a Prosecuting Attorneys Qualifications Commission. The commission will have the authority to boot district attornies considered to have shown a "willful and persistent failure" to prosecute crimes that they are "by law required to prosecute," according to the Guardian.
The commission will consist of eight people: six current or former prosecutors and two attorneys. The commissioners will convene on July 1 and start taking complaints on October 1, the Associated Press reported.
Georgia's Republican governor, Brian Kemp, signed the bill into law Friday at the Chatham County Sheriff's Office in Savannah. In a press release issued the same day, Kemp praised the bill as a means to hold "incompetent prosecutors" accountable for what he said was their failure to prioritize public safety.
"As hardworking law enforcement officers routinely put their lives on the line to investigate, confront, and arrest criminal offenders, I won't stand idly by as they're met with resistance from rogue or incompetent prosecutors who refuse to uphold the law," Kemp said.
"The creation of the PACQ will help hold prosecutors driven by out-of-touch politics than commitment to their responsibilities accountable and make our communities safer," he added.
Critics have blasted the bill as part of a nationwide Republican effort to control or outs Democratic and liberal-leaning prosecutors who they deem "woke," soft on crime, or adamant about prosecuting certain crimes, such as abortion, which several Republican-led states have banned since Supreme Court's conservative majority overturned Roe v Wade.
Georgia Democrats and voting rights activists have accused Kemp and the Republican-dominated legislature of attempting to use the bill to impose their will on areas that are predominantly Democratic.
"Georgia voters' ability to provide critical input into the criminal legal system is now under threat following the signing of SB 92 into law—the latest effort in Governor Kemp's harmful, anti-democratic agenda," Esosa Osa, the deputy executive director of Fair Fight Action, a voting rights organization, wrote in a public statement.
The bill came as Fulton County District Attorney Fani Willis weighed criminal charges against Trump and his allies for alleged election interference efforts in 2020, adding to concerns that the new law could be to silence or crack down on prosecutors handling politically sensitive cases.
Willis herself has decried the bill as "racist" at a hearing, pointing out the curious timing of its passage by Republicans. She said the bill had come after voters in 2020 elected fourteen minority district attornies, who "now represent the majority of the constituents in the state of Georgia," reported the Atlanta Journal-Constitution.
Republican lawmakers swiftly attacked Willis for her characterization of their bill. "For you to come in here and try to make this about racism, that this bill is directed at any district attorney or solicitor because of racism, is absurd, and it's offensive," said GOP state Senator Bill Cowsert. "It's a racist statement on its own."
Trump also took aim at Willis in a tirade on his Truth Social platform last month.
"The Racist District Attorney in Atlanta, Fani T. Willis, one of the most dangerous and corrupt cities in the U.S., is now calling the Georgia Legislature, of course, RACIST, because they want to make it easier to remove and replace local rogue prosecutors who are incompetent, racist, or unable to properly do their job," he wrote.
Trump has repeatedly denounced Willis' investigation — which roared to life after the then-president pressured a top Georgia election official over the phone to "find" enough votes to reverse his loss in the state — as a "political witch hunt."
A court filing on Friday revealed that eight of the sixteen "fake electors" in Georgia who sought to erroneously declare Trump the winner of the 2020 presidential election had accepted immunity deals in Willis' investigation into the matter.
Georgia Republicans have named criminal reform-minded Democratic District Attorney Deborah Gonzalez, who serves Athens-Clarke and Oconee counties, as a target for the controversial Senate Bill 92. Gonzalez has faced criticism from Republicans for refusing to issue charges for simple marijuana possession and abortion-related crimes.
"[Senate Bill 92] is not an oversight bill. It's an overstep on the part of the legislature to undermine the voice and vote of the people who elected us as DAs based on our approach and what they felt they wanted, in terms of the way that justice should be done in their community. This just takes all of that away," Gonzalez told Bolts Magazine.