Cut Social Security, Medicare Or Pentagon? House Republicans Clash Over Budget
@alexvhenderson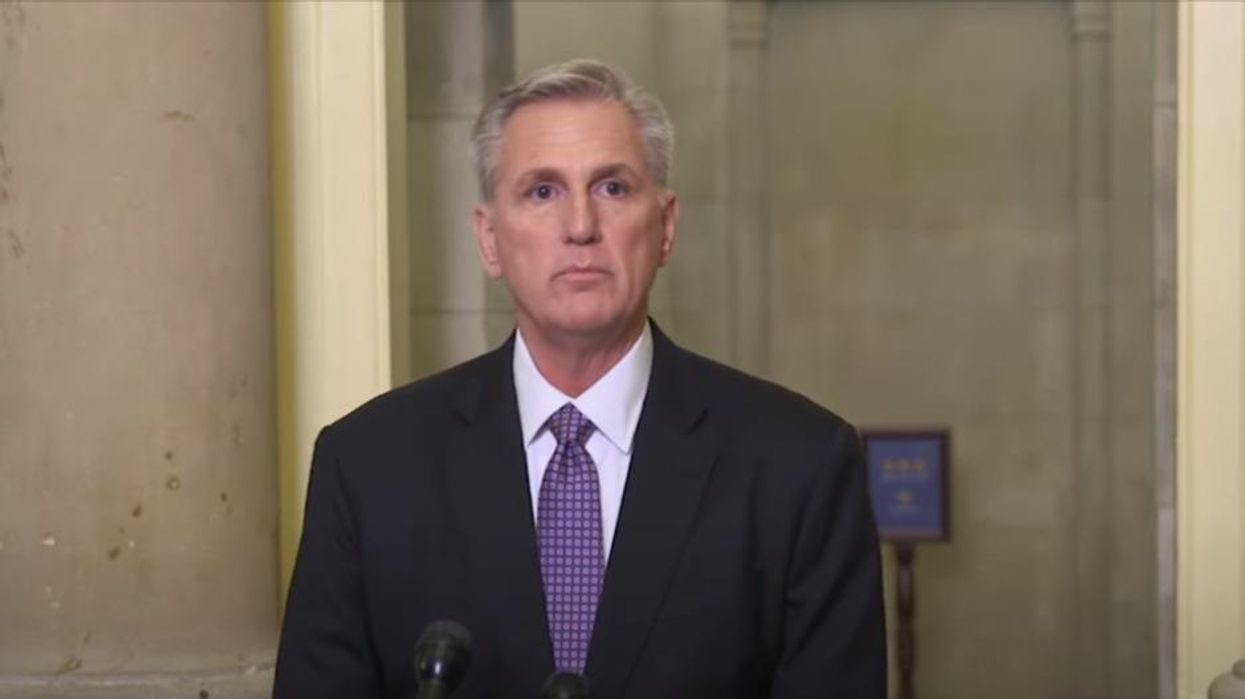 Youtube Screenshot
It's a familiar pattern, Democrats say: Republicans run up federal deficits when they're in the White House, then suddenly become deficit hawks once again when there's a Democratic president. When GOP lawmakers passed the Tax Cuts and Jobs Act of 2017 and then-President Donald Trump signed it into law, the Republican National Committee (RNC) wasn't worried about the United States' federal deficit.
"The national debt has risen by almost $7.8 trillion during Trump's time in office," ProPublica noted a week before the conclusion of Trump's term in 2021. "Trump had the third-biggest primary deficit growth, 5.2 percent of GDP, behind only George W. Bush (11.7 percent) and Abraham Lincoln (9.4 percent). Bush, of course, not only passed a big tax cut, as Trump has, but also launched two wars, which greatly inflated the defense budget. Lincoln had to pay for the Civil War. By contrast, Trump's wars have been almost entirely of the political variety."
But under Democratic President Joe Biden, House Republicans have — as liberal economist Paul Krugman emphasizes in his New York Times column — reemerged as deficit hawks.
Slashing federal spending is a prominent topic among the GOP's new small majority in the U.S. House of Representatives. But journalist Ursula Perano, in an article published by the Daily Beast on January 30, emphasizes that GOP lawmakers are debating exactly what they want to cut.
Consequently, the ongoing deficit wrangle has thrust House Speaker Kevin McCarthy (R-CA) into conflict with his conservative caucus.
Perano reports, "When Republicans took control of the House this November — and took back some control over the federal budget — they did so with a promise of widespread cuts to government spending. But as those conversations have started developing between members on Capitol Hill, a less catchy reality is coming into light: Spending cuts are easier promised than delivered."
When McCarthy appeared on CBS News' "Face the Nation" on January 29, he insisted that cuts to Medicare and Social Security are off the table in talks on raising the debt ceiling. But he said that cuts to other parts of the federal budget, including defense spending, are open to discussion. Rep. Marjorie Taylor Greene of Georgia is calling for cuts to military aid for Ukraine.
The House Speaker told CBS News, "I want to make sure we're protected in our defense spending, but I want to make sure it's effective and efficient. I want to look at every single dollar we are spending, no matter where it is being spent."
Although McCarthy vowed to leave Social Security and Medicare alone during that interview, other House Republicans don't necessarily see it that way.
Perano explains, "Instead of wide agreement on when, where, and how to cut spending, members are still haggling over how to start. The defense budget is huge, but some Republicans are cautious to be seen cutting money for the military and national security — a line-item Republicans have fought to increase for decades. Social Security and Medicare are allegedly on the table, but it's a red line for some Republicans that former President Donald Trump — still the most prominent Republican — has insisted they should not touch."
Reprinted with permission from Alternet.

Frequently Asked Questions
What is the current budget situation in the House of Representatives?
The House Republicans are currently clashing over the budget, with the decision to cut either Social Security, Medicare, or the Pentagon.
What are the consequences of cutting Social Security?
The consequences of cutting Social Security would be a reduction in benefits for the elderly and those with disabilities.

What would happen if Medicare were cut?
If Medicare is cut, it will reduce healthcare coverage for seniors and those with disabilities.