Fighting Nears Baghdad As UN Warns Crisis 'Life-Threatening'
@AFP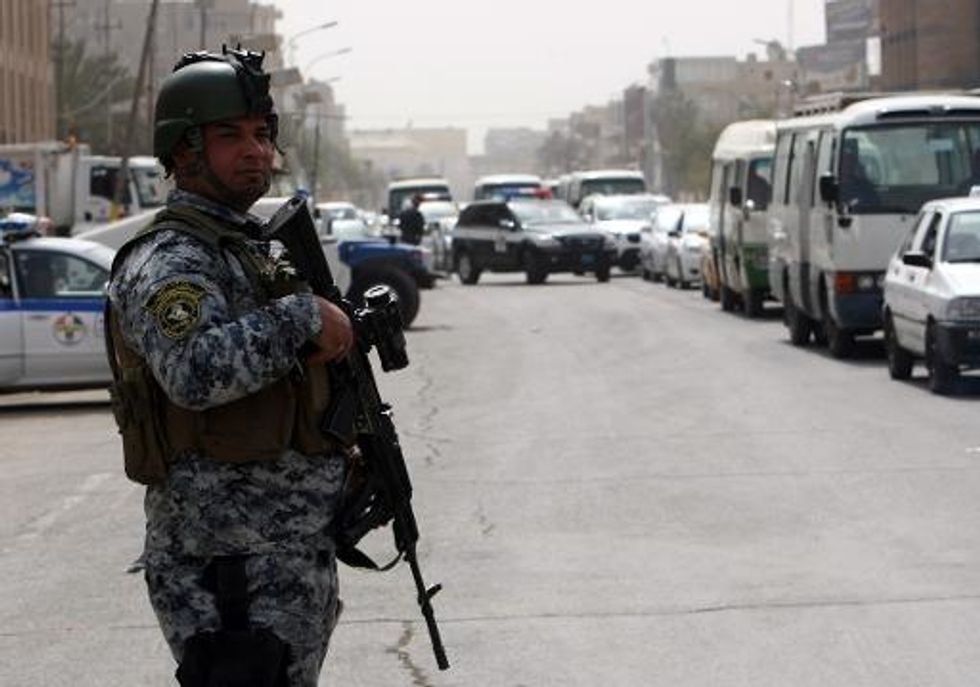 Baghdad (AFP) – Militants pushed a week-long offensive that has overrun swathes of Iraq to within 37 miles of Baghdad Tuesday, as the UN warned the country's very existence was under threat.
Washington meanwhile deployed 275 military personnel to protect its embassy in Baghdad, the first time it has sent troops to Iraq since it withdrew its forces at the end of 2011 after a bloody and costly intervention launched in 2003.
It was also mulling air strikes against the militants, who are led by the powerful Islamic State of Iraq and the Levant (ISIL) jihadist group.
The insurgents since they launched their lightning assault on June 9 have captured Mosul, a city of two million people, and a vast amount of territory north of Baghdad.
The crisis has displaced hundreds of thousands of people and sparked fears that the violence could impact the country's vast oil production, along with concerns that security forces won't be able to halt the insurgents' march on the capital.
Officials said Tuesday that the fighters briefly held areas of Baquba, a short drive from Baghdad, and took control of most of Tal Afar, a Shiite-majority town in north Iraq that lies along a strategic corridor to Syria.
The overnight attack on Baquba, which was pushed back by security forces but left 44 prisoners dead at a police station, marked the closest that fighting has come to the capital as part of a lightning offensive in which jihadists have said they intend to march on Baghdad and the southern Shiite holy city of Karbala.
Accounts differed as to who was responsible for the prisoner killings, with Prime Minister Nuri al-Maliki's security spokesman saying the prisoners were killed by insurgents carrying out the attack, and other officials saying they were killed by security forces as they tried to escape.
In Tal Afar, militants were controlling most of the town but pockets of resistance remained, and soldiers, policemen and armed residents held on to parts of its airport, according to Nineveh provincial council deputy chief Nureddin Qabalan.
The swift advance of the militants has sparked international alarm, with UN envoy to Baghdad Nickolay Mladenov warning that Iraq's sovereignty was at stake.
"Right now, it's life-threatening for Iraq but it poses a serious danger to the region," Mladenov told AFP.
"Iraq faces the biggest threat to its sovereignty and territorial integrity" in years, he added.
Another somber warning came from the prime minister of Iraq's autonomous Kurdistan region, who told the BBC it would be "almost impossible" for the country to return to how it was before the offensive was launched.
Nechirvan Barzani said it would be difficult to find a resolution with Maliki, who is accused by his opponents of blatant sectarianism, in power.
"Now we have to sit down and find a solution, find how to live together… but if we expect, if we think that Iraq will go back like before Mosul, I don't think so, it's almost impossible."
Alarmed by the militant advance against an Iraqi army that has largely wilted in the face of the onslaught, foreign governments have begun evacuating their nationals and pulling out diplomatic staff.
U.S. President Barack Obama announced that about 275 military personnel were being deployed to Iraq to help protect the embassy in Baghdad and assist U.S. nationals there, noting that they were "equipped for combat".
Washington has already deployed an aircraft carrier to the Gulf, but Obama has ruled out a return to combat in Iraq for U.S. soldiers.
As the U.S. weighed its next move, Secretary of State John Kerry said on Monday that drone strikes could be used, and while Washington has ruled out cooperating militarily with Tehran, the two nations — which have been bitter foes for more than 30 years — held "brief discussions" on the crisis in Vienna.
Drones have been used by the U.S. against militants to devastating effect in Yemen, Afghanistan and Pakistan, but have come in for criticism over civilian casualties, and have so far not been used to strike insurgents in Iraq.
Doubts are growing that the Iraqi security forces can hold back the militant tide, despite military commanders trumpeting a counter-offensive.
Soldiers and police retreated en masse as the insurgents, which included ISIL but also a litany of other groups including supporters of executed dictator Saddam Hussein, swept into Iraq's second city of Mosul a week ago, leaving vehicles and even uniforms in their wake.
Their retreat, despite their vast numerical advantage, is the result of what experts say are myriad problems, ranging from lackluster training and low morale, to corruption and an atmosphere of simmering sectarianism.
The jihadists are said to have killed scores of Iraqi soldiers as they pushed their advance, including in a "horrifying" massacre in Salaheddin province that has drawn international condemnation.
Photo: Ali al-Saadi via AFP