Florida Doctors Walkout To Protest Vaccine Resistance
@marissahiggins_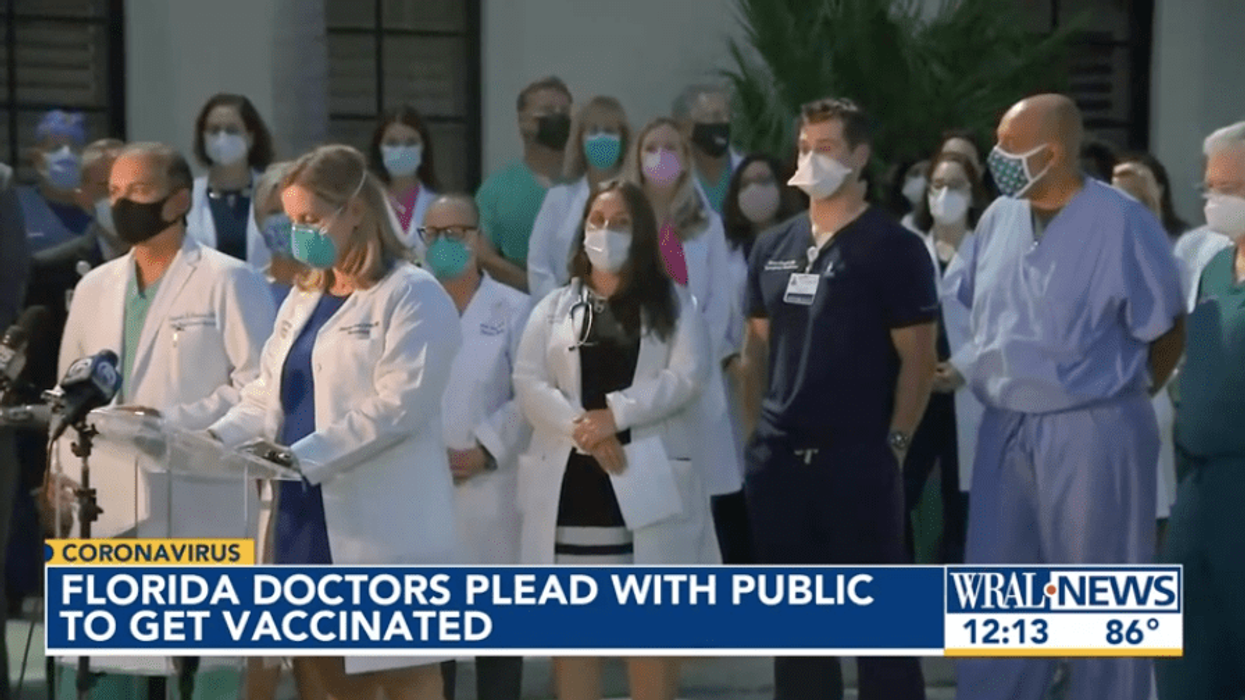 Screenshot from WRAL News
Reprinted with permission from Daily Kos
Since the novel coronavirus pandemic first hit the United States, people on all sides of the political aisle have praised physicians—as well as others in health care, like nurses and janitorial and cooking staffs—for their tireless work and dedication in the face of increased workload and, frankly, increased trauma. As some are holding out on getting vaccinated, however, and cases are skyrocketing again in particular pockets of the country—hi, Gulf Coast—some medical professionals are burned out and fed up. And as we saw on Monday morning, a group of physicians in south Florida staged a walkout in an appeal to the public to get their point across.
As reported by The New York Times, Florida leads the nation when it comes to daily average cases, as well as hospitalizations. And the doctors, ranging from emergency room physicians to plastic surgeons to neurologists, treating patients in Palm Beach County, Florida, are desperate to get one message across: Vaccines are safe, and if you trust physicians to treat you when you're hospitalized, trust them enough to get yourself and your community vaccinated.
As covered by my colleague Joan McCarter at Daily Kos, the Food and Drug Administration (FDA) granted full approval for the Pfizer-BioNTech COVID-19 vaccine on Monday. Specifically, this vaccine, branded Comirnaty, has been fully approved for people 16 and over. For youth between 12- and 16-years-old, it's authorized for emergency use. In theory, this should reassure vaccine holdouts who argued the vaccine hadn't been vetted enough for them to feel comfortable taking the leap. That plus the reality that medical professionals are basically begging for people to finally get the shot.
"We exhausted our patience and resources are running low," Dr. Rupesh Dharia, an internist, said on Monday, as he and more than 75 peers across medical specialties protested early Monday morning. "We need your help."
Worse, this isn't even the first time physicians in this area have appealed to the public to please do their part and get vaccinated. For example, earlier this month, gynecologists and obstetricians in Florida made a public plea to pregnant people to get vaccinated. Dr. Pam Carbiener, who works at Halifax OBGYN in Daytona Beach, Florida, told local outlet WESH that the COVID-19 surge at her local hospital included pregnant patients. She urged folks to get vaccinated.
"I had to do an emergency Caesarean section early so that we could get her on a ventilator because her [illness] was so severe," Carbiener told the outlet in early August, then stressing it's been shown that when pregnant people are vaccinated, it can also help their baby.
"Antibodies that they create, those can pass both through the placenta to the baby and later on through the breast milk to the nursing baby," she added.
One would think that nothing would bring people and a sense of camaraderie together like facing a literal global pandemic, but plenty of people are apparently willing to put themselves and vulnerable community members—like pregnant people and babies—in danger. Between people going to theme parks and beaches, on vacations, and generally itching to return to normal life—or, perhaps, having never stopped living "normal" lives—we've seen countless reports of Florida being a hotbed for the virus, no thanks, of course to the state's Republican governor.
In speaking to The Palm Beach Post, neurologist Robin Kass said the pandemic is the "worst it's ever been right now," and added that "nobody realizes that." In Florida specifically, illnesses and deaths related to COVID-19 are growing faster than previously in the pandemic. For example, the state's case count exceeded three million on Friday, with more than 1,400 deaths and 150,000 new cases last week alone.
And how do protesting physicians, many of whom work at Jupiter and Palm Beach Gardens medical centers, feel about vaccine skepticism and hysteria? Exhausted.
"It's incredibly frustrating," Dr. JT Snarski explained to NBC's correspondent Kerry Sanders. "Because we know vaccines are safe and effective. And it's people who go out and talk against them that really go against physicians and medicine and science." She stressed that vaccines are "safe" and that it's imperative we "get our communities vaccinated."
"The vaccine still remains the most effective and reliable way to stop this madness," said Dr. Leslie Diaz, an infectious disease specialist, while speaking to the public on Monday. "The face of COVID is the person standing next to you. It is the unknown, and it is very unpredictable."
For context about Florida in particular, Sanders reports that 85% of ICU beds in Florida are full, in addition to the hospitals in the state that actually have no ICU bed spots, and are instead resorting to other spaces, like conference rooms and cafeterias, for patients.
If you're assuming this group of overworked doctors also wants to see kids wearing masks in school, you'd be right. A pediatrician at Jupiter Medical Center, Dr. Sarrie Katz, stressed that to "help" the youngest child, we must "encourage" them to mask up, adding that she's personally seen children get sick with serious symptoms like shortness of breath.
You can watch an interview clip from the protest below.
Physicians stage walkout in South Florida and plea with the public to get vaccinatedwww.youtube.com
Thankfully, on a nationwide scale, more and more entities are requiring the vaccine. For example, New York City Mayor Bill de Blasio announced on Monday that staff in all of the city's public schools must get at least one dose of the vaccine by Sept. 27. This rule applies to teachers, admin staff, and principals as well as cafeteria workers and custodians. This lines up with de Blasio's prior announcement that city employees must either get vaccinated or be tested for the virus on a weekly basis.
Also on Monday, a spokesperson for the Pentagon, John Kirby, said all service members would be required to get vaccinated.