Momentum Builds In Congress To 'Do Something' About Thomas Misconduct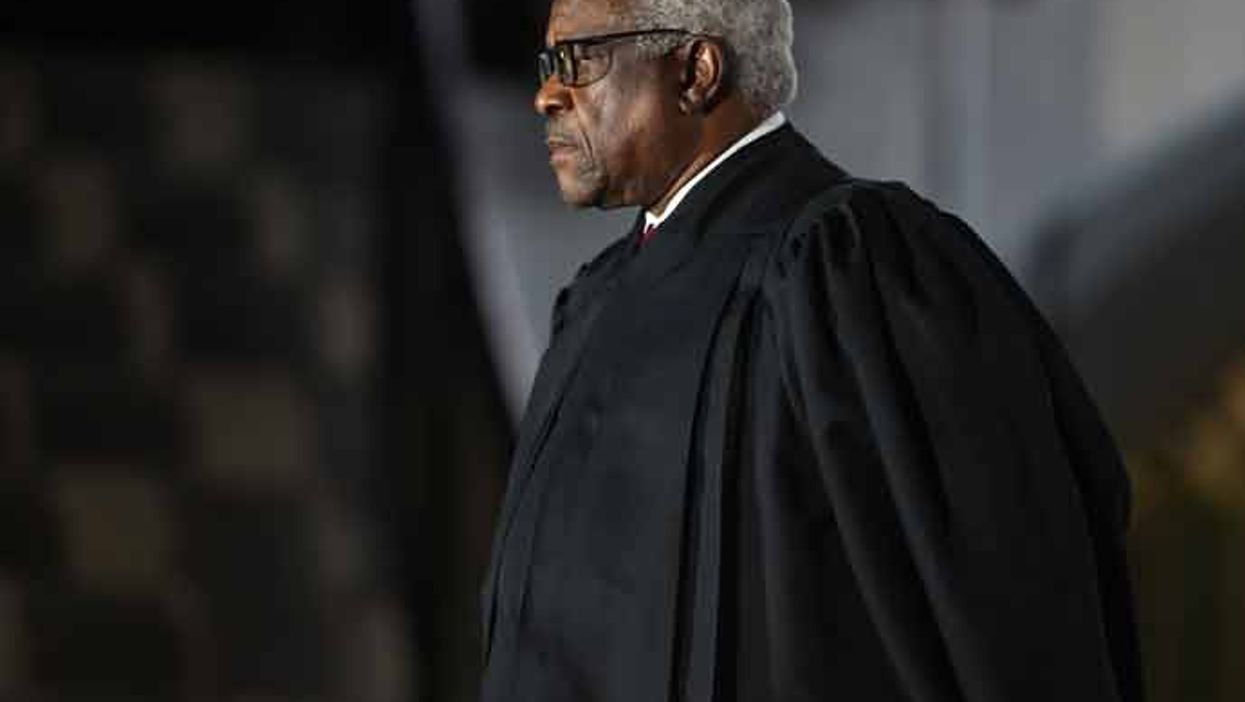 Supreme Court Justice Clarence Thomas is a problem for the court, for the nation, and for democracy in general. That's been true for decades, as long as his deep ties to the dark money swirling around the judiciary, and doesn't even take into account the extremely partisan activities of his "best friend" and wife Ginni. Since those activities now include attempting to overthrow the government, the problem of Clarence Thomas just got a whole lot more glaring—and congressional leadership has been caught just a bit flat-footed.
Stepping into the void, Rep. Alexandria Ocasio-Cortez was the first to use the "I" word. "Clarence Thomas should resign," she tweeted. "If not, his failure to disclose income from right-wing organizations, recuse himself from matters involving his wife, and his vote to block the Jan 6th commission from key information must be investigated and could serve as grounds for impeachment."
By all means, the House should start talking about impeachment. That's what Thomas deserves: the ultimate censure. That's where to start: the maximum. There's no real other leverage the other two branches have over the Supreme Court than pressure in the public eye and the threat of action. Chief Justice John Roberts has been aware enough about his personal legacy in his career thus far to make blowing up the Thomas scandal in public—and keeping it there with discussion of impeachment—a smart tactic.
Would the 50-50 Senate convict him? No, but that's a valuable weapon for Democrats in the upcoming election. Republicans are protecting the Supreme Court justice who has refused to recuse himself from cases involving his wife's efforts to overthrow the government.
The good news is that Democrats are inching toward something a little more concrete than demanding that Thomas recuse. That's where they started. A group of House and Senate Democrats, spearheaded by Sen. Elizabeth Warren (D-MA) and Rep. Pramila Jayapal (D-WA), wrote to the Supreme Court requesting that Thomas recuse himself from any future Jan. 6-related cases, as well as provide a "written explanation for his failure to recuse himself" in previous cases.
"[G]iven the recent disclosures about Ms. Thomas's efforts to overturn the election and her specific communications with White House officials about doing so, Justice Thomas's participation in cases involving the 2020 election and the January 6th attack is exceedingly difficult to reconcile with federal ethics requirements," says the letter obtained by TheWashington Post.
The lawmakers also called on Roberts to commit to creating "a binding Code of Conduct for the Supreme Court—the only court in the country not currently subject to a judicial code of ethics—that includes (1) enforceable provisions to ensure that the Justices comply with this Code and (2) a requirement that all Justices issue written recusal decision." They ask that he do so by April 28.
Which is a fine and appropriate next step, since Thomas will surely refuse to recuse. "He absolutely should recuse himself," Jayapal told Politico. But, she added, "Clearly the Supreme Court is in need of ethics reforms."
Jayapal is on the House Judiciary committee, so the ethics reform thing is another possibility. In fact, legislation to impose the Judicial Code of Ethics on the Supreme Court—which is currently exempt from it—would be a good concurrent step for Congress to be taking along with the public pressure campaign to get him to resign. That legislation exists in a bill written by Sen. Chris Murphy (D-CT) and should start moving through the committee immediately.
After an ill-conceived dismissal of the issue on Monday by Judiciary Chair Dick Durbin, who suggested there's no urgency to the Thomas problem, there's now some momentum there. Durbin had a day to think it over and is now joining Warren in saying lawmakers need to act. Durbin told CNN's Manu Raju that imposing the ethics code on the Supreme Court is "long overdue." Warren told him the legislation should include limits on stocks and "rules about other kinds of personal conflicts." The Senate Democrats are expected to discuss Murphy's legislation in their conference luncheon Tuesday, Raju reports.
That's all fine and needs to move apace. At the same time, House Democrats should not rule out pursuing impeachment, which has to initiate in that chamber. Once again, Ocasio-Cortez is pushing Democrats to go there. Remember, she said, that pushing for impeachment of Trump on his extortion of Ukrainian President Volodymyr Zelenskyy was initially deemed "unrealistic," and the "debate was fierce & opposition real." But, she argues, "When we look back at the decision to impeach Trump over Ukraine today, could you imagine if the naysayers and those claiming to be 'politically savvier' won? WE would be explaining why we allowed it to happen instead of the Senate explaining why they acquitted." That's on the Senate Republicans.
"Subpoenas, investigations, and impeachment should absolutely be on the table. We shouldn't have to think twice about that," she concluded in the thread. "We must go where the facts take us. A failure to act puts the imperiling of democracy squarely on *our* shoulders. It's our duty to defend it."
Let the Senate lead on the code of ethics legislation. How are Senate Republicans going to argue about that? The House needs to start those investigations toward impeachment. Both chambers should also be talking now about legislation to expand the court, and to put pressure on President Joe Biden to join as well. If there's going to be any change, any accountability at the court, it's not going to come without a big public stink. It's the only way it's going to happen.
Reprinted with permission from Daily Kos