J.D. Vance's Cynical Senate Candidacy Crashing As He Shuns Debates
@alexvhenderson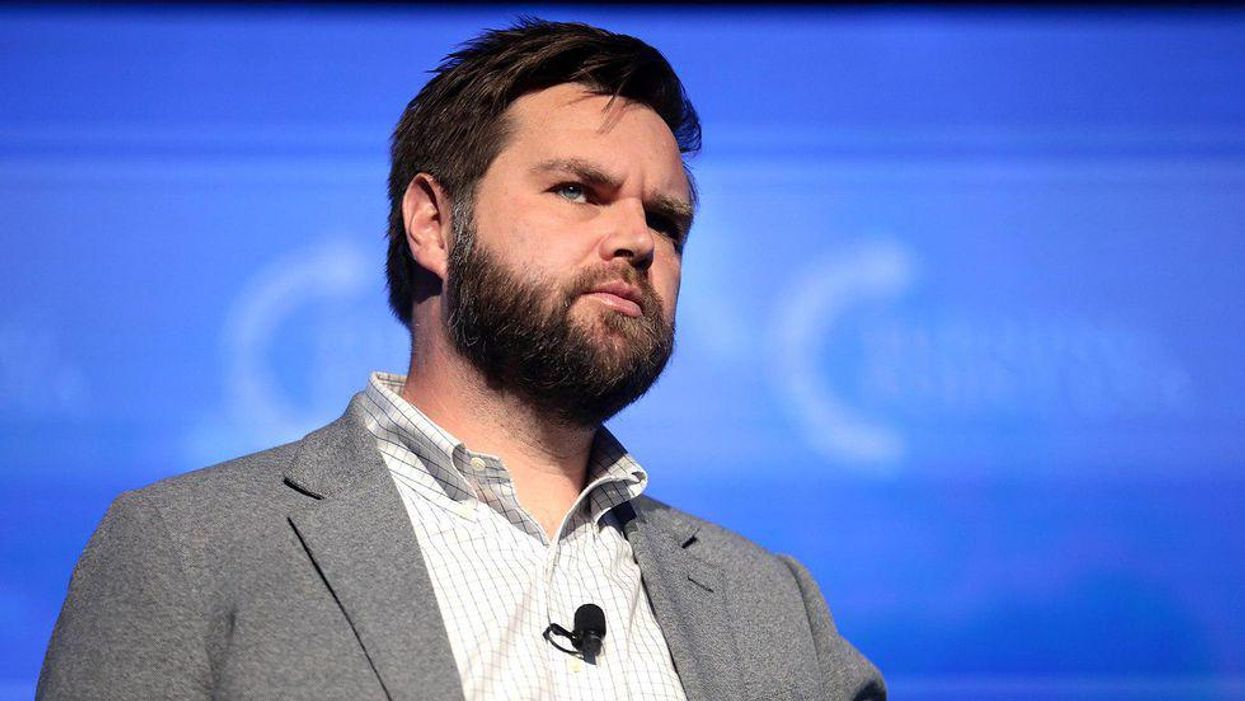 In Ohio, Hillbilly Elegy author J.D. Vance and former State Treasurer Josh Mandel are battling for the GOP nomination in the Buckeye State's 2022 U.S. Senate race — and they are jumping through hoops to show who is the biggest MAGA wingnut. Vance is, hands down, the bigger flip-flopper of the two; he went from being a blistering critic of Donald Trump in 2016 to being a strident, in-your-face Trump sycophant during the 2020 election. And Never Trump conservative Jim Swift, in an article published by The Bulwark on November 11, argues that Vance's obvious insincerity is sinking his campaign.
Not unlike all the other former Trump critics in the GOP who became knee-jerk Trump devotees — from Sen. Ted Cruz of Texas and Sen. Lindsey Graham of South Carolina to Rep. Elise Stefanik of upstate New York — Vance comes across as a shameless opportunist who will say or do anything to show how MAGA he is. Arch-conservative Rep. Liz Cheney of Wyoming , in contrast, now comes across as a principled MAGA opponent; liberals and progressives detest many of her policies and neocon views, but find themselves applauding her for defending the rule of law and the United States' system of checks and balances.
Cheney views President Joe Biden as the loyal opposition; Vance and Mandel don't. Or, at least Vance pretends that he doesn't. The Hillbilly Elegy author is such a cynical flip flopper that is hard to gauge what he really thinks.
But Mandel, Swift stresses in his Bulwark article, is convincing MAGA voters in Ohio that he is the real deal.
"As much as he tries, J.D. Vance cannot out-crazy Josh Mandel," Swift explains. "But try he has. Bizarre video rants about Kyle Rittenhouse; attacking detractors for having a picture of an animal in their profile picture; a defense of Trump hatchet man Johnny McEntee, who comes across as a psychopath — and this is all within just the last three days. There's so much more."
The prosecution of Rittenhouse is a disgrace.pic.twitter.com/VS2DhcLXn8

— J.D. Vance (@J.D. Vance) 1636564551
Swift continues, "Even while J.D. continues to try to compete with Josh on the Ohio Right-Wing Scoville Scale of Spicy Craziness, he is doing something that suggests that his Peter Thiel-supported candidacy is imploding. Vance has chickened out and refused to debate other candidates twice recently, citing prior commitments. But reporting from the Daily Beast contradicts that excuse."
Mandel, Swift observes, has been "running away with the race in polls." For example, a WPA Intelligence poll released in late September found Mandel ahead of Vance by 24 percent. However, an OH-Sen poll found Mandel ahead by only three percent.
New OH-SEN poll by pro-JD Vance super PAC shows Vance closing the gap with Josh Mandel to within 3. Poll conducted by Tony Fabriziopic.twitter.com/bOpCeFcPAu

— Alex Isenstadt (@Alex Isenstadt) 1634831002
Swift notes that a recent anti-Vance attack ad slams him for being so ridiculous a flip-flopper: