Jim Webb, Republican Turned Democrat, Is Now Considering Run For President As Independent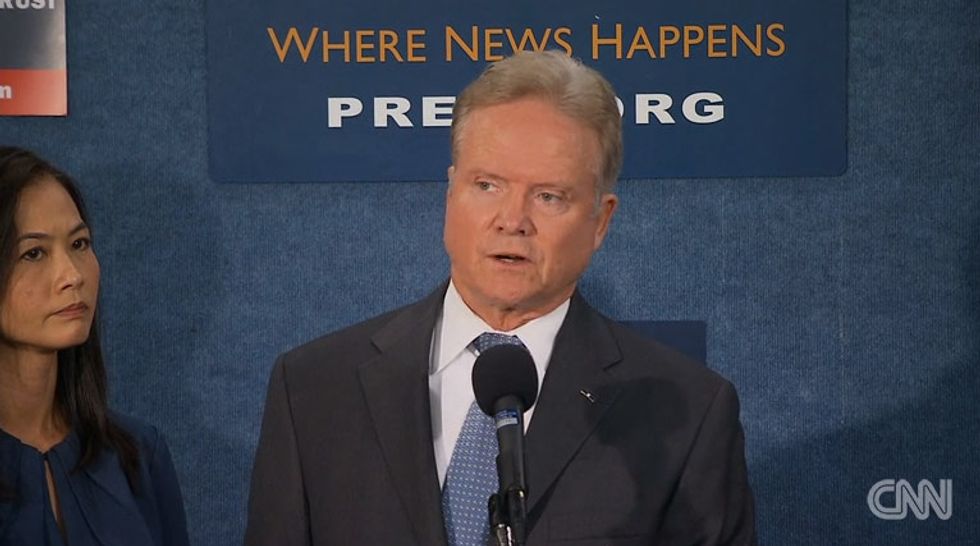 Jim Webb, the former senator from Virginia, memorable most recently as the man who complained he didn't get enough airtime at last week's Democratic debate, has announced that he will no longer be running for president on the Democratic ticket.
Webb, who never had much name recognition and was barely a blip on any national polls, said Tuesday that he was considering an independent bid, citing his dissatisfaction with contemporary partisan politics.
"Poll after poll shows that a strong plurality of Americans is neither Republican nor Democrat. Overwhelmingly they're independents," Webb said. "Our political candidates are being pulled to the extremes. They are increasingly out of step with the people they are supposed to serve," he said in his speech to the National Press Club.
Reiterating some of Democratic candidate Bernie Sanders' talking points, he said that money had corrupted politics to the point where only extremes get play, which encourages gridlock and promotes divisive thinking. The other party "is not the enemy," he said – "they are the opposition."
Webb's résumé does not fall in lockstep with the other Democrats running for president. He was a former member of Reagan's administration, has referred to affirmative action as "state-sponsored racism," and his military experience – he was a lieutenant and then a platoon commander in Vietnam – is unique among the Democratic candidates. However, he has long been against the Iraq War and has campaigned for criminal justice reform.
His divergence with the party was another reason for removing himself for the Democratic nomination. "I fully accept that my views on many issues are not compatible with the power structure and the nominating base of the Democratic party. …Its hierarchy is not comfortable with many of the policies that I have laid forth and frankly I'm not that comfortable with many of theirs." During the debate last Tuesday, he claimed he stood where the Democratic party had been historically.
Webb has changed party allegiances before. In the 1980s, as a Republican, he worked under President Ronald Reagan as Assistant Secretary of Defense and then Secretary of the Navy. When he won against the incumbent George Allen for a senatorial position in 2006, he did so as a Democrat.
"Some people say I am a Republican who became a Democrat, but that I often sound like a Republican in a room full of Democrats or a Democrat in a room full of Republicans," Webb said. "Actually, I take that as a compliment."
But for a man who prides himself on "work[ing] with both sides," his partisan bending seems incompatible in a climate where allegiance shifting is seen as suspicious rather than an asset.
Webb has not spent much time on the campaign trail either, which has also diminished his viability as an actual candidate. His campaign has raised a mere $696,972 since Nov. 2014 – hardly enough to buy a national ad, let alone to fund a state-by-state get-out-the-vote infrastructure.
Photo: Jim Webb announces that he will no longer seek the Democratic nomination for president. Screenshot via CNN