Jolly Poised To Win GOP Primary In Florida — But Sink Looms In General Election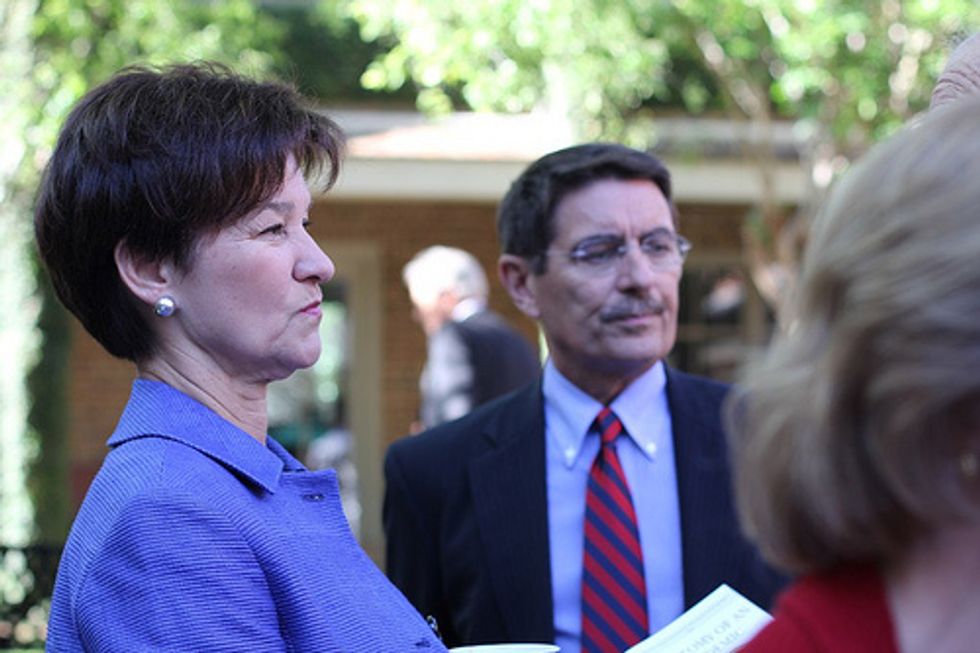 With the Republican primary in the special election for the U.S. House in Florida's 13th congressional district just one day away, lobbyist David Jolly seems likely to beat opponents Kathleen Peters and Mark Bircher.
The primary has featured a close race between Jolly – a former staffer for the late congressman Bill Young — and state representative Peters, who was initially seen as an early favorite for the GOP, having won endorsements from a group of House GOP women.
In more recent weeks, however, polls indicate that Peters — whom many Republicans hoped could help the party improve its anti-women image — will likely lose in tomorrow's primary.
The third candidate, Iraq War veteran Mark Bircher, has mainly consolidated support from the Tea Party. In December, former U.S. Representative Allen West announced he would endorse Bircher — "a Marine to lead the fight against Obamacare" — while bashing Jolly's career as a lobbyist and Peters' pro-choice stance.
West's endorsement has done little to help Bircher's chances in the district, however — not least because it is less conservative today than it was years ago.
With none of the candidates proving to be especially strong, fellow party members are expressing their disappointment that more popular Republicans decided to stay out of the race.
"The candidates that should have run did not run, so we're stuck with Peters and Jolly," former Republican state senator Mike Fasano told Politico.
Florida's 13th, which was once solidly red, is especially vulnerable to a party switch, considering that President Barack Obama won the district in 2008 and again in 2012.
Another red flag for the GOP: Democratic candidate Alex Sink, who will face tomorrow's winner in the special election on March 11, has won the 13th twice before: first in 2006, when she successfully ran for chief financial officer of the state, and then in 2010, when she ran for governor but lost statewide.
Sink's candidacy will be a difficult obstacle for the GOP to overcome. Her popularity and fundraising efforts have left her strongly favored to defeat the eventual GOP nominee and Libertarian candidate Lucas Overby.
Overby's candidacy could also be a problem for the GOP in the general election, if Republican voters split their support between tomorrow's primary winner and the Libertarian.
Still, Democrats fear that discouraged Republicans who have been hesitant to throw money in the race will do so to ruin Sink's chances once tomorrow's primary winner is announced.
Emily Bittner, a spokeswoman for the Democratic Congressional Campaign Committee, speculates that the GOP and "outside groups" will "take a page from Rick Scott's false playbook against Alex Sink" and will ultimately "spend millions of dollars spreading lies against her."
Another issue sure to plague Sink in the coming month and a half will be her public support for the Affordable Care Act.
Representative Greg Walden (R-OR), who runs the House GOP's campaign operation, recently declared: "[Sink] was an early and strong advocate for the president's health care law. She's going to be an owner of Obamacare."
Opening the conversation on health care may prove problematic for the GOP as well, as Sink can continuously remind voters of the GOP's refusal to expand Medicaid in the state last year, leaving Florida's poorest residents uninsured. And with over a million dollars on hand, she can afford to make the message stick.
Photo: Village Square via Flickr