Katie Hobbs Wins In Arizona, Beating Election Denier Kari Lake
@DarthJeff90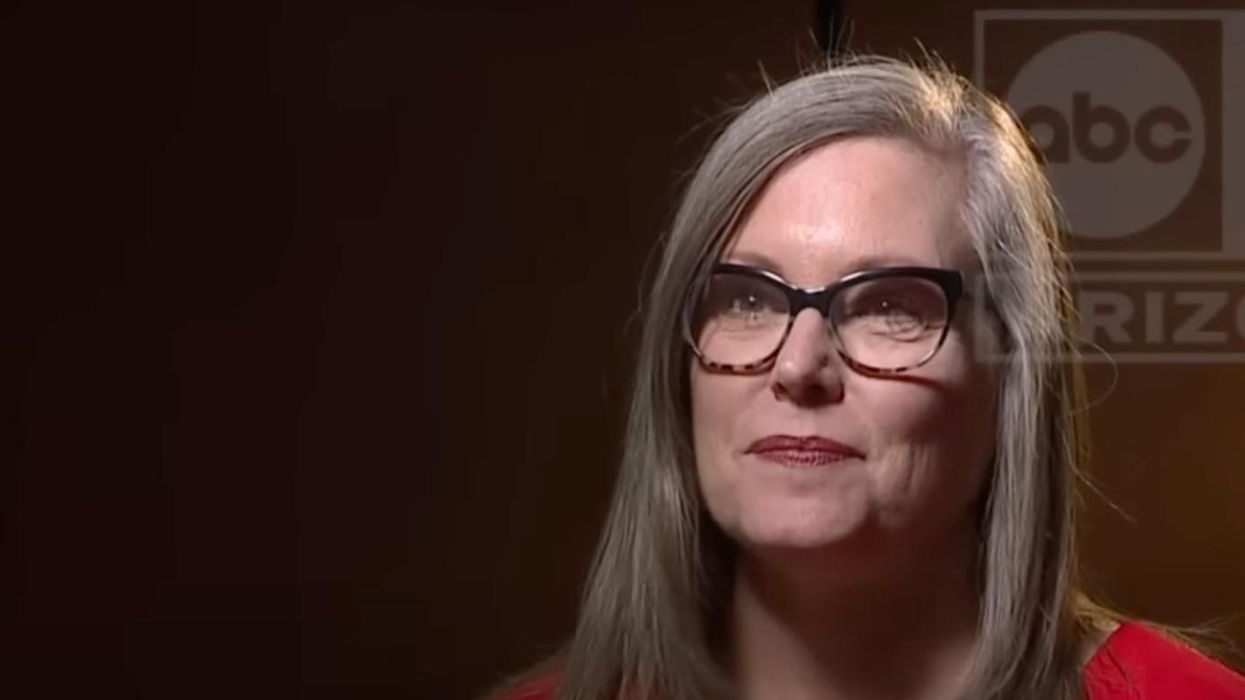 Youtube Screenshot
Democrats enjoyed yet another welcome burst of news when NBC called the Arizona governor's race for Secretary of State Katie Hobbs, who will be the first Democrat in 14 years to lead what's become a crucial swing state. Hobbs leads her far-right opponent, former local TV anchor Kari Lake, 50.4-49.6 with 98 percent of the likely total vote reporting for the contest to succeed termed-out Gov. Doug Ducey. Republicans hoped that later-counted ballots would allow Lake to overcome the edge that Hobbs has enjoyed since Election Night, but those batches of votes weren't quite red enough to deny Hobbs the win.
Lake, who began spreading conspiracy theories and cultivating ties with the extremist right well before she went off the air last year as a news anchor for Phoenix's Fox 10, was part of Trump's nationwide primary slate of Big Lie spreaders, and she rode that support to beat out a Ducey-backed foe for the nomination in August. Lake quickly became a national MAGA star, and some over-eager observers speculated that she could be Trump's running mate―or even a future presidential nominee―even though she hadn't even won her own race yet. Lake herself even recorded videos imploring voters in Michigan and Pennsylvania to elect like-minded Trumpists, Tudor Dixon and Doug Mastriano, to lead their respective states.
What Lake didn't do in the general election, though, was abandon her conspiracy mongering. The Republican nominee spent the week before the election making light of the assassination attempt on Speaker Nancy Pelosi, saying, "Nancy Pelosi, well, she's got protection when she's in D.C.—apparently her house doesn't have a lot of protection." Lake also continued to push the Big Lie, saying of Trump's 2020 loss in Arizona, "We had 740,000 ballots with no chain of custody. Those ballots shouldn't have been counted."
Hobbs, for her part, launched her campaign last year highlighting how she performed her job as the Grand Canyon State's chief election administrator in the face of death threats. Hobbs ran a considerably more low-key campaign than Lake, who aired several ads hitting the Democrat for refusing to debate her. Hobbs and her allies, though, stuck with their strategy of highlighting Lake's extremism, which included an ad hitting her for appearing to flirt with secession in response to the FBI's search of Mar-a-Lago.
Hobbs' victory will make her Arizona's first Democratic governor since early 2009, when Janet Napolitano resigned to become Barack Obama's first secretary of homeland security. Team Blue knew that Napolitano's departure would hand the governor's office to Republican Secretary of State Jan Brewer, who was next in line for the top job in a state that lacks a lieutenant governor's post, but they hoped the GOP would hand back control the next year.
That was a huge miscalculation. Brewer was in place to sign the infamous anti-immigrant bill SB 1070 into law months before she rode the 2010 red wave to a full term, and Ducey won the following two elections. Hobbs, though, finally returns this office to Democratic control over a decade after they forfeited it.
P.S. It looks like Arizona will, starting in 2026, elect a lieutenant governor for the first time, since voters are on the verge of passing a ballot measure to establish the post. Hobbs would be able to name her own running mate, who would assume the governorship should Hobbs win a second term but be unable to complete it, ensuring that the debacle of 2009 can never be repeated. Until then, though, the person next in line to succeed her will be Secretary of State-elect Adrian Fontes, a fellow Democrat who won the race to succeed Hobbs by defeating election denier Mark Finchem.
Reprinted with permission from Daily Kos.