Looking Right Through Kevin McCarthy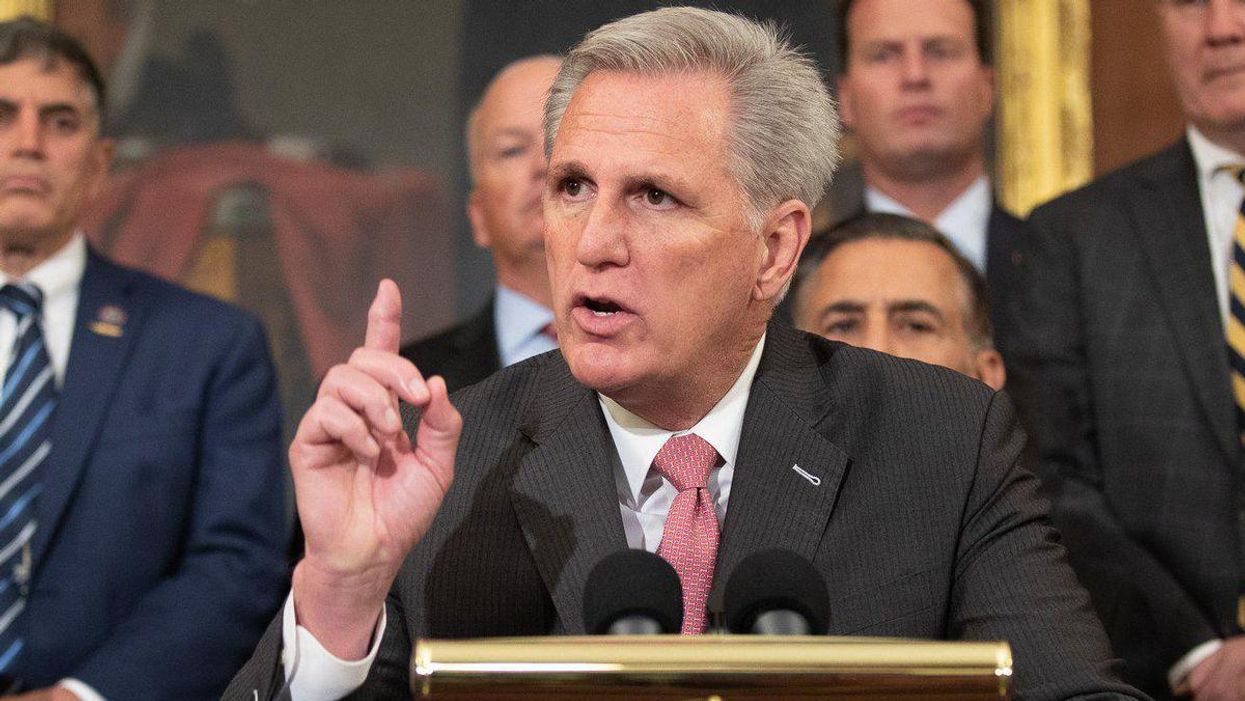 Screenshot from Kevin McCarthy's official Facebook
Of all the Republican politicians who have ascended to leadership in Congress during the past few decades, none is a duller and more obvious hack than Rep. Kevin McCarthy. The House minority leader possesses none of the villainous charisma of Newt Gingrich or the ruthless greed of Tom DeLay, the ideological fervor of Paul Ryan or the puppyish desire to please of Eric Cantor, the louche cynicism of John Boehner or the predatory criminality of Dennis "Coach" Hastert.
Nobody expects the transparently empty McCarthy to stand up for principle of any kind. It is giving him a lot to call him a small-minded partisan, an assiduous corporate fundraiser, and a mediocre climber for whom ideas and ideals are so much grist for the Fox News mill. His far-right rivals in the GOP caucus, such as Rep. Jim Jordan, allow him to hold power because they can manipulate him so easily. His theme song should be "Mr. Cellophane" from the musical Chicago.
Weak in both intellect and character, McCarthy embodies the most banal defects of his predecessors — and so it is that he presides over the final stages of Republican decay, as the party formed to preserve the Union and democracy degenerates into an instrument of fascist insurrection.
As a perfectly hollow hack who first rose under Boehner's tutelage, McCarthy makes the hack Boehner now seem like a big man. McCarthy was against Trump's big lie before he was for it. After denouncing Trump, he ran with his tail between his legs to Mar-a-Lago, parroted the big lie and backed a lawsuit to overturn the election results in two states. Then he denied supporting Trump's claims of election fraud and grudgingly admitted that President Joe Biden had won. And then, within hours after the January 6 attack on the Capitol that clearly terrified him, he nevertheless voted against certifying the Democratic victory in two states — after he had told a reporter that he knew Biden was the legitimate victor.
McCarthy has continued this ridiculous dance — both accepting and not accepting Biden's legitimacy — while he obviously covers up the seditious conduct of his extremist members, from Reps. Lauren Boebert and Marjorie Taylor Greene to. Matt Gaetz and Madison Cawthorn.
But since his attempts to block any investigation of the conspiracies that led to the Capitol takeover on January 6, have failed, McCarthy has become an even more desperate performer. This week he sought to obstruct the House Select Committee on the January 6 Attack by absurdly pretending to be a mob boss, as he made an unconvincing threat against telecom companies if they comply with lawful requests from that panel. Though he didn't specify any consequences, he warned that Republicans "will not forget" when they regain the majority.
Rarely has a politician so obviously exposed such blatant consciousness of guilt. Opening himself to an ethics complaint, which has now been filed against him, McCarthy continues his bad acting, showing his fear that the suspicions and speculations about the gang of loony Republicans in the days before that insurrection are true.
McCarthy led the expulsion of Rep. Liz Cheney from her position as the chair of the House Republican Conference to satisfy his insurrectionist caucus. But there's another reason he purged her. She's got his number. And now she's the vice chair of the January 6 investigative committee. McCarthy has reason to engage in his silly threats, his obvious obstruction of Congress, his false bravado. He's scared. But the more he dances, the more everybody sees right through him.
I tell ya Cellophane, Mr. Cellophane shoulda been my name,
Mr. Cellophane 'cause you can look right through me ...
To find out more about Joe Conason and read features by other Creators Syndicate writers and cartoonists, visit the Creators Syndicate website at www.creators.com