The Audacious Lies Of That Cynical Senator Sinema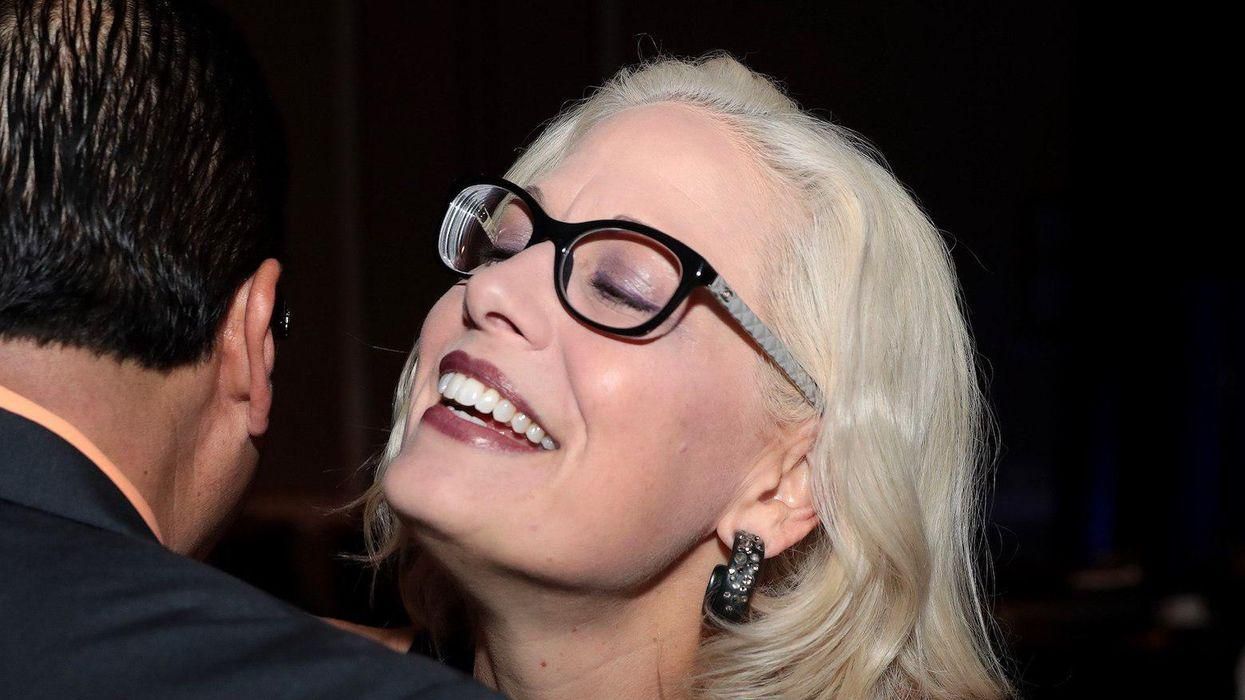 Sen. Kyrsten Sinema could scarcely wait three days after the Georgia Senate runoff, which cemented Democratic control of the United States Senate, to announce that she no longer considers herself a member of that party and has changed her registration to independent. A politician who often seems obsessed with drawing attention to herself, the Arizona senator no doubt reveled in the publicity blitz ignited by her switch.
It would be refreshing to hear Sinema — who says she is "sometimes too honest" — speak candidly about this choice, which freshly enraged former supporters who have devoted energy and money to advance her career over the past two decades. But that would have required her to utter some unflattering truths about herself, and she isn't going there.
Instead, Sinema claimed she had "never really fit into a box of any political party," although she has presented herself as a progressive if pragmatic Democrat for the past 18 years without excessive discomfort. Having launched her political career with losing campaigns for local office in Phoenix, she left the Green Party behind to run for a state legislative seat as a Democrat in 2004 — and squeezed herself into that partisan box to eventually win three terms in Congress and then her first Senate victory in 2018.
The public identity that Sinema shaped during her rise to prominence — an open bisexual, committed feminist and environmentalist, strongly influenced by her impoverished childhood — is not one that the Republican Party would have tolerated, let alone celebrated. If she no longer "fits" in the Democratic Party, perhaps that's because she has drifted so far from the progressive values she once proclaimed. Anyone who watched her vote down a minimum wage increase with an irritating flourish on the Senate floor could see how she had changed.
But now she tells her constituents, in an essay for the Arizona Republic, that she felt compelled to reject the "rigid partisanship" she attributes to both major parties, which she decries for allowing the "loudest, most extreme voices to determine their respective priorities."
"In catering to the fringes," her complaint continues, "neither party has demonstrated much tolerance for diversity of thought. Bipartisan compromise is seen as a rarely acceptable last resort, rather than the best way to achieve lasting progress. Payback against the opposition party has replaced thoughtful legislating.
"Americans are told that we have only two choices — Democrat or Republican — and that we must subscribe wholesale to policy views the parties hold, views that have been pulled further and further toward the extremes."
As falsehoods go, this one is audacious, especially when uttered by an elected official from Arizona, where there is a large and menacing gang of real extremists who seek to thwart democracy, promote insane conspiracy theories and espouse violent white nationalism. None of them are in the Democratic Party.
Indeed, the Arizona Democratic Party includes no extremists of any stripe, only mainstream politicians whose views can hardly be described as radical. There is no Arizona Democrat who merits comparison with the other party's midterm slate of proto-fascists and election deniers; and none who deserves to be mentioned alongside the neo-Nazi state Sen. Wendy Rogers or the white nationalist Rep. Paul Gosar.
To babble about "both sides" in Arizona, as if the two parties are the same, is a nauseating lie — and of course Sinema knows it.
She also knows that the Democratic Party's national leaders are notoriously tolerant of different viewpoints, to the annoyance of some Democratic members of Congress. Indeed, Rep. Hakeem Jeffries, a longtime member of the Progressive Caucus, has been criticized for his working relationship with caucus moderates such as Rep. Josh Gottheimer. In the Senate, members of both parties regularly work on specific bills across the aisle, just as Sinema has done. And then there's President Joe Biden, whose insistence on reaching for bipartisan agreement won landmark deals on infrastructure and gun safety — while attracting abuse from the far Left and the far Right.
So why is Sinema lying? Could it be that the unadulterated truth isn't the self-flattering tale she would like us to believe?
Here is a more plausible narrative: Sinema's departures from Democratic principle have made her extremely unpopular within her own party, provoking a primary challenge from Rep. Ruben Gallego when she faces reelection in 2024. Her identity and voting record preclude her becoming a Republican, much as she seems attracted to them. Her approval ratings are dismal across voter categories in both parties. So, she has reinvented herself as an "independent," hoping to navigate a path between two opponents in 2024.
To pursue that opportunistic scheme means walking away from the party that stands for democracy, social decency, and the rule of law, and allowing the party that now represents none of those ideals to inch closer to power. Her complaints about "divisive, negative politics" would almost sound naive — if they weren't so cynical.
To find out more about Joe Conason and read features by other Creators Syndicate writers and cartoonists, visit the Creators Syndicate website at www.creators.com.