Payday Lenders Finance Sinema As She Enables Their Exploitation Of Poor
@alexvhenderson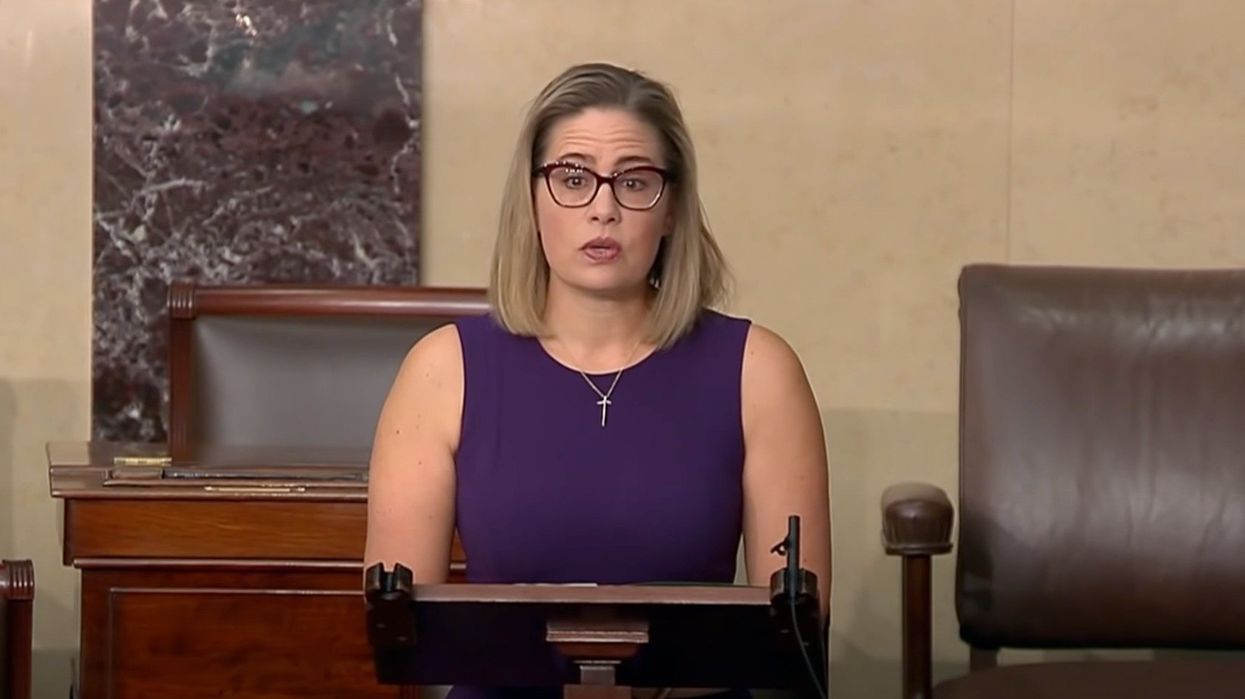 If Sen. Kyrsten Sinema of Arizona decides to seek reelection as an independent in 2024, her state could see a three-way U.S. Senate race between centrist Sinema, liberal Rep. Ruben Gallego (who is seeking the Democratic nomination) and a Republican candidate (possibly far-right conspiracy theorist Kari Lake if she decides to run). It remains to be seen whether or not Sinema, a former Democrat turned independent, will run; if she does, Gallego will no doubt slam her for her corporate ties. And one of those ties could be her involvement with the payday loan industry.
That involvement, according to journalist Daniel Boguslaw, included the firm Forza Consulting, which Sinema co-founded.
In an article published by The Intercept on February 13, Boguslaw explains, "In 2007, according to Arizona LLC filings, Sinema started a consulting firm with her friend and former Democratic State Rep. Chad Campbell, a major backer of industry-backed bills in the legislature who would go on to become a payday loan industry lobbyist in Arizona…. The firm, Forza Consulting LLC, remains active, according to filings, though there is no public indication of corporate activity. Campbell and Sinema are the principals in the company, with Sinema listed as manager, alongside former Democratic State Rep. David Lujan."
Boguslaw reports that Sinema, who served in the Arizona House of Representatives and later, the U.S. House of Representatives before being elected to the U.S. Senate in the 2018 midterms, has "consistently" taken "positions aligned with payday lenders."
"Payday lenders charge exorbitant fees for short-term loans with interest rates as high as 400 percent, named because borrowers are expected to pay off the loans with their next paycheck," Boguslaw points out. "The loans, however, are considered predatory and banned or restricted in 18 states because they can lead to a chain of further loans that bury borrowers in debt…. Community Choice Financial, one of the payday lenders represented by the Arizona Financial Choice Association, has donated $21,000 dollars to Sinema since 2016. The donations were part of Sinema's haul from payday lenders."
Boguslaw adds, "She has received the most money of any active senator from the industry, $168,000, and comes in third among lifetime industry recipients, behind Sen. Richard Shelby (R-AL), and the late Sen. Harry Reid (D-NV). Forza Consulting LLC, the firm Sinema started with Campbell, has not appeared on any of Sinema's U.S. House or Senate disclosure forms, despite the company's active status."
Reprinted with permission from Alternet.