Late Night Round-Up: Florida!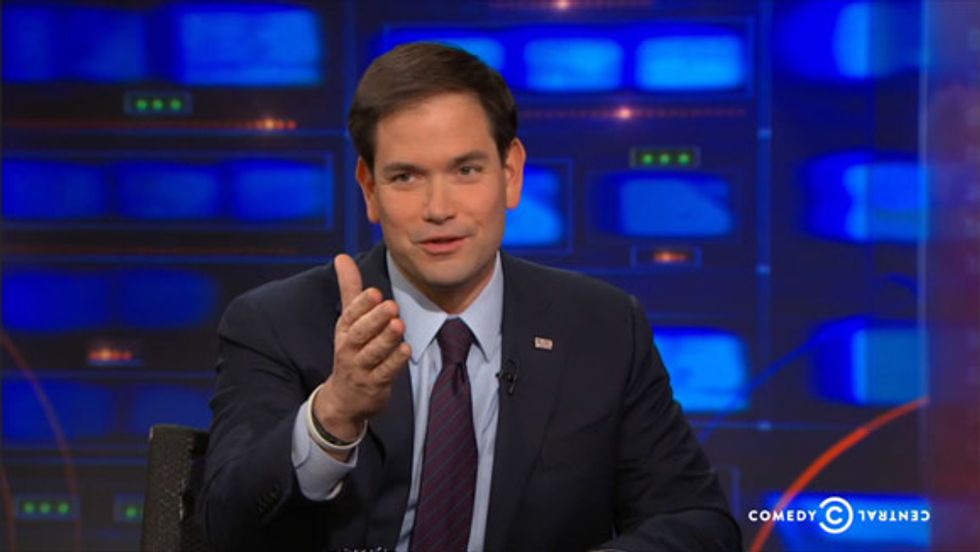 The Daily Show had a special Florida-themed episode, comparing the supposed apocalypse of legalized gay marriage in the Sunshine State against all the crazy stuff that happens there on a daily basis. And then, Sen. Marco Rubio (R-FL) came on for an interview about his ideas to improve life for the working class — though he also explained the issues by way of a joke at the expense of fast-food employees.
Conan O'Brien took a look at the latest controversy from another potential Republican presidential contender: "Republican Mike Huckabee criticized the Obamas for letting their daughters listen to Beyoncé, due to her explicit lyrics. Yeah. So now the Obama girls are faced with the tough choice every teen must eventually make: Listen to Beyoncé — or Mike Huckabee."
Jimmy Fallon went over the pros and cons of having one of those new self-driving cars that are being developed. "Pro: It allows you to eat, talk on the phone, or even apply makeup while driving. Con: So basically what you're already doing."
Jimmy Kimmel Live had a sketch called "The Most Annoying People on the Plane" — with surprise guest star, Sir Patrick Stewart!
And coming back to where we started, Late Night with Seth Meyers brought some audience members up for a special game show on crazy news stories: "Fake or Florida." And one of the contestants was even from Florida.