LOL Of The Week: Mitt Romney, Psychic Fact Checker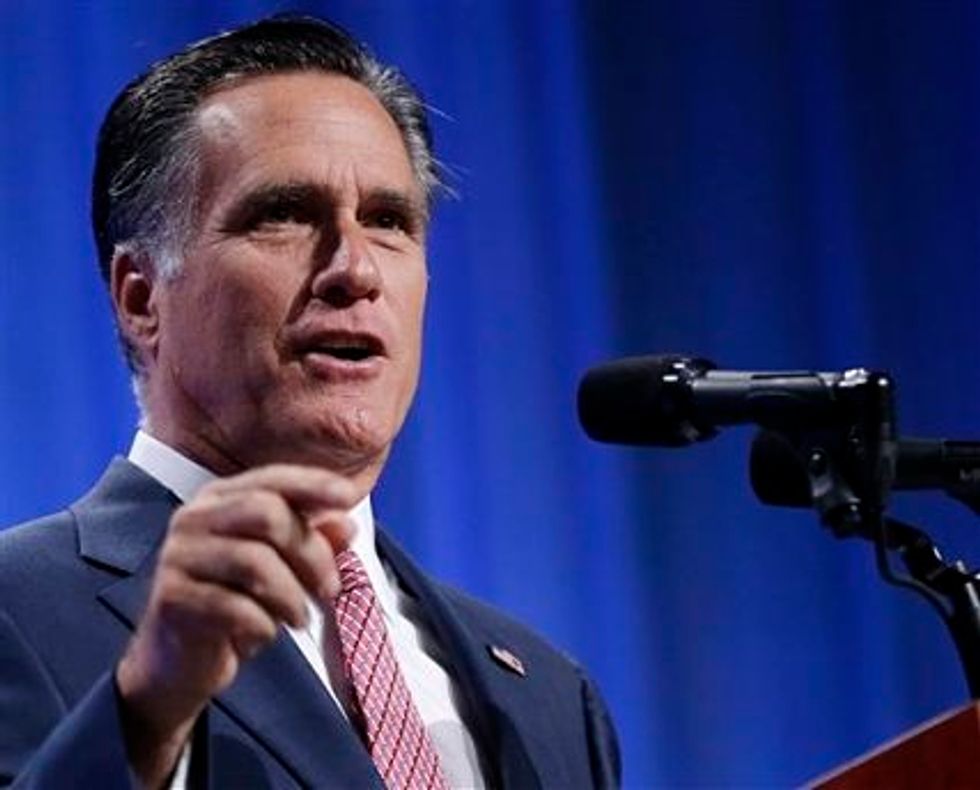 After running through nearly every possible way to embarrass himself on foreign policy, Mitt Romney must have been eager to return to reminding voters how out of touch he is with average Americans on the economy.
In a interview aired Friday morning, ABC's George Stephanopoulos attempted to get Mitt to provide some clarity about his plan to cut taxes on the rich without really cutting their taxes or increasing the deficit. Stephanopoulos pointed out that a study Mitt cited actuallyy says his plan would only be "deficit-neutral" if he eliminates most deductions for anyone earning $100,000 a year or more.
Mitt responded that his plan would not raise taxes on "middle income people."
"Is $100,000 middle income?" Stephanopoulos asked.
"No, middle income is $200,000 to $250,000 and less," the former governor of Massachusetts said.
LOL.
And the Internet went wild. Romney thinks middle income is $250,000 a year! I wish. Of course he thinks that. He makes more than that from speeches and considers it couch change. You can't even build a decent car elevator for $250,000.
Of course, nearly 96 percent of Americans earn less than $200,000-$250,000 a year — the amount both major parties typically use to define as the lower bound of a "rich" American's income.  Romney is tone deaf, of course, but the outrage that ensued actually helped him mask the lie at the heart of what he was saying.
Romney believes that he can cut taxes on the rich in a way that is deficit-neutral because of that same old Republican bull-produced magic: Namely, "the voodoo economics of the Reagan era, the wishful thinking of President George W. Bush's 2001 and 2003 tax cuts that helped turn a surplus into the deficit now weighing the nation's economy," as the Washington Post editorial board said.
It was a lie when Reagan and Bush sold it. And now it's a twice-proven lie that Romney is still selling. The difference is Bush and Reagan ran on their tax cuts without pretending that the rich wouldn't be paying lower rates (they just pretended that somehow this would benefit the middle class). As Bill Clinton said, "It takes some brass."
Romney could open a brass mine with what he said later in the same interview when addressing the forthcoming debates: "But I think the challenge that I'll have in the debate is that the president tends to, how shall I say it, to say things that aren't true."
LOL.

Mitt Romney — the world's all-time "Pants on Fire" champion, a man who opened his campaign with a misleading edit of the president,  a man who wrote a whole book and organized an entire convention around blatant falsehoods, a man whose campaign proudly ignores fact checkers – is suggesting that the president says "things that aren't true."
LOL.
This goes beyond the usual Karl Rove "project your weakness onto your opponent" tactics. This goes well beyond a pot calling a kettle black or the Mitt calling someone a "Willard." This is amoral, post-truth nonsense.
Days ago, Romney accused the president of sympathizing with terrorists because diplomats issued an unapproved statement that Romney later echoed. That was one of the most vile, indefensible lies ever spoken by a national candidate in the modern era. And it is the sort of nonsense that only persuades  the same people who nod their slumped heads when Rush Limbaugh says that al Qaeda gave Osama bin Laden up to make Obama "look good."
That Libya lie was only one of the 36 documented lies that noted Mitt Mendacity-ologist Steve Benen documented — just this week! Such disregard for the truth would be amusing if it weren't masking the big lies at that heart of Mitt's campaign:
He promises to cut the deficit and grow the economy and proposes the exact policies that created the deficit and crashed the economy.
He promises to "save" Medicare and proposes a grossly inefficient system that passes the costs on to seniors when some seniors can't even afford the costs they currently have.
He accuses the president of being weak on Iran and proposes the exact same policies toward Iran that the president has in place.
One of the most satisfying experiences of the 2012 presidential campaign is realizing that the ability to make a profit off of anything isn't an advantage when trying to become President of the United States.
Mitt Romney is used to people believing whatever he said because he was the richest guy in the room. But all the money in the world and all the lies cannot buy back the harm he has done to his own reputation.
Photo credit: AP Photo/Charles Dharapak, File