Carlson Praises Gaetz For Obnoxious Behavior During Zelensky Speech
@next2godwin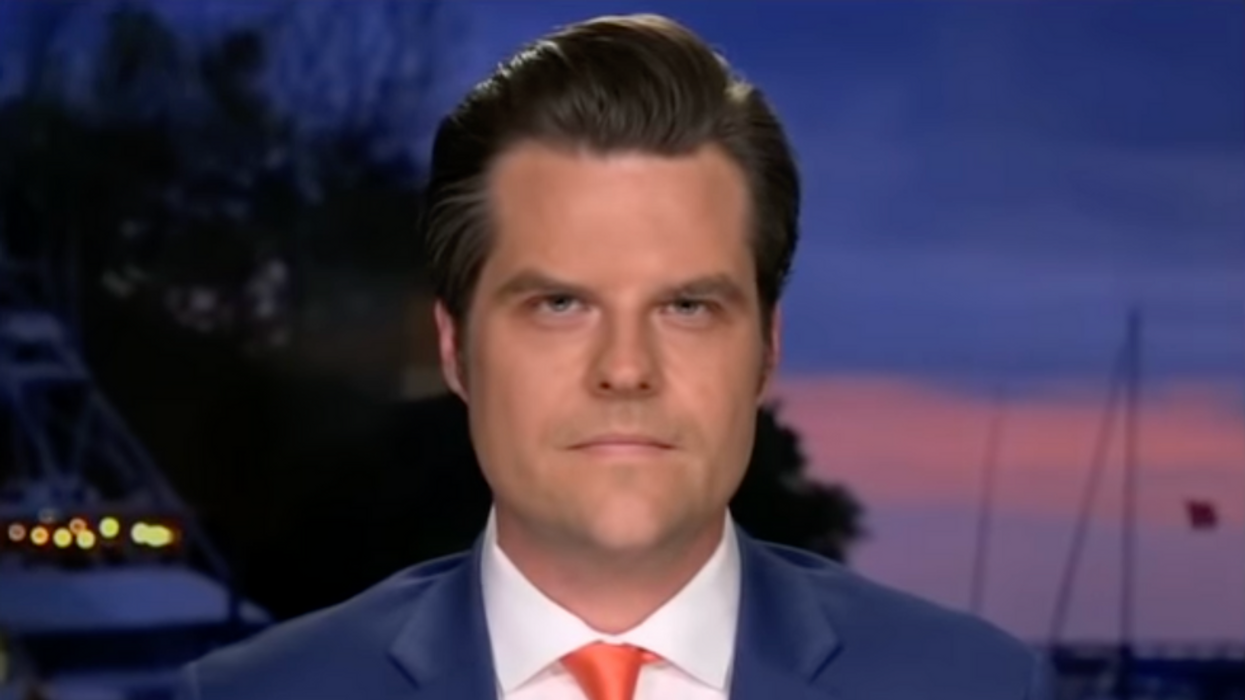 The pro-Russia MAGA Republicans displayed some of their worst behavior when Ukraine President Volodymyr Zelensky visited the United States this week, but precious few were as obnoxious as Rep. Matt Gaetz (R-FL), who suggested Thursday that applauding the war-time hero would have amounted to a "North Korea-style performance."

According to the New York Times, Gaetz and Reps. Lauren Boebert (R-CO), Jim Jordan (R-OH), and several other House Republicans refused to applaud Zelensky. Gaetz and Boebert, the Independent reported, refused to stand at all and stayed on their phones during the Ukraine president's remarks.
Despite incurring a deluge of stinging criticism, Gaetz doubled down in a Thursday night segment of Fox News' pro-Putin propaganda fest, Tucker Carlson Tonight, where the host praised him for not "stand[ing] up and applaud[ing] like a seal as a foreign leader in a sweatshirt lectured our country."

Tucker Carlson himself came under fire for branding Zelensky, who sported an olive drab sweater and cargo pants, a "Ukrainian strip club manager" and falsely alleging that the visiting president sought not to drive Ukraine's invaders but to enact a "regime change" in Russia.
So unhinged and egregious was Carlson's reception to Zelensky's surprise visit and subsequent address that Eric Bolling, a far-right Newsmax host, labeled him "Putin's press secretary."
In a deranged dig at Gaetz's critics, Carlson suggested to the Florida politician that Americans are subservient to despots.
"First of all, how dare you," Carlson said to a smiling Gaetz. "When a foreign dictator shows up in the Congress, on your knees… That's what Americans do."
He continued, "Second, I'm gonna ask you: how much do you love Putin that you didn't applaud last night?"
"I feel no compunction to go out and applaud some foreign leader from a historically corrupt country who is begging for more than the hundred billion dollars that the Congress has already set to send them," Gaetz replied
"Now, when President Trump said that America would never be a socialist country, you saw Democrats sit on their hands," he continued.
"But when we say you shouldn't send endless amounts of money to this place where we're exacerbating death and conflict, it's like we're traitors to the movement because Lauren Boebert and I didn't stand up in some sort of North Korea-style performance."
\u201cMcConnell & Pelosi brought Zelensky to Congress to provide air cover for an indefensible spending bill.\n\nUkraine gets economic development, agriculture, and border patrol. We get racial equity mandates for us here at home.\n\nI'm not sorry @LaurenBoebert and I won't stand for it.\u201d

— Rep. Matt Gaetz (@Rep. Matt Gaetz) 1671760290
The Florida man also took shots at GOP Sens. Lindsey Graham (R-SC) and Mitch McConnell (R-KY), as well as outgoing House Speaker Nancy Pelosi (D-CA), for supporting the $1.7 trillion government spending package that cleared the Senate and House in time to avert a partial government shutdown.

"And it makes you wonder — what was all this for? I think that Mitch McConnell and Nancy Pelosi wanted to bring Zelensky there to the Congress to provide air cover for an otherwise totally indefensible spending bill," Gaetz told Carlson. "And you can see why Zelensky was in for the grift. He's got a lot riding on it: $12.9 billion in this bill to prop up the Ukrainian economy."
Gaetz concluded with a shot at Pelosi and Vice President Kamala Harris for receiving from Zelensky a Ukrainian flag emblazoned just a day before with signatures from Ukraine soldiers currently fighting in Bakhmut, Donbas, where some of the most brutal battles in the Ukraine war are ongoing.
"Well, Tucker, at least we found a flag that Democrats are willing to stand for on the floor of the United States Congress. That was a revealing moment," Gaetz snarked, falsely.