Activists Gave Away Banned Books To Troll Moms For Liberty Conference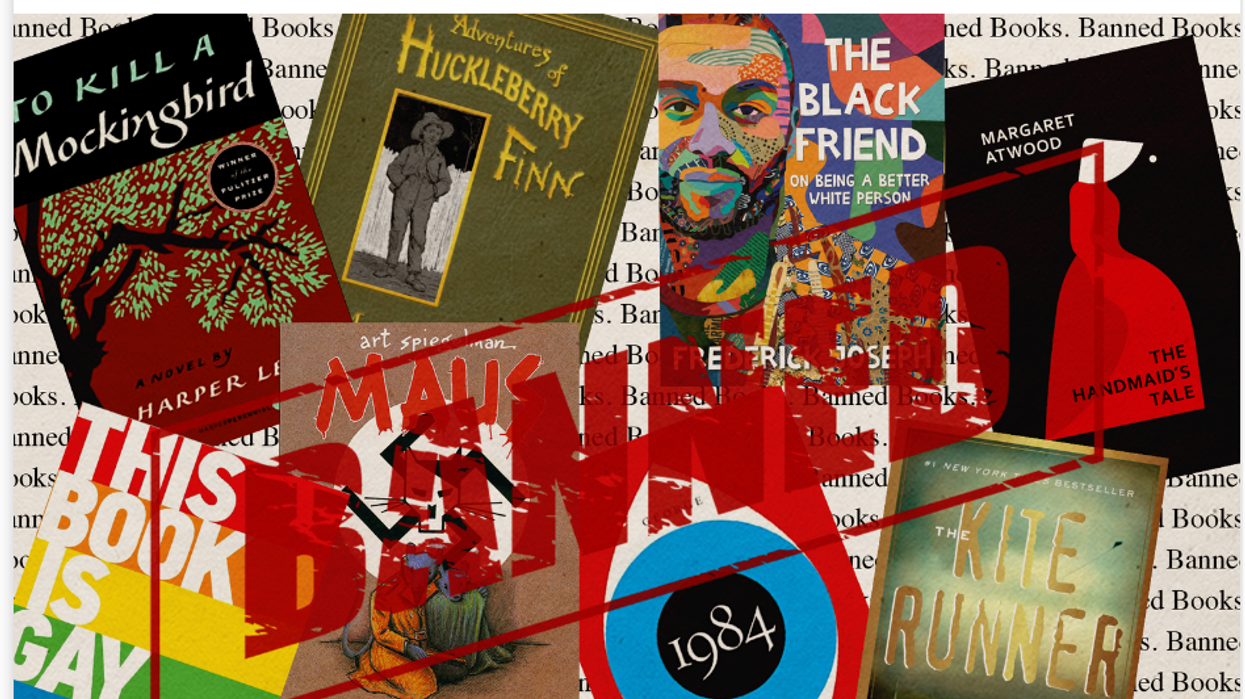 On Thursday, schoolteachers and their allies held a banned book giveaway in downtown Philadelphia, next to a Marriott hotel that was hosting a far-right political summit organized by Moms for Liberty, an organization that works to censor school curriculums and remove any materials it dislikes.
Interested passersby stopped at two tables spread with books to pick up free copies of books that local chapters of Moms for Liberty have fought to remove from public school libraries and classrooms. These included Maus: A Survivor's Tale, a graphic novel that tells the story of author Art Spiegelman's family's experiences during and after the Holocaust; And Tango Makes Three, a picture book that tells the true story of a penguin chick in the Central Park Zoo who was adopted by two male penguins; and The Poet X, a young adult novel about a high school girl in Harlem who discovers slam poetry.
"I have a friend who works inside the [Marriott] who told me about the free book giveaway, so let's check it out," said Maray, who asked that her last name and occupation be withheld. "I've honestly never heard of [Moms for Liberty] until now, until all of this controversy started, and I did a quick little search to see what they are about. I find it to be ridiculous."
"These books are from real people's perspectives, it's not lies, so to completely ban it, I think, is actually very harmful to our youth because it's really important for them to understand what other people go through," she added. "It's kind of sad."
Maray held two books from the giveaway under her arm, which she said she was going to give to her nephew.
"Campaign for Our Shared Future is here in Philly today giving out banned and challenged books for free to families that might need them. We're obviously here in response to the Moms for Liberty national convening," said Heather Harding, the group's executive director. "The books that we've selected, that are age-appropriate for K-12 students to read, we see that a vast majority of these titles feature characters of color, LGBTQ families and characters."
Harding said that Campaign for Our Shared Future is a nonprofit, nonpartisan group that seeks to defend public schools from "anti-equity attacks."
Moms for Liberty, which describes itself as a parental rights group, was founded in 2021, born out of conservative rage against pandemic-era school mask mandates and supposed progressive indoctrination in schools. While its founders launched the group in Florida, it quickly spread across the country, fanned by laudatory, excited coverage in conservative media, and now, according to Moms for Liberty, has 275 chapters spread across all but five U.S. states.
The group is putting on its second annual "Joyful Warriors" summit over the July 4 weekend at the Marriott in downtown Philadelphia. Many Republican presidential candidates, including former President Donald J. Trump and Florida Gov. Ron DeSantis, are scheduled to speak at the event, as are activists associated with the Heritage Foundation, a conservative think tank, and PragerU, a right-wing media organization.
Local activists have planned a weekend of counterprotests, and, as attendees trickled in to the event Thursday afternoon, a dozen city police officers stood in small circles in front of the hotel.
Earlier this month, the Southern Poverty Law Center labeled Moms for Liberty an extremist group because its leaders and members frequently espouse the conspiracy theory that far-left teachers are at work in schools grooming children for sexual abuse and indoctrinating students to adopt radical left-wing politics, and because of the close ties some of its local chapters have to far-right groups such as the Proud Boys.
Republicans rushed to the group's defense, alleging that the SPLC has a left-wing bias.
The SPLC, however, didn't go as far as it could have; it did not designate Moms for Liberty a hate group, a label the legal advocacy group reserves for organizations such as the Proud Boys, as well as militia and neo-Nazi groups.
Part of the SPLC's designation is based on the group's tactics; numerous Moms for Liberty chapter members have been accused of harassing parents, including in one case in Northwest Pennsylvania in which a chapter chair was found guilty of harassment and fined after she sent a local parent threatening messages. Electorally, the Moms for Liberty focuses on local school board races and nominating and supporting conservative candidates.
The book ban, however, is Moms for Liberty's most notorious tactic. Across the country, the group's chapters fight to pull books out of school libraries, particularly books that discuss issues of sexuality and race. Some Moms for Liberty chapters create lists of books that they check against school libraries' collections in order to ferret out literature they deem inappropriate.
Polling from early June found that broad swaths of the American public oppose efforts by school boards to ban books, and a 2022 poll from the American Library Association found that only 10 percent of Americans say they have an unfavorable opinion of public and school libraries and librarians.
The ALA reported in March that 2022 set a record for book bans and attempted bans, with 1,269 demands targeting 2,571 titles. According to the group, that's double the number of challenges made in 2021.
Patricia Jackson, a teacher in York County, told the American Independent Foundation in a phone interview that the school system she works in has been locked in a battle with its local Moms for Liberty chapter over attempts to ban books.
"You don't have the right to say what another child can or cannot read," Jackson said. "And that's what the battle has become about — parental rights, but the parental rights of a few."
"These folks are after the right to raise your child and the child across the street and the child next door to them, not just their children. And that is not your right," she added. "They are redefining patriotism and what it means to be an American, and they don't have that right either, because what it means to be American looks like them, thinks like them, and worships like them. And that is not the America of the 21st century."
Barbara Stripling, a retired school librarian and a former president of the American Library Association, was at the book giveaway event and told the American Independent Foundation that she had little to say about Moms for Liberty.
"My main focus in being here today is to present a positive side to making diverse books accessible to all kids," she said. "It seems like it's an easy fix, but what we are doing when we ban a book is we're marginalizing kids, we're marginalizing ideas, and we're limiting kids' futures and their concepts of themselves."
"I don't have an objection to a parent limiting what his or her child can read. Where I draw the line is, you don't have any right to tell what other children can read and think and do, and that's where it gets dangerous for society," she added.
Near one of the tables, Jane Cramer held two green signs protesting the summit and Moms for Liberty. Cramer, a social worker and a parent in the Pennridge School District in Bucks County, said: "We are under attack by Moms for Liberty. Our board is dominated by Moms for Liberty members."
Cramer said that the school board had hired Jordan Adams, a speaker at the conference and a newly minted educational consultant with two months of experience, to advise the district. The Moms for Liberty-controlled board, she said, has so far passed a policy barring trans youth from using school bathrooms that match their identity and eliminated the district's diversity initiatives.
Cramer said she and other district parents have started a letter-writing campaign to catch the attention of elected officials, such as the state's Democratic governor, Josh Shapiro. But, she said, parents in her school feel like no one is paying attention to them.
"I'm supposed to be at a music festival today, but I came down here because I don't know what else to do," she said.
Reprinted with permission from American Independent.