Obama Rallying Democrats To Fight For Spending Boost In Budget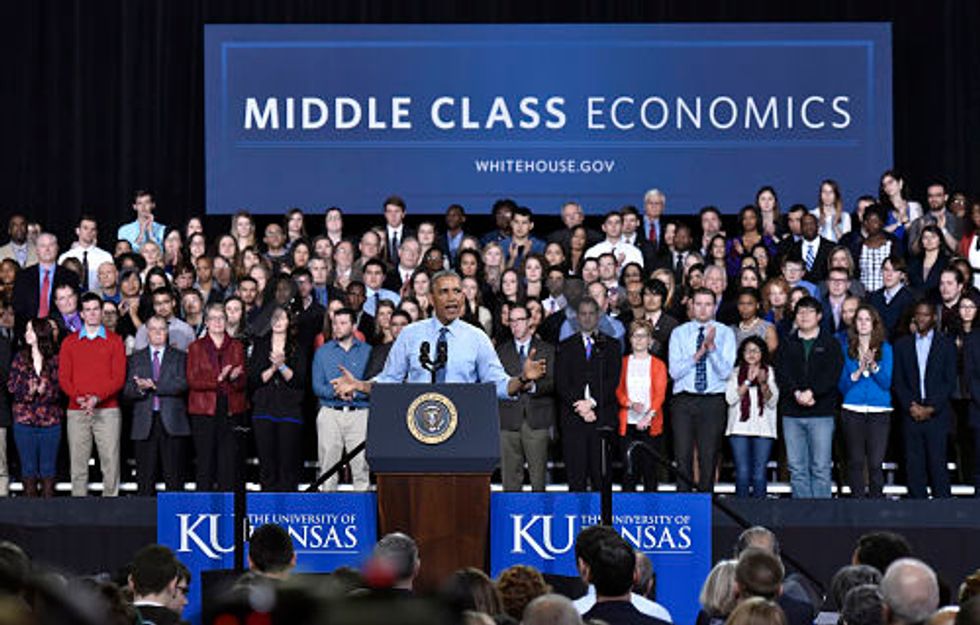 By Jonathan Allen, Bloomberg News (TNS)
WASHINGTON — President Barack Obama will rally Democrats for a budget battle with Republicans by proposing a major spending boost for both domestic programs and the military.
With his fiscal 2016 spending blueprint set for release Feb. 2, Obama will address a meeting of House Democrats on Thursday in Philadelphia to supply details and an argument to carry into a fight to reverse the across-the-board budget limits known as sequestration.
The budget will "show how we can invest in his vision for middle class economics," the White House said in a statement released Thursday.
Obama is proposing as much as $68 billion in additional discretionary spending above the level set in the 2011 law that triggered sequestration, split between defense and domestic priorities, according to people familiar with the document. That's an almost 7 percent increase over discretionary-spending levels prescribed by sequestration.
The White House previously outlined tax increases and new funding Obama plans to seek in a budget that amounts to a political agenda for Democrats.
None of that will sit well with the Republican majorities in the House and Senate, where many lawmakers want to make deeper cuts to the spending within a federal budget of almost $4 trillion.
"Previous budgets submitted by the president have purported to reverse the bipartisan spending limits through tax increases that the Congress — even under Democrats — could never accept," Don Stewart, deputy chief of staff for Senate Majority Leader Mitch McConnell of Kentucky said in an e-mail.
Obama's budget submission is the opening bid in a nine-month battle over the federal government's bottom line for the fiscal year that starts Oct. 1. Republicans in Congress will then try to write their own version, a task made difficult by divisions within the party over how to allocate federal funds.
The general direction of Obama's plan will come as no surprise to Republicans or Democrats. His budget director, Shaun Donovan, said in October that Obama would write a spending plan that obliterates sequestration.
"Relieving sequester in 2016 and beyond is critical to long-term growth and investment," Donovan said.
Along with spending above the sequestration limits, his budget will call for a funding reduction of about 20 percent for the Overseas Contingency Operations account that has funded American military operations in Afghanistan and Iraq.
Democrats have long contended that if they can put enough pressure on the Pentagon's budget, Republicans will eventually agree to boost domestic spending in exchange for more funding for the military.
Obama's budget would offset the new spending with a mix of increased revenue and cuts elsewhere, the White House said. Obama previously proposed raising $320 billion in taxes over a decade, mostly on top earners, and using most of the proceeds for new tax breaks for two-earner couples, child care and education.
"Fully paid for with cuts to inefficient spending programs and closing tax loopholes to make sure everyone pays their fair share, the president's budget will be able to make critical investments in the things we need to grow," the White House said.
House Democrats are in Philadelphia for their annual retreat. Earlier this week, House Democratic Leader Nancy Pelosi successfully lobbied Obama to drop one of his proposals, which would have eliminated a tax break for earnings from college savings accounts known as 529s.
Photo: President Barack Obama speaks at the Anschutz Sports Pavilion on the campus of the University of Kansas on Thursday Jan. 22, 2015 in Lawrence, Kan. (John Sleezer/Kansas City Star/TNS)