'Outdated' Correspondence Courses May Be Just What Prison Students Need
@ChandraBozelko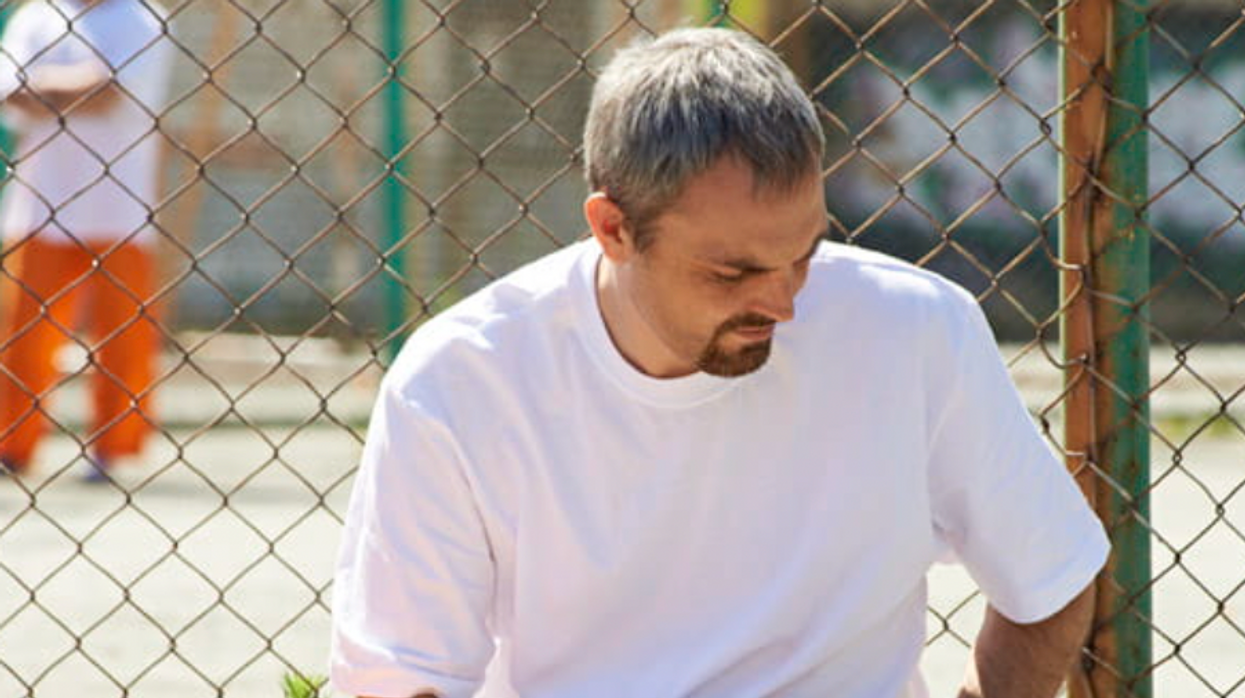 This is the fourth in a series of five articles on Pell Grant access for incarcerated students funded by a reporting fellowship from the Education Writers Association. Read the first, the second, the third and the fifth in the series.
Emory University professor Sarah Higinbotham knew she had to pivot, and quickly.
COVID restrictions in Georgia prisons, where Higinbotham leads college courses for incarcerated students through an organization she founded called Common Good Atlanta, stood in her way to the classroom. She couldn't get in to teach.
So she photocopied the lessons, placed them in folders, and dropped them off at the prisons for distribution by the prison staff. Then she and her colleagues picked up students' homework and replaced the paper-based lesson the next week. Because Common Good Atlanta professors were so nimble, the students ended up not missing a week.
Higinbotham happened upon a solution not only for pandemic restrictions but also the rollout of expanded Pell Grant eligibility: the old-fashioned, paper based or "epistolary" correspondence course where students write the answers to their assignments and send them to professors for evaluation -- who then send back another assignment.
While pandemic restrictions have been lifted on prisons in each of the 50 states, one question still lingers for all educators: What happens when I can't get in to teach?
It's a real possibility next summer, when Pell Grant eligibility will be officially restored to incarcerated students, and not because educators will necessarily be blocked from entering facilities; it may be that the new programs simply aren't approved yet. Prison Education Programs or PEPs may have to wait indeterminate periods of time to go through three — possibly superfluous — levels of approval to offer courses inside.
In theory, correspondence courses could be a solution to this problem, but the federal regulations for PEPs may blunt their potential.
Pell Grants Cover Correspondence Courses

"As of the implementation date of the new regulations [July 1, 2023], otherwise-eligible students can qualify for Pell Grants if they are enrolled in correspondence courses," said David Musser, acting deputy director for oversight of federal student aid at the Department of Education, responding to questions via email. "Nothing in the law or regulations prevents such students from qualifying for Pell on the basis of the modality of their coursework,"
These programs can enter only through the same complex processes. They must undergo approval and monitoring by the correctional oversight entity, plus another approval by the institution's accrediting agency (in the case of correspondence courses it's the Higher Learning Commission), as well as approval and monitoring by the federal Department of Education.
"These additional requirements, which were not present in the early 1990s prior to the Crime Bill, may limit the extent to which institutions choose to offer correspondence courses for Pell Grant purposes in carceral settings," Musser continued.
Pell Grant coverage wasn't always available for this type of learning. Pell Grants weren't authorized to finance correspondence courses at all, a reality made clear to schools in the Second Chance Pell Experimental Sites Initiative (Second Chance Pell programs) during the pandemic when they were in the same position as Higinbotham. They couldn't get inside the facilities.

The Department of Education sent written guidance to all Second Chance Pell programs in the early stages of the pandemic that clarified that lessons sent through the mail, on paper, were not allowed, but those lessons emailed to the prison and printed out by staff counted as "distance education" and were acceptable.
Such extreme hair-splitting made Second Chance Pell programs more careful but also suggested that the ban on correspondence courses might be counterproductive.
Correspondence Courses Are Underway In Prisons
Right now, at least seven schools offer epistolary correspondence courses to prisoners: Adams State University, Ohio University, Upper Iowa University, Colorado State University at Pueblo, Rio Salado College, Thomas Edison State University and California Coast University. Among them, only California Coast University is a private, for-profit institution and, as such, wouldn't be able to participate in Pell Grant funding under the federal regulations.
The number of students served by these programs is murky. Many correspondence programs simply don't have that information at hand.
At Upper Iowa University, a self-paced program that will celebrate its 50th anniversary next year, a total of 391 students enrolled in their correspondence course -- and 70 of them were incarcerated.
How many students they have served may not matter as much as their future bandwidth to serve students. In an attempt to prevent schools from developing PEPs to enroll as many incarcerated students as possible to take advantage of the new Pell Grant rules, the Department of Education instituted what's called the "25% rule" which requires that schools assure that no more than one quarter of their students are incarcerated.
Even with this rule, the Pell Grant opportunities through correspondence courses are significant. Adams State University has about 2000 undergraduate students which leaves them as many as 500 incarcerated Pell Grant slots. Rebecca Knight, independent study coordinator at Colorado State University-Pueblo says she's confident that the Colorado State University-Pueblo program could accommodate an additional 200 students.
In 2021, Ohio University's full time enrollment was 18,324; assuming some stability in enrollment, one quarter of that total would open opportunities for more than 4500 students. According to Dawn Novak, Assistant Vice President of Enrollment Management at Upper Iowa University, 25 percent of their student population would amount to about 1000 students.
Pell Grants will cover tuition for students enrolled in degree programs; to maintain eligibility for this type of federal aid. Students must demonstrate satisfactory academic progress or SAP, meaning they have to receive a grade of C or better and pass enough classes to graduate within 150 percent of the normal degree timeline.
This is important because conditions beyond an incarcerated student's control can interfere with their academic progress. Lockdowns — periods of time where movement within a prison is tightly controlled or even stopped and outsiders can't enter the facility — can occur at the discretion of corrections officials for almost any length of time.
And they do happen often. The United States Penitentiary at Pollock, Louisiana experienced 16 lockdowns in a 12 month period between 2016 and 2017. They're so common that the way lockdowns interrupt programming was the number one concern of inmates interviewed by the District of Columbia's Corrections Information Council.
Evaluating satisfactory academic progress is handled internally at the PEP, where the office of financial aid will determine whether a student is making the necessary headway -- so it's not as if pupils will be subject to assessment from an antagonistic entity. It's in the school's interest that students advance adequately in their studies. However, the regulations governing SAP weren't modified to accommodate the unusual circumstances incarcerated students face — like lockdowns — an omission criticized by higher education advocates during the regulations' comment period.
These correspondence courses also may fill holes in PEP programming. Even if PEPs get all the approvals they need, certain degree requirements may have to be taught at a distance. Pell Grants will support the education of those students in degree programs and degree programs often have certain requirements, such as statistics or other competency classes. If there's no instructor in the area who's qualified to teach that course, a correspondence course may make the difference in completing a degree on time. Some in-person PEPs may need a particular expert to teach required courses who may be available only at a distance.
"There's a huge need for this stuff, this mode of delivery," said Jim Bullington, coordinator of the Prison College Program at Adams State University.
That correspondence courses don't offer the same quality of education as in-person or online learning is a misperception, according to Bullington. While they aren't preferable to in-person pedagogy, correspondence courses challenge and edify students. Instructors are dedicated and strive to respond to their pupils in the same timeframe as other students.
Modifying Federal Regulations May Help
Students are already trying to enroll in correspondence courses in advance of the 2023 restoration of Pell Grant eligibility and schools will have to turn them away.
"We are worried about getting dumped and swamped and overwhelmed. And we already do have a lot of requests that we have to say no to because just because some students are trying to register right now thinking that Pell Grant money is going to come in, and we just can't do that," said Knight of her experiences since Congress passed the law expanding eligibility to this class of students.
"The problem is a lot of people [who are incarcerated] think right now that we are going to get immediately, July 1, correspondence [courses] and we'll be able to do it," said Bullington. "And that's just not the case."
The biggest barrier is the accreditation process. For existing correspondence programs, accreditation is redundant; they're already accredited by the Higher Learning Commission or HLC and approved through an arrangement called the State Authorization Reciprocity Agreement or SARA order to service students from all over the country.
Said Bullington:
"
To make us go through the accreditation thing to approve every single facility is literally impossible. You can't do that. So to me, [changing] that regulation would be very big."
According to Heather Berg, the Commission's Vice President of Communications and Engagement
, HLC reviews institutions for their ability to offer epistolary correspondence courses and the commission limits approval for correspondence education to courses and one degree or certificate program, although an institution can switch the program it offers via correspondence education with proper notification to HLC.
Of HLC's existing member institutions:
24 institutions or 2% of HLC's membership are approved for correspondence education courses and programs.
7 institutions or less than 1% of HLC's membership are approved for correspondence education courses and one program.
60 institutions or 6% of HLC's membership are approved for correspondence education courses only, but no certificate or degree programs. These programs may not be eligible for Pell Grant support because this type of aid is restricted to degree or certificate programs.
874 institutions or 91% of HLC's membership have no correspondence approval whatsoever.
HLC can change the correspondence course landscape but it's the schools themselves that must seek approval and it's not necessarily a quick process. Substantive change requests, such as an institution seeking approval to offer correspondence education beyond their current situation, may take 6-9 months for review, due process and final action. Schools would need to start the process now to help students take advantage of Pell Grants as soon as possible.
It's important to note that HLC isn't necessarily the holdup here. HLC takes action on substantive change requests 10 times a year. In October 2022, HLC took action on more than 75 substantive change requests.
Regulators have already recognized that requiring distance education programs to apply for approval in every state is overly burdensome, which is why they created SARA. The agreement allows members to offer distance education in other member states without having to go through the state's accreditation processes which are expensive and time consuming. While Rio Salado College and California Coast University aren't, the remaining five prison correspondence programs are located in SARA-member states; as of July 2019, all states but California have joined SARA.
It's not just the Department of Education's bureaucratic burdens that may prevent students from getting an education through correspondence courses. The fact that students can receive Pell Grant aid only if they're enrolled in a degree or certificate program also might hold them back. If students who are only a few credits shy of a degree or certificate can enroll in non-degree program courses, they may be able to complete a degree started elsewhere through a correspondence program. A key aspect of the Department of Education's regulations is that all Pell-eligible schooling must be capable of transfer to another institution.
Requiring that a grantee be enrolled in a degree program may block correspondence courses from assisting students in facilities that don't offer PEPs, as might the completion time standards. Most correspondence courses are self-paced; some allow students to take longer because of the unique circumstances of mailing one's lessons from institutions that aren't always known for their care and diligence. For these practical reasons, Adams State University allows students one year to complete a course. Upper Iowa University offers four-month extensions for incarcerated students.
But Pell Grants will cover only those students in semester-based degree programs. Changing the regulations or offering waivers to accommodate the realities of prison life or the unique potential of correspondence education might achieve the goals of higher education in prison more quickly and more effectively than clinging to the federal regulations so tightly.
During two days of hearings by the Department of Education's Office of Postsecondary Education Prison Education Programs Subcommittee's last year, open forums where questions about implementation received airing, experts discussed correspondence courses only glancingly. They paid little attention to the ways that correspondence courses can further the goal of expanding eligibility for incarcerated students.
Once waitlists begin to frustrate prisoners' plans for rehabilitation through education next summer, hindsight will likely prove that correspondence courses ought to have played a far larger role in planning for their new Pell Grant eligibility.
Though often seen as antiquated, these modes of teaching hold unique promise for the Department of Education's goal of expanding prisoners' access to postsecondary classes as soon as possible — and the department is squandering the chance if it doesn't fix the regulations so correspondence courses can get to work immediately.
Chandra Bozelko did time in a maximum-security facility in Connecticut. While inside she became the first incarcerated person with a regular byline in a publication outside of the facility. Her "Prison Diaries" column ran in The New Haven Independent, and she later established a blog under the same name that earned several professional awards. Her columns now appear regularly in The National Memo.