On Ohio Train Disaster, Buttigieg Retort To Trump Goes Viral (VIDEO)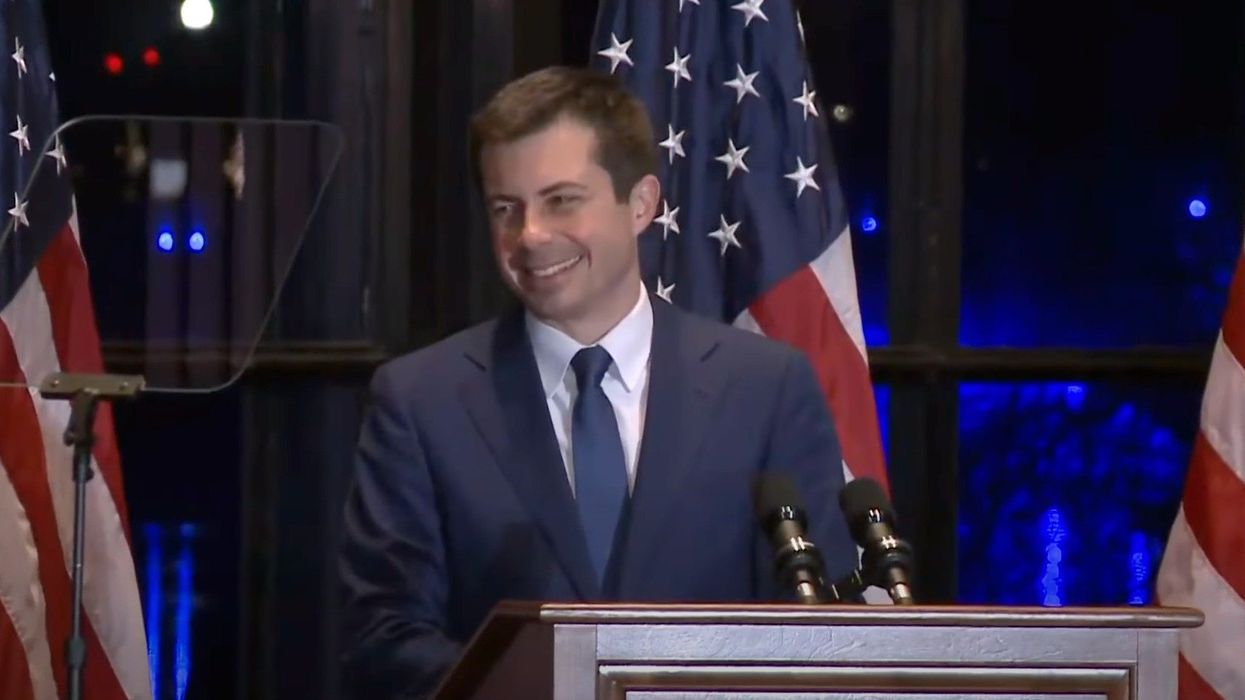 Secretary of Transportation Pete Buttigieg's response to Donald Trump's refusal to accept any responsibility for the impact his massive deregulations have had went viral on Thursday with video of him encouraging the ex-president to support the Biden administration's rail safety tefforts..
During his visit to the scene of the Norfolk Southern train derailment in East Palestine, Ohio on Thursday, a reporter asked Buttigieg, "You mentioned the national political figures decided to get involved, it sounds like you're talking about Trump. And then you said, 'I need your help.' How can he help?"
Buttigieg replied, "Well, one thing he could do is express support for reversing the deregulation that happened on his watch. I heard him say he had 'nothing to do with it,' even though it was in his administration. So if he had nothing to do with it, and they did it in his administration against his will, maybe he could come out and say that, that he supports us moving in a different direction."
"We're not afraid to own our policies when it comes to raising the bar on regulation," Buttigieg continued. "And I've got to think that [Trump] indicating that this is something that everybody ,no matter how much you disagree on politics and presidential campaigns, can get behind – higher fines, tougher regulations on safety, Congress on tying our hands on breaking rules, all the other things that go with it -- that'd be a nice thing for him to do."
\u201cButtigieg: One thing Trump can do is express support for reversing the deregulation that happened on his watch. I heard him say he had nothing to do with it. So if he had nothing to do with it..\u201d

— Acyn (@Acyn) 1677172265
Buttigieg was referring to Trump's visit to the town of East Palestine just one day earlier, where instead of tossing paper towels at destitute hurricane victims, Trump handed out red MAGA caps at a McDonald's and used "Trump"-branded bottled water to ensure voters knew he had been there.
During Trump's Wednesday visit, a reporter asked him about the train derailment, which resulted in the release of toxic gases, under the direction of GOP Governor Mike DeWine.
"I had nothing to do with it," Trump told a reporter who asked about him "pulling back rail regulations" when he was president, something he did indeed do.
Instead, Trump quickly blamed the "airports" on Buttigieg, claiming they are like "a third world nation," although the former president never improved them on his watch and the Biden administration actually passed and signed into law a massive infrastructure bill, one that Trump, despite many promises, never was able to pass.
\u201cDonald Trump responds to Transportation Sec. Pete Buttigieg pointing out that his administration rolled back regulations on the rail industry:\n\n"I had nothing to do with it."\u201d

— The Recount (@The Recount) 1677101837
The Recount on Wednesday, pointing to an ABC News article, noted that the "Trump administration withdrew regulations connected to 'high hazard' trains, which critics say made it more likely a derailment like the kind in East Palestine would happen."
Meanwhile, Buttigieg's response to Trump's remarks have gone viral. In just 24 hours the video (above) of Buttigieg has garnered nearly 2 million views.
Journalists, critics, and commentators on social media are praising the transportation secretary.
"Never really understood why Republicans think picking fights with him is a good idea," HuffPost White House correspondent S.V. Dáte tweeted. "He is hands down the Biden administration's best communicator, he takes apart the criticisms, turns them back on the critics, and does it all without sounding mad."
"Absolutely incredible," said podcaster and former Biden delegate Victor Shi. "Pete Buttigieg proves once again why he remains one of the best communicators and assets Democrats have. Very few people can respond to journalists and call out Republicans as effectively as Pete Buttigieg."
Social media influencer and political commentator JoJoFromJerz, who has over 780,000 followers on Twitter, called it "an absolute masterclass on how to handle donald j. trump."
And author Tod Goldberg noted, "When Pete starts to smile, you know you're about to find yourself in the 'find out' portion of the show."
Reprinted with permission from Alternet.