New Evidence Shows Proud Boys Planned To 'Storm The Capitol'
@LaurenSue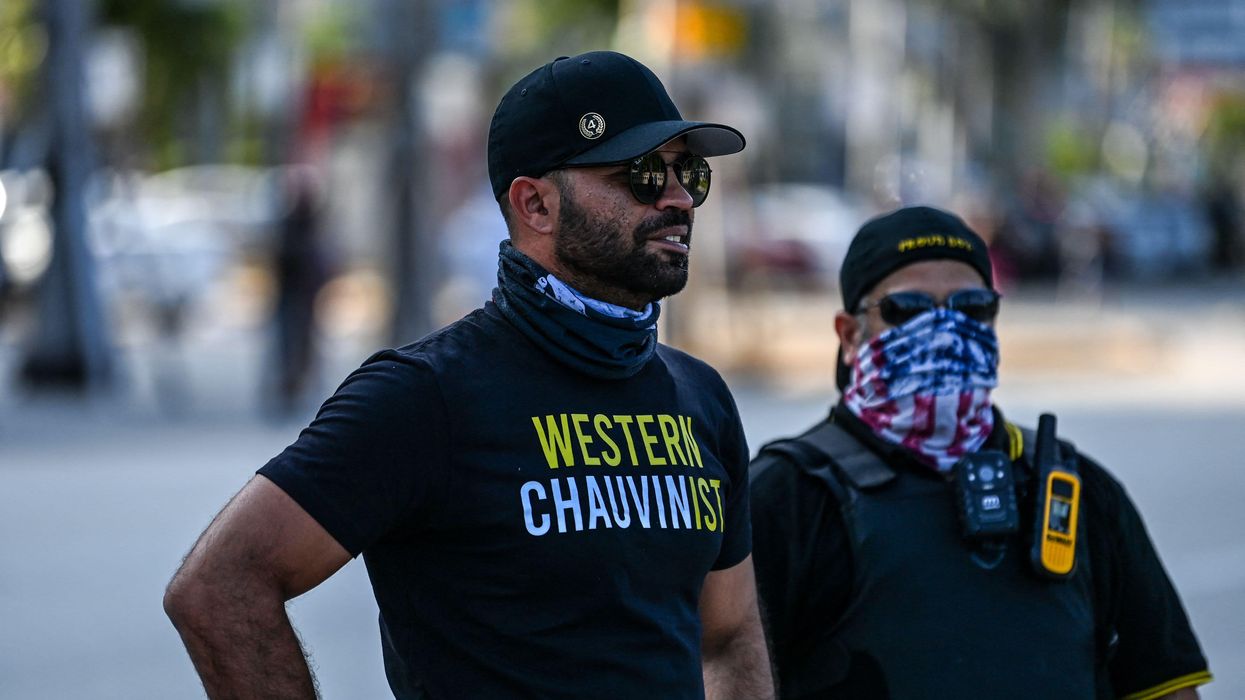 In the days after federal prosecutors named the Proud Boys leader and five other accused insurrectionists in a federal indictment related to the January 6 attack on the U.S. Capitol, a Pennsylvania media group tracked down the name of another man allegedly linked to the planning of the insurrection. Federal prosecutors identified the man, believed to be an "upper tier" member of the Proud Boys, only as Person 3, a resident of Carlisle, Pennsylvania, LNP reported on its news website Lancaster Online on Saturday.
Person 3 is accused of taking part in an "encrypted message group" that the now-indicted Proud Boys leader Henry "Enrique" Tarrio and others allegedly used to toss around ideas for blocking the certification of President Joe Biden's November 2020 election win. LNP tracked down the identity of Person 3 using his reported alias "Johnny Blackbeard." The news site determined the pseudonym belongs to John Charles Stewart, a member of the Harrisburg chapter of the Proud Boys.
LNP identified Stewart through a post on a Telegram instant-messaging channel that claimed Blackbeard was hospitalized for complications related to a hernia. The post included a link to a fundraising page created by Daniele Stewart, which LNP confirmed through records is the wife of John Charles Stewart. The news site also cited an anonymous source that wouldn't identify Blackbeard by his real name but did confirm he is the Carlisle member targeted in a federal search warrant. It's unclear if that warrant has been executed, but another man of Belmont, North Carolina, was also the subject of a federal search warrant that according to Raw Story had been executed on Jeremy Bertino at his home.
"The government may believe Person 3, aka Stewart, has records that could help prove the alleged conspiracy involving Tarrio and others," Lancaster Online writer Carter Walker wrote. "In the weeks leading up to January 6, the government alleges, Tarrio and other Proud Boy leaders used an encrypted messaging service to create a chat group titled 'Ministry of Self Defense' (MOSD) and used it to assemble their plans for blocking Congress' certification of Biden's win in the Electoral College."
The chat group was described in Tarrio's indictment as an outgrowth of a new MOSD chapter of the Proud Boys—according to Tarrio, a "national rally planning" chapter that would only include "hand selected members."
Proud Boys members Ethan Nordean, Joseph Biggs, Zachary Rehl, Charles Donohoe, and Dominic Pezzola—all now indicted— were charged with running the new chapter, according to the indictment. Biggs reportedly messaged Tarrio that the Proud Boys "recruit losers who wanna drink." "Let's get radical and get real men," he added.
Federal prosecutors wrote in the indictment: "Immediately after forming the MOSD, Tarrio and the leadership of the MOSD began preparations for January 6, 2021." Person 3 was reportedly included in that group and messaged his cohorts on Dec. 20, 2020: "I am assuming most of the protest will be at the capital building given what's going on inside." The message was included in documents indicting Tarrio and the other men.
Person 3, though unnamed in the indictment, was said to have messaged his peers that if one million "patriots stormed and took the capital building" nothing could be done. He is accused of suggesting that the "main operating theater should be out in front" of the House of Representatives, "out in front" of the Capitol building. Tarrio reportedly responded a day after Person 3 sent the message: "I didn't hear this voice note until now, you want to storm the Capitol."
Tarrio was arrested on January 4 related to burning a Black Lives Matter flag stolen from a historic Black church in Washington, D.C. MOSD leaders were advised to "personally clear our history of that MOSD chat," according to indictment documents. Person 3 responded that he had "removed everyone from the other group" and that it had been "nuked," according to the indictment.
A new chat group, however, was formed and the attack on the Capitol was carried out, prosecutors said.
LNP cited Asher Meza, one of Tarrio's associates and a member of a Proud Boys chapter in Miami, for information that Blackbeard was an admin of the original MOSD chat but that he was removed from the chat. Meza also reportedly said Blackbeard was not in Washington D.C. on January 6 because he was dealing with a medical issue.
Former Lehigh Valley Proud Boys Vice President Richard Schwetz also told LNP that Blackbeard wasn't in D.C. on January 6. "I am 100% sure he was not there," Schwetz reportedly said. "He was not anywhere on January 6."
Read the Justice Department's complete news release on Tarrio's indictment:
Henry "Enrique" Tarrio, the former national chairman of the Proud Boys, was arrested today following his indictment on conspiracy and other charges related to the breach of the U.S. Capitol on Jan. 6, 2021, which disrupted a joint session of the U.S. Congress that was in the process of ascertaining and counting the electoral votes related to the presidential election.
Tarrio, 38, of Miami, Florida, was arrested in Miami and is to make his initial appearance today in the Southern District of Florida. He was named in a superseding indictment returned Monday in the District of Columbia that also includes five previously charged defendants.
Others named in the superseding indictment include Ethan Nordean, 31, of Auburn, Washington; Joseph Biggs, 38, of Ormond Beach, Florida; Zachary Rehl, 36, of Philadelphia; Charles Donohoe, 34, of Kernersville, North Carolina; and Dominic Pezzola, 44, of Rochester, New York. All previously were detained. They earlier pleaded not guilty to charges.
According to court documents, the Proud Boys describes itself as a "pro-Western fraternal organization for men who refuse to apologize for creating the modern world, aka Western Chauvinists." Through at least Jan. 6, 2021, Tarrio was the national chairman of the organization. In mid-December, Tarrio created a special chapter of the Proud Boys known as the "Ministry of Self Defense."
As alleged in the indictment, from in or around December 2020, Tarrio and his co-defendants, all of whom were leaders or members of the Ministry of Self Defense, conspired to corruptly obstruct, influence, and impede an official proceeding, the certification of the Electoral College vote. On Jan. 6, the defendants directed, mobilized, and led members of the crowd onto the Capitol grounds and into the Capitol, leading to dismantling of metal barricades, destruction of property, and assaults on law enforcement.
Although Tarrio is not accused of physically taking part in the breach of the Capitol, the indictment alleges that he led the advance planning and remained in contact with other members of the Proud Boys during their breach of the Capitol. Tarrio was arrested on Jan. 4, 2021, on a warrant charging him in the Superior Court of the District of Columbia with destruction of property in the Dec. 12, 2020, burning of a Black Lives Matter banner. He was released at approximately 5 p.m. on Jan. 5, 2021. As a condition of his release, he was ordered by the Court to stay out of Washington.
The indictment alleges that Tarrio nonetheless continued to direct and encourage the Proud Boys prior to and during the events of Jan. 6, 2021, and that he claimed credit for what had happened on social media and in an encrypted chat room during and after the attack.
Tarrio was indicted on one count of each conspiracy to obstruct an official proceeding and obstruction of an official proceeding, as well as two counts each of assaulting, resisting, or impeding certain officers and destruction of government property.
This case is being prosecuted by the U.S. Attorney's Office for the District of Columbia and the Department of Justice National Security Division's Counterterrorism Section. Valuable assistance was provided by U.S. Attorney's Office in the Southern District of Florida.
The case is being investigated by the FBI's Washington and Miami Field Offices. The charges in the investigation are the result of significant cooperation between agents and staff across numerous FBI Field Offices, and law enforcement agencies.
In the 14 months since Jan. 6, more than 775 individuals have been arrested in nearly all 50 states for crimes related to the breach of the U.S. Capitol, including over 245 individuals charged with assaulting or impeding law enforcement. The investigation remains ongoing.
Anyone with tips can call 1-800-CALL-FBI (800-225-5324) or visit tips.fbi.gov.

Reprinted with permission from Daily Kos