Judge Berates 'QAnon Shaman' For 'Publicity Stunt'
@alexvhenderson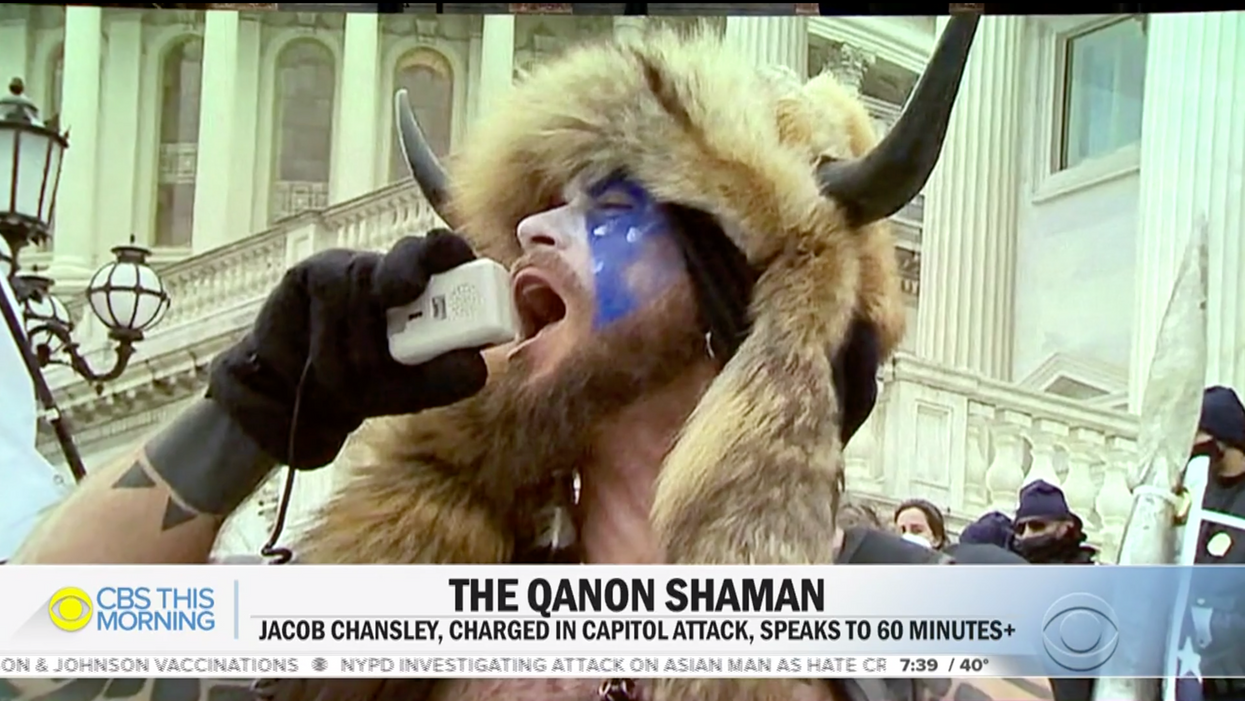 Screenshot from CBS
Reprinted with permission from Alternet
Jacob Chansley, known as the so-called "QAnon Shaman," is among the many far-right extremists facing criminal charges in connection with the January 6 assault on the U.S. Capitol Building. When Chansley's attorney, Albert Watkins, appeared at a bail hearing last week on March 5, Judge Royce Lamberth of the U.S. District Court for the District of Columbia denounced Chansley's recent appearance on60 Minutes Plus as a "media publicity stunt."
At the hearing, Watkins tried to convince Lamberth — a Ronald Reagan appointee — that his client should be released on bail before his trial. The 33-year-old Chansley is facing criminal charges that include violent entry, disorderly conduct and illegally entering restricted spaces.
During his 60 Minutes Plus appearance, Chansley tried to paint himself as a sympathetic figure. But Lamberth was not impressed and wanted to know why Chansley made that television appearance without his authorization. The judge asked Watkins, "Can you tell me how that came about?" and accused the attorney of using "subterfuge" to avoid jailhouse restrictions.
Lamberth did not grant the QAnon Shaman bail.
NEW: A federal judge DENIES the latest bid by Jacob 'QAnon Shaman' Chansley for pre-trial release—and slams his la… https://t.co/firT16zeKg

— Adam Klasfeld (@Adam Klasfeld) 1615232309
Watkins, at the hearing, told Lamberth, "It didn't occur to me that I wouldn't be able to capture the video image of my client in my office." And Watkins, in response to Lambert's allegation of "subterfuge," said, "It's just not my style."
Law & Crime reporter Adam KIasfeld notes that Watkins has been "depicting his client as a man inspired by Mahatma Gandhi, a believer in the principle of nonviolence toward all living beings called ahimsa — and a supposed shaman who allegedly would not crush a bug." But prosecutors have been stressing that the pole Chansley was carrying on Jan. 6 could have been used as a deadly weapon. And Chansley, according to court papers, left a threatening note for then-Vice President Mike Pence that described him as a "traitor" and read, "It's only a matter of time. Justice is coming."
The insurrectionists who stormed the U.S. Capitol Building on January 6 were trying to prevent Congress from certifying Joe Biden's Electoral College victory over then-President Donald Trump, who repeatedly made the false and debunked claim that the 2020 election was stolen from him through widespread voter fraud. As part of the defense, Klasfeld points out, Chansley has tried to paint himself as someone who was duped and misled by Trump.
The January 6 insurrectionists believed that Pence betrayed Trump by not doing more to prevent Biden's certification, and some of them were calling for his murder and chanting, "Hang Mike Pence."
Assistant U.S. Attorney Kimberly Louise Paschall, one of the federal prosecutors in Chansley's case, spoke by phone during the bail hearing and said, "We know how the defendant feels to this day about some of these issues because he has spoken to the press." And Chansley, Paschall said, obviously believes that the election was stolen from Trump "because he told 60 Minutes as much."