Proof: Republicans, Including Trump, Aim To Slash Social Security (VIDEO)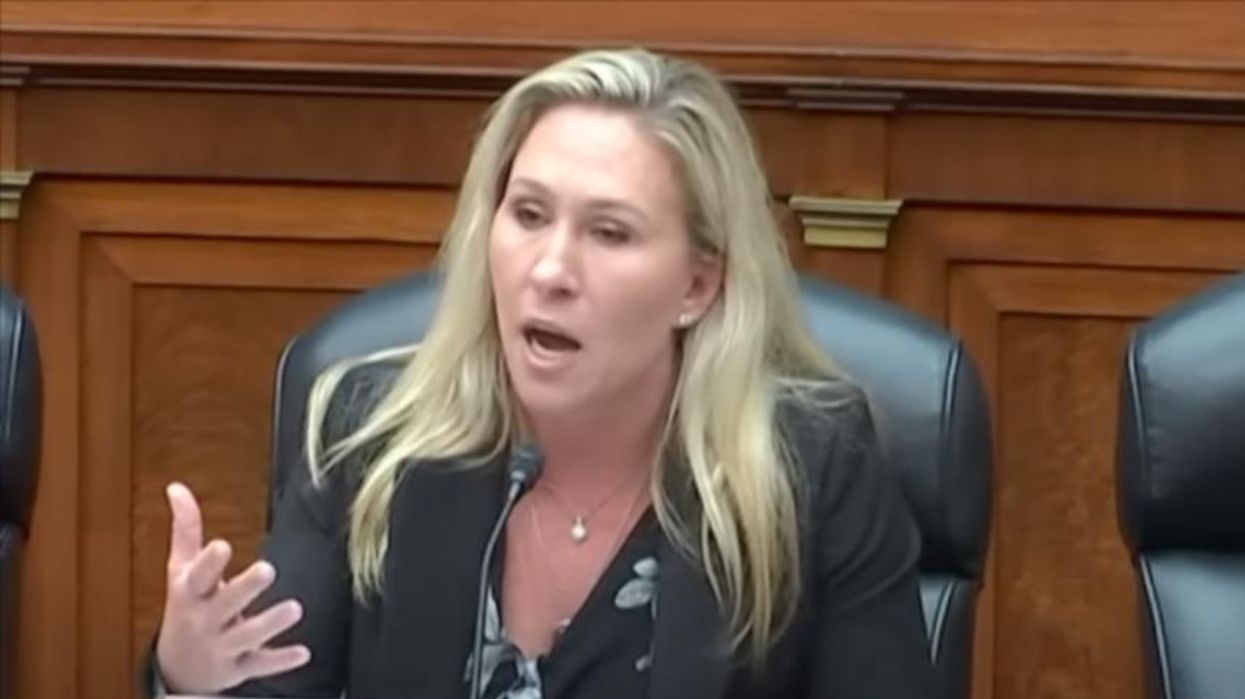 Youtube Screenshot
Many across the nation were likely horrified but not surprised Tuesday night when Congresswoman Marjorie Taylor Greene (R-GA), and several other House and Senate Republicans lashed out at President Joe Biden as he delivered the State of the Union Address, falsely branding him a "liar" for telling the truth: The GOP has consistently called to gut, sunset, or otherwise dramatically alter or dismantle the critical, life-saving social safety nets of Social Security and Medicare.
But it's no secret Republicans for years, including recently, have wanted to take an ax to these programs, and other "entitlements," despite proof they literally save lives.
Just Monday, Bloomberg reported, "House Republican committee and caucus chairs are pushing to create panels to study extending Social Security and Medicare solvency as part of any debt limit deal."
"The discussion about creating commissions indicates some policy proposals floated by Republicans on entitlements — such as increasing the eligibility age or adding means-testing measures — are a possibility, even as GOP leaders say they're not negotiating policy changes directly as part of a debt-limit vote," Bloomberg added.
Greene then recorded video after shouting "You're lying!" and "Liar!" at President Biden, defending her antics — by lying.
Greene may have led the charge but she was far from the only culprit lying about the President of the United States in a nationally-televised speech that was seen in several parts of the world.
Here's U.S. Senator Mike Lee (R-UT), once floated as a Trump Supreme Court nominee, "feigning outrage" at President Biden's truthful claim, and video of him calling to gut Social Security and Medicare. In fact, he says in the video the reason he was running for Senate was to pull up "by the roots" Social Security, Medicare, and Medicaid.
And U.S. Senator Rick Scott, the head of the National Republican Senatorial Committee (NRSC), getting called out by Fox News for wanting to "sunset" Social Security and Medicare.
U.S. Rep. Rick Allen, Republican of Georgia, claiming people are telling him they "want to work longer," as he says he wants to raise the retirement age, which would dramatically alter Social Security and Medicare.
Or an apparently younger U.S. Senator Ted Cruz (R-TX), calling Social Security a Ponzi scheme:
Center for American Progress Action's research director, Will Ragland, in October pointed out Trump has repeatedly promised to gut Social Security and Medicare:
"Every single budget Trump proposed would've cut hundreds of billions of dollars from Social Security, Medicare, & Medicaid," Ragland says.
And video of Trump saying it as recently as 2020:
Literally dozens of Republicans back in October called for gutting, sunsetting, or killing Social Security and Medicare. This was the GOP playbook just a few months ago.
U.S. Senator Lindsey Graham in June: "entitlement reform is a must."
U.S. Senator Ron Johnson (R-WI) in August saying he wants to "fix" "broken" Social Security and Medicare by turning them into "discretionary" spending:
U.S. Senator Ted Budd (R-NC), as a candidate, agreed with the "major points' of Sen. Rick Scott's 11-point plan which included sunsetting all federal programs, which would include Social Security and Medicare. (Sen. Scott just hours ago "doubled down" on his call to die just that.)

U.S. Rep. Mike Waltz (R-NC) just one month ago called for "big reforms," and said: "if we really want to talk about the debt and spending, it's the entitlements program."
Many of those who have been trying to gut Social Security belong to the far-right Republican Study Committee.
Last summer NBC News reported: "The Republican Study Committee, a large group of House conservatives, proposed a budget in June that would incrementally raise the retirement age to collect Social Security, based on changing life spans, and lower benefits over the long term by using a new formula."
Reprinted with permission from Alternet.