Right-Wing Backlash Over Vaccination Remarks Spooks Craven Hannity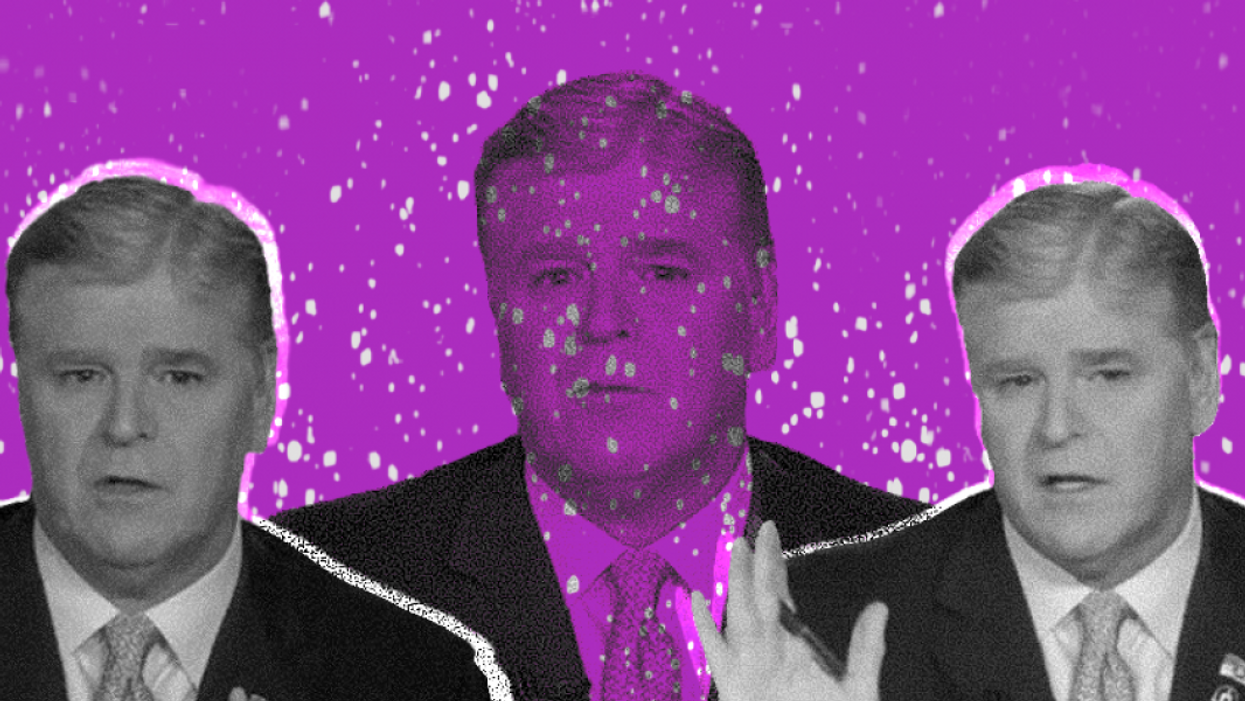 Photo by Andrea Austria / Media Matters
Reprinted with permission from Media Matters
Fox News host Sean Hannity disclosed during his radio show on Friday that he had made peace with a fellow right-wing radio host whose content mill had warned that Hannity's "feverish support of the vaccine" against the novel coronavirus betrayed his conservative audience.
"By the way, I talked to our friend Wayne Dupree," Hannity said of the Sandy Hook conspiracy theorist, who described the grieving parents of murdered children as "crisis actors." "And he put up a nice tweet saying, 'You know what, somebody on my staff put that article up, I didn't see it,' and he rightfully corrected it."
Hannity's remark closed the books on a multi-day saga during which the Fox host had offered a vaguely pro-vaccine comment, only to backpedal wildly after drawing largely unearned praise from mainstream journalists and a backlash from the right. The incident demonstrates how Fox's cowardly refusal to defy the right-wing media's incentive structure by promoting the COVID-19 vaccine is now risking the lives of its viewers.
On his July 19 Fox program, Hannity urged viewers to "take COVID seriously" and said that he "believe[s] in the science of vaccination." It was a fairly banal comment and came in the middle of a lengthy segment in which Hannity denounced universities that require their students to get vaccinated.
But Fox's coverage of the COVID-19 vaccines has been so abhorrent and irresponsible that an out-of-context snippet of the monologue circulating on Twitter went viral on Monday night, as commentators rushed to praise Hannity's segment as a divergence from the network's norm. Over the following days, mainstream news outlets incorrectly highlighted the remark as an endorsement of the vaccines, and even cited it as evidence that "Suddenly, Conservatives Care About Vaccines," as a headline in The Atlantic put it.
Fox's PR team appreciates this sort of coverage because it helps shield the network from the accurate assessment that it serves as a conspiracy theory-addled right-wing propaganda outlet that is more than willing to endanger the lives of its viewers. But for Hannity, who regularly lashes out at the mainstream press, this sort of praise is useless at best and actively harmful to his reputation at worst. Hannity's audience -- and the right-wing rivals who might try to poach away those viewers and listeners -- are what matter to him. And from them, the Fox host received little support.
Tucker Carlson and Laura Ingraham, Hannity's Fox prime-time colleagues, spent the week engaging in frenzied attacks on the vaccination campaign. Carlson explicitly criticized CNN -- but implicitly undermined Hannity -- when he dingedthe network for having "a position on whether you should take" the vaccine two nights after Hannity's viral monologue.
Hannity received more direct right-wing criticism for his supposed support for vaccination from outside the network, and a post on Dupree's website went after his audience directly.
"Hannity is raising ire with a lot of his supporters because of his feverish support of the vaccine," the author wrote, highlighting a series of online comments from conservatives dismayed by the Fox host "pushing" the vaccine. Dupree himself subsequently shared the post on Twitter.
A July 20 post on Sandy Hook conspiracy theorist and radio host Wayne Dupree's website targets Sean Hannity's audience over his purported vaccine advocacy.
Hannity responded by vigorously backtracking. On July 22, he assured both his radio and Fox audiences that he "never told anyone to get the vaccine" and criticized mainstream news outlets for suggesting otherwise.
Hannity made it clear on his radio show that the Dupree post had struck a nerve. He said that the story had been flagged for him as important by one of his employees, and he seemed dismayed that Dupree, "who I've always liked," was coming after him.
"Wayne, we hope you are listening, and maybe you understand what's really going on here and stop listening to fake news," commented Hannity's producer, Lynda McLaughlin, before playing audio to clear Hannity's name.
Hannity's walkback appears to have satisfied Dupree. The story on his website that criticized Hannity was taken down some time the following day, as Dupree offereda "CORRECTION" on Twitter.
Why would Hannity go to such lengths to respond to and assuage the concerns of a Z-list crank like Dupree? Because in the right-wing media, you gain an audience by producing propaganda drenched in conspiracy theories that assures conservatives that their grievances and intuitions are correct -- and you can lose it just as quickly if that audience thinks you've gone soft.
This dynamic has been playing out on Fox since November, when the network's fringe-right rivals stole some of its market share by presenting themselves as more supportive of former President Donald Trump's lies that the 2020 election had been stolen. Ever since, Fox hosts have desperately pandered to the most extreme elements of the right in hopes of slowing the bleeding and rebuilding their audiences.
The vaccination effort has proven no different. Fox hosts could play a critical role in informing their viewers about the vaccine and helping to convince them to take it. They have a moral responsibility to try. But if they were to do so, a constellation of smaller, more adamantly anti-vax right-wing outlets is ready to lash out at the market leader and siphon away some of their viewers. So instead, they pander to the anti-vaxxers.
It's a vicious cycle. And it's getting Fox's viewers killed.