Hannity Denies Adopting Sane Stance On Vaccination — And He's Right
@existentialfish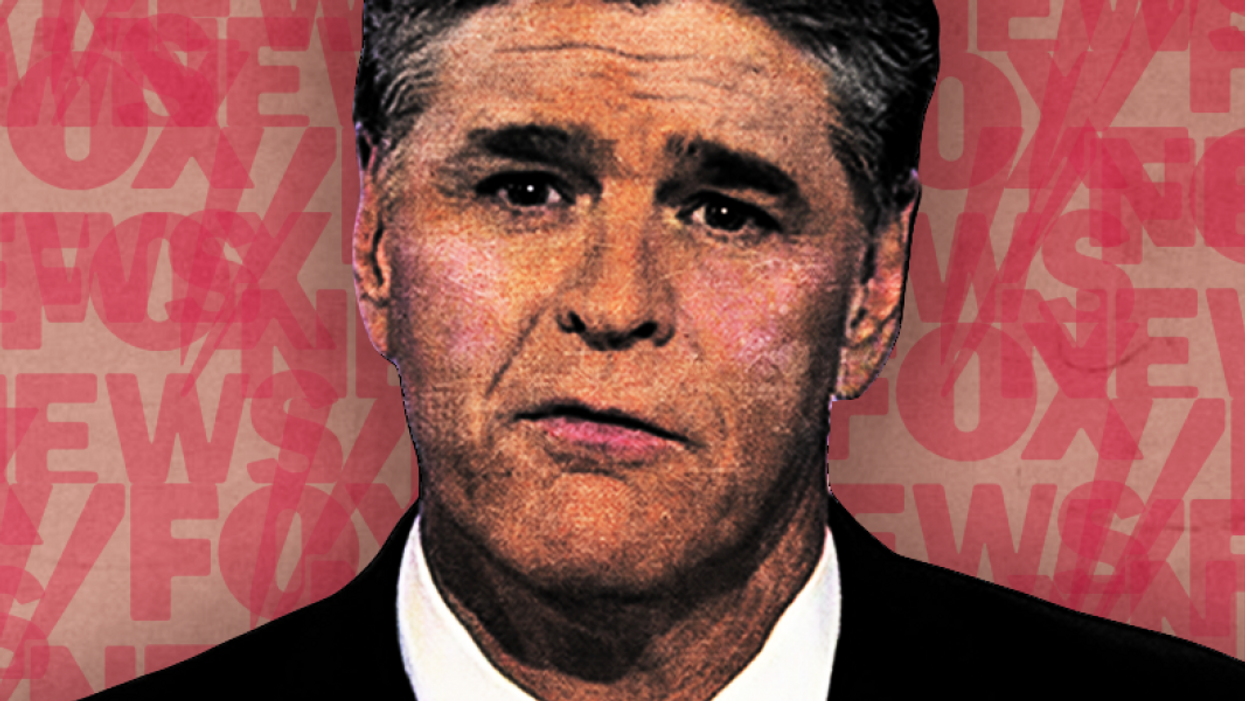 Photo by Sarah Wasko / Media Matters
Reprinted with permission from Media Matters
On July 21, Sean Hannity went on a long radio rant denying that he ever recommended his viewers get the vaccine. He later repeated himself on his Fox show.
This endorsement of vaccine hesitancy messaging from Hannity came after days of positive mainstream press for the Fox News host. Following a viral out-of-context tweet, reports in places like Politico Playbook, The Atlantic, The New York Times, NPR, and The Week framed pieces around Hannity supposedly endorsing the vaccines, even though he never did any such thing. The funniest version of this was the Fox News version, which was never shared to any of its social accounts, per Crowdtangle. (The former Republican governor of North Carolina, Pat McCrory, shared the piece and lauded Hannity, writing, "Thank you, Sean Hannity. Vaccines work and they will save lives.")
CNN host Alisyn Camerota, Hannity's former colleague at Fox, waxed poetically on multiple occasions about Hannity endorsing vaccines. Other outlets, like The Washington Post, Vox, and The Associated Press, correctly noted that Hannity's acknowledgment of vaccine science was immediately preceded and followed by anti-vaccine segments. (Longtime Hannity watchers know what a real change of position from him looks like.)
If this media cycle sounds familiar, it's because mainstream outlets had the exact same "new tone" problem with Trump, suggesting over and over, incorrectly, that he was changing his approach. Now the cliche is deployed for Trump's henchman, to the same results.
Interestingly, Hannity's anti-vax radio remarks came in response to anti-vax criticism of Hannity from the generic right-wing content mill of radio host Wayne Dupree, a Sandy Hook truther who has falsely claimed that the parents of a Sandy Hook victim were "actors" and the shooting was a "hoax."
So, not only does Hannity distance himself from the vaccines, but he's doing so to appease a far-right conspiracy theorist who has written about crisis actors. Why is Hannity acting like this? Because he's scared.
Recall that Hannity is the comparatively responsible one about vaccines on Fox News prime-time shows. And the Murdoch/vaccine problem isn't even limited to North America!
Next time, don't listen to Fox News' PR spin. Just listen to what Fox hosts say.
From Hannity's radio show:
SEAN HANNITY (HOST): For some reason, me saying take COVID seriously has finally caught up with the mob and the -- and the media. Now, I think they've got ulterior motives. They monitor this show and TV every night, and I think it has to do with the fact that -- you know, there's been this attempt to blame conservatives for the vaccine hesitancy.

And, you know for example, Yahoo News: "Suddenly Sean Hannity and other Fox hosts are urging their viewers to get COVID-19 vaccines." Suddenly? Well, first of all, I'm not urging people to get the COVID-19 vaccine, because I'm not a doctor. That is not what I said. I said to take it seriously, it can kill you. I said to do a lot of research. If you have a phone, do your research. I said to consult your doctor and doctors, and medical professionals you trust. I said to consider your unique medical history that I know nothing about. I said to also look at your current medical condition and, in consultation with your doctors, take -- don't not do this. Do the research.

...

You know, Biden suggesting that people like me had an altar call on vaccines -- no, I haven't.

...

"Sean Hannity basically begs his viewers to get vaccinated." No, I didn't. I'm begging everybody, don't mess around with this thing. Take it seriously.

...

It would be wrong of me, not knowing your medical condition, to tell you what to do. It's not right.

...

Now, we do have therapeutics. I mean, they could be saying, "Wow, studies show that people like Hannity were right on hydroxychloroquine and ivermectin and therapeutics like Regeneron," but we're never going to hear that either.

...

I am encouraging people to really, really do the right thing for them, because I don't know. And yes, enough people have died, and yeah, I want you to take it seriously, and no, I don't apologize -- and I was being pressured heavily early on to tell people what to do. I'm not qualified to tell you what to do, I'm not. I bring on doctors and experts, some of whom I agree with or disagree with so you can have more information at your disposal.
"Hannity's pro vaccine speech is welcome" -- I mean, what -- why are they saying something I didn't say? I said I believe in the science, I believe in the science of vaccinations, and then I said, but I can't make these decisions for anybody. "Hannity urges viewers, get COVID vaccine." I never said that. I said, if it's right for you, after you do all of your research, after you talk to your doctor, doctors, medical professionals you trust, I said, after -- you really need to take it seriously, and then make the decision that is best for you. So, these headlines are wrong.

...

By the way, whatever happened -- what's wrong with Wayne Dupree? I thought Wayne Dupree was a friend of ours, Lynda. Right?

LYNDA MCLAUGHLIN (PRODUCER): Yeah, started out as a caller on the show.

HANNITY: "Sean Hannity is skating on very thin ice with his supporters. Did he finally cross the line?" and he does this whole bit -- and then I'm reading it, and sweet baby James prints this out, and goes "you need to see this," because -- you know Wayne Dupree. We -- we always liked Wayne Dupree, we've never had a problem with Wayne Dupree. He's a good guy, but then he's saying, "He's very passionate about people taking the vaccine, and he's pushing it a lot on his show."

Hey Wayne, if you're gonna say something about me, get it right. I said -- let me -- let me say it slowly, so everybody hears me -- this thing has killed enough people. Take it seriously. Everybody knows about masks and social distancing and that there are three vaccines available. Everybody knows. I can't make the decision for you. But --
MCLAUGHLIN: Actually, Sean, let's do one better. Let's play what we have. I think it deserves to be played at this point.

HANNITY: By the way, should I dedicate it to our old friend, apparently, Wayne Dupree, who I've always liked?
MCLAUGHLIN: Well, let's give him the benefit of the doubt and say maybe he didn't hear it. So, Wyane we hope you are listening, and maybe you understand what's really going on here and stop listening to fake news.

...

HANNITY: Wayne Dupree, I'll accept your apology.
From Hannity's Fox News show:
SEAN HANNITY (HOST): Now a brief message from me to the mob in the media.

I have no idea why, but it was only in the last week my coverage of coronavirus, COVID-19 got the attention of the liberal press, and their attempts to paint this great network of ours which has varying opinions, which is actually fair and balanced, to paint us as a dangerous anti-vaccine network.

They watched this program and were shocked to discover what I said and what I had been saying for months, and months and months.

Business Insider reports, quote, "Suddenly, Sean Hannity and other Fox hosts are urging their viewers to get COVID-19 vaccines." Here's another headline, "Sean Hannity basically begs his viewers to get vaccinated." Another quote, "'The View': Sunny Hostin calls Hannity's vaccination endorsement 'Too little, too late.'"

These reports are all false for multiple reasons. First, I touted Operation Warp Speed since the beginning. In January 2020 I was predicting that I had so much faith in American researchers, the medical community, scientists and, as usual, it was my prediction that it would likely be American ingenuity and genius that will help us find therapeutics and vaccines and answers. And I praised the efforts of all of the scientists and medical professionals. Those involved in developing therapeutics, there are three vaccines that are now on the market, and literally dozens of others, in terms of therapeutics.

But I have never told anyone to get a vaccine. I have been very clear. I am simply not qualified. I am not a medical doctor. I know nothing about your medical history or your current medical condition. I think it's inappropriate for me to do so. Instead, for over a year now I have been warning my viewers, you make my career possible
Language has been updated for clarity.