'What About Bill Clinton?': Giuliani Erupts Over PossibleTrump Indictment
@CynicalBrandon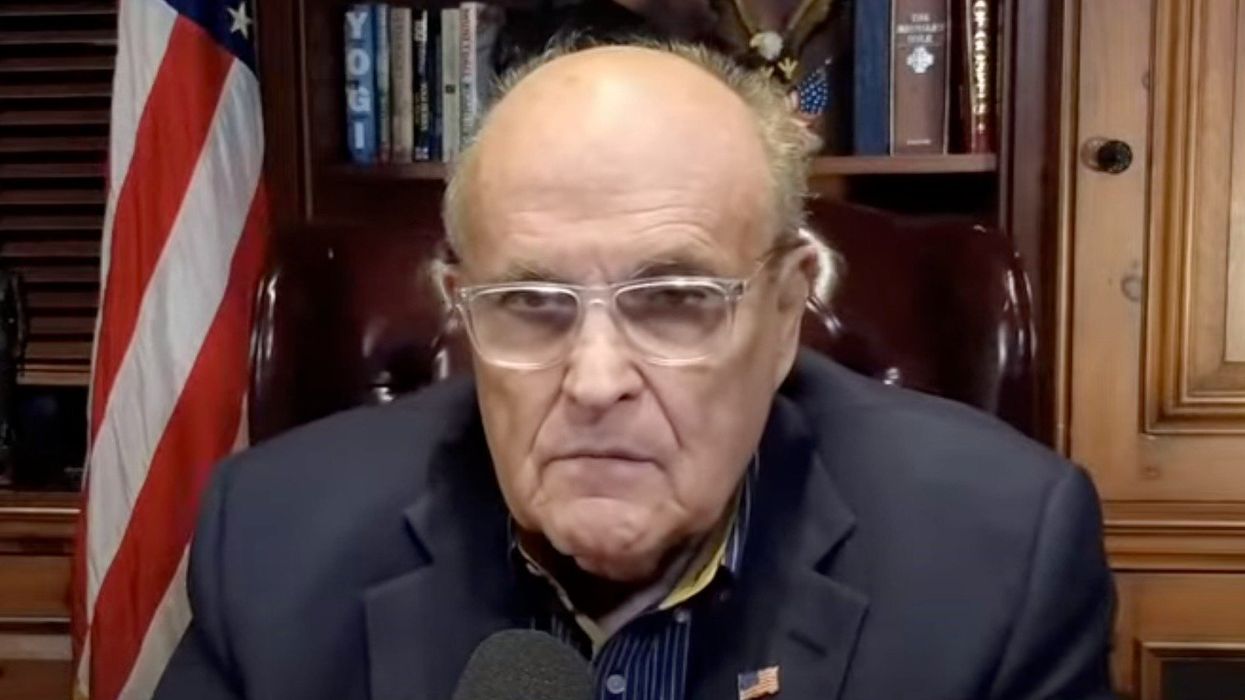 Rudy Giuliani, the former New York City mayor and erstwhile defense counsel for ex-President Donald Trump, pulled the whataboutism card in an appearance on Newsmax's Saturday Report.
Giuliani was incensed over reports that Trump is likely to be arrested and indicted by Manhattan District Attorney Alvin Bragg (D) next week for allegedly paying $130,000 in so-called hush money to adult film entrepreneur Stormy Daniels prior to the 2016 presidential election in order to keep her from talking about their purported personal relationship.
Trump's long-time attorney-turned-state's witness Michael Cohen went to prison for facilitating the illicit transaction (along with other crimes) which experts believe violated campaign finance laws. Since his release in 2021, Cohen has vociferously demanded that Trump be held accountable for commanding the illegal payoff.
There is also burbling speculation that if Trump is indeed prosecuted in New York, a cascade of additional charges may be close behind. These include Fulton County, Georgia District Attorney Fani Willis' (D) investigation into Trump's attempts to overturn the 2020 election in her state as well as the United States Department of Justice's ongoing probes into the hoard of classified documents that Trump took to Mar-a-Lago from the White House toward the end of his term and Trump's ringleading of the January 6th, 2021 Capitol insurrection.

But Giuliani, whom Trump "ordered" to represent him for free, is insisting that Trump is an innocent victim of political persecution at the hands of Bragg and Jewish billionaire philanthropist George Soros, one of the right-wing's favorite boogeymen.
"Bragg in his office must have a, a thousand non-disclosure agreements, and plus this is a personal sexual situation. What about Bill Clinton? That wasn't worse? This guy allegedly, and I'm telling you, it's untrue as his personal friend. I'm gonna tell you categorically, she's lying, categorically, and I don't know why I'd say that all the time," Giuliani sniped. "I can tell you, and I can tell you personally why I know that she's a damn liar."
Trump "also recovered money from her. This is ridiculous. It's completely ridiculous," Giuliani continued. "It's a complete indication that Bragg – when he, uh, declared he wasn't gonna enforce the law – about half of them should have been dismissed. And meanwhile, let's not forget the fact that Manhattan has suffered under unbelievable levels of crime under this incompetent and communist."
Giuliani then referred to Bragg as a "Soros-paid-for piece of, I don't know what. This is the – this has gotta be the nail in the coffin of this DA."
Watch below or at this link.
Reprinted with permission from Alternet.