Amid Fox Election Scandal, Rising Calls On Twitter To Deport Rupert Murdoch
@next2godwin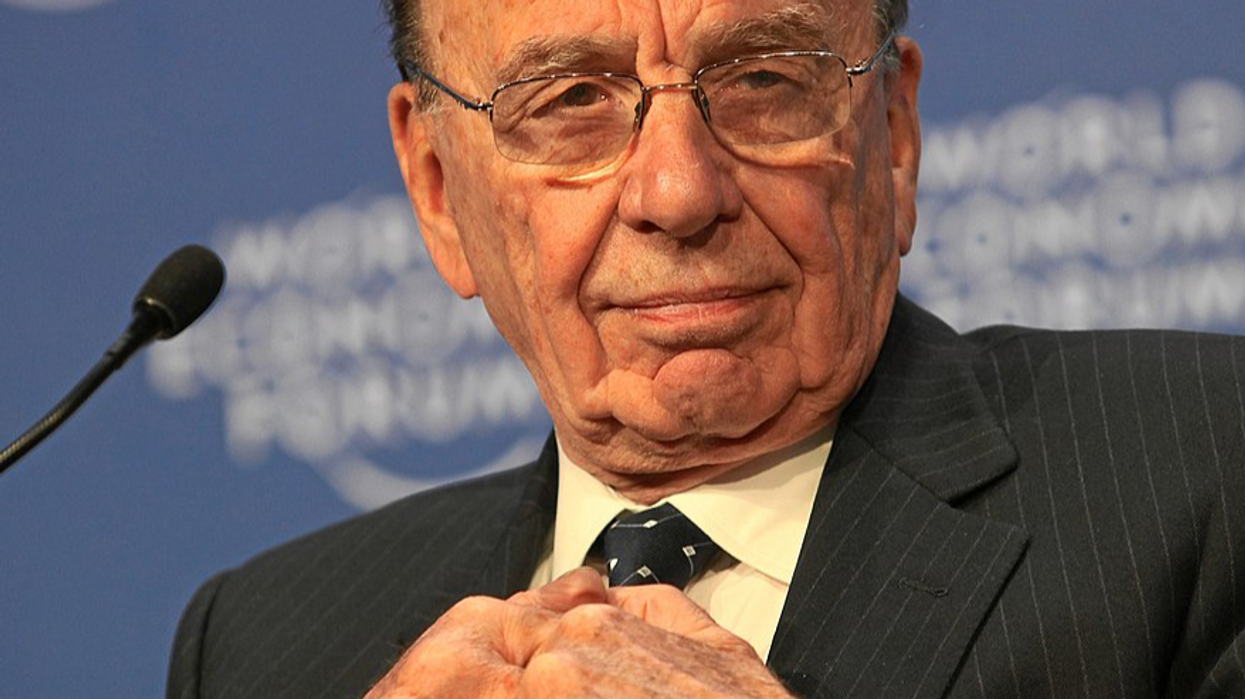 Days after a newly filed court brief unveiled, in painstaking detail, the duplicity of the Fox News network's coverage of the 2020 presidential election, calls have grown for its billionaire owner, Rupert Murdoch, to be deported.
Twitter users blasted Murdoch over the weekend after Dominion Voting Systems' bombshell brief Thursday showed the media mogul, along with his star hosts and executives at the right-wing network, broadcast baseless election fraud allegations they privately acknowledged weren't true.
According to Dominion, Fox News hosts Laura Ingraham, Tucker Carlson, and Sean Hannity repeatedly ridiculed then-President Donald Trump and his allies for alleging without evidence that the 2020 election was stolen — false charges the hosts simultaneously peddled on air at the time.
As of Sunday, neither Fox nor the New York Post — two arms of Murdoch's media empire — had reported on the damning revelation. On Friday, the Murdoch-owned Wall Street Journal branded Dominion's $1.6 billion lawsuit a "case [that] primarily centers on false theories pushed on Fox programs by associates of [Trump]." The report named Carlson and Ingraham twice and glossed over Hannity altogether.
What all three news outlets have done in copious amounts since President Joe Biden took office, however, is rail against his administration's immigration policies.
Anti-Immigration Trio
Fox, for example, has published over 40 reports on "border security" since Monday, February 13, a search on its website for the keyword showed.
In one of his late-night shows last July, Carlson blasted the Immigration and Nationality Act of 1965. This decades-old federal law eliminated a quota system limiting the number of people from a nation who could migrate to the United States.
Ranting about a George Soros-linked organization he said was "helping young border crossers avoid deportation," Carlson asked, "Why is some foreign-born billionaire allowed to change our country fundamentally?"
"Actually, Tucker, the bigger question is whether or not you remember who signs your paychecks," Rolling Stone's Kat Bouza wrote at the time.
Carlson's boss, Murdoch, is an Australian-born entrepreneur. He became a naturalized U.S. citizen in 1985 to bypass an American law that barred foreign nationals from owning more than 20 percent of an American broadcasting license.
Murdoch and Carlson secretly ridiculed Trump's voter fraud claims, which hit the airwaves even before election night was over, the New York Times reported Thursday.
Ratings Over Facts
In private communications, Carlson called Trump, the peddler-in-chief of the Big Lie, a "demonic force who excels at "destroying things."
"He's the undisputed world champion of that. He could easily destroy us if we play it wrong," Carlson wrote, according to TheGuardian.
"Terrible stuff damaging everybody, I fear, " Murdoch wrote to Fox News CEO Suzanne Scott after watching an unhinged press conference by Trump lawyers Rudy Giuliani and Sidney Powell on November 19, 2020.
Murdoch, text messages in Dominion's filing further showed, thought the fraud allegations were "really crazy stuff" and that it would be "very hard to credibly claim foul everywhere," reported the Washington Post.
Ingraham called Powell "a complete nut," while Carlson branded the "Kraken" attorney an "unguided missile" and "dangerous as hell."
Other top executives of the network shared Murdoch's view of the false fraud claims but, like their colleagues, kept mum about the truth for fear of losing viewers to nascent far-right news channels publicly endorsing the baseless claims of fraud.
Bill Sammon, the network's Washington bureau chief at the time, privately remarked on Fox's 2020 election coverage, writing, "It's remarkable how weak ratings make good journalists do bad things."
In a brief filed Thursday, Fox said Dominion had "cherry-picked quotes stripped of key context" to buttress what it said was the voting machine maker's flawed view of defamation law.
"There will be a lot of noise and confusion generated by Dominion and their opportunistic private equity owners, but the core of this case remains about freedom of the press and freedom of speech," the network said.
'Denaturalize And Forcibly Deport'
The revelation has, nevertheless, spurred calls for the U.S. government to deal Murdoch the same hand that his news organizations have advocated for other less-powerful immigrants.
"Denaturalize and forcibly deport: [Rupert Murdoch]. §1481.(7) ...violating section 2384 of title 18 by engaging in a conspiracy to overthrow, put down, or to destroy by force the Government of the United States," a Twitter user wrote on Friday.
Several others in the Twitterverse had echoed the call.