Santos Expulsion Resolution Will Test Mike Johnson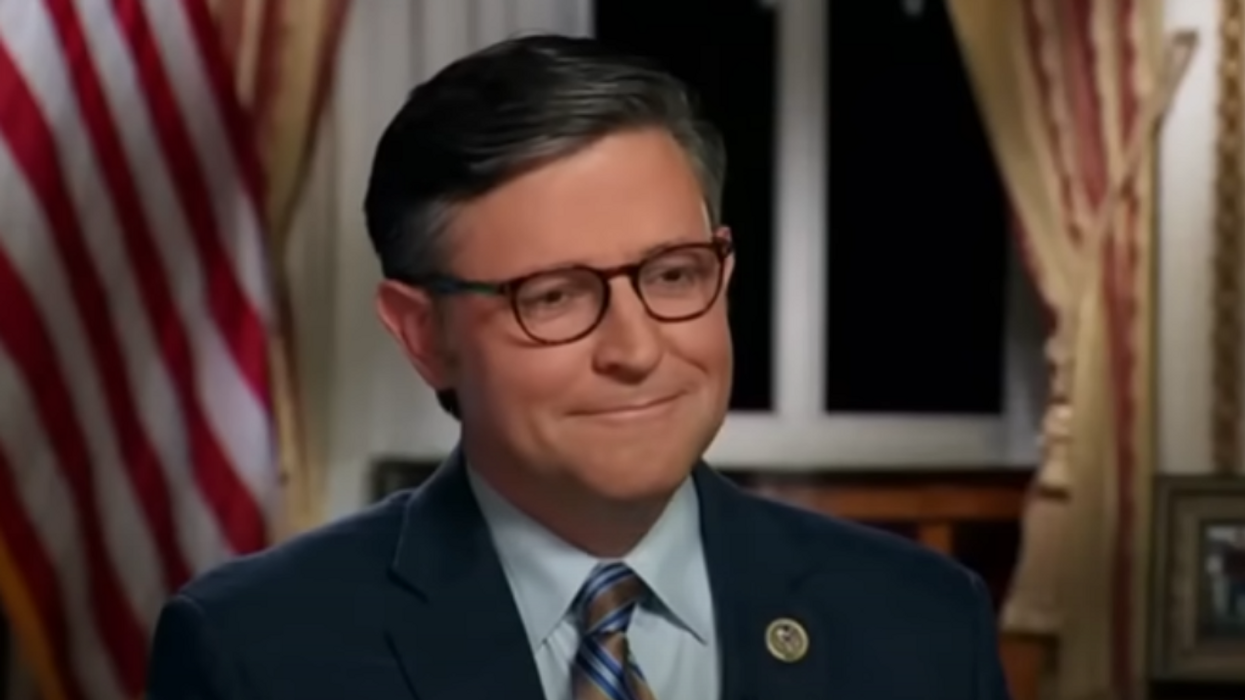 Following the release of the House Ethics Committee's damning report detailing the alleged actions of U.S. Rep. George Santos, largely focused on using at least tens of thousands of dollars of campaign cash for personal purchases, the Republican Ethics chair on Friday filed a resolution to expel the freshman New York Republican congressman. It sets up what will become a test of House Republican Speaker Mike Johnson and his leadership team – especially House Republican Conference Chair Elise Stefanik, who strongly backed Santos from the start – and their desire and ability to put ethics over politics and power.
The stakes for Johnson are simple: his three-vote majority is already razor-thin. Former Speaker Kevin McCarthy made clear Santos would be allowed to stay as long as possible. Will Johnson direct his leadership team to actively whip to expel Santos, knowing his majority will slip even further?
"Santos must be held accountable to the highest standards of conduct in order to safeguard the public's faith in this institution," the resolution, filed Friday by Ethics Committee Chairman Michael Guest (R-MS) reads.
To expel Santos, a two-thirds majority is needed. Assuming all House Democrats are present and vote to expel, 77 Republicans would also have to vote for the expulsion resolution, as The New York Times noted November 1 when an effort to expel Santos "failed decisively…after a group of lawmakers from Mr. Santos's home state could not persuade nearly enough of their colleagues that his admitted lies and federal indictment were sufficient grounds to oust him."That vote failed by a 213-179 margin.
But Thursday's massive, and massively damning Ethics Committee report, has started to convince at least a few Republicans who voted against expelling Santos less than three weeks ago that there is now enough evidence to vote yes.
And while House Republican Speaker Mike Johnson's office issued a statement calling the Ethics Committee's report "troubling," asPunchbowl News reports, it's been crickets from the Speaker himself, and even less from his House GOP leadership team, including Majority Leader Steve Scalise, Majority Whip Tom Emmer, and most notably, Republican Conference Chair Stefanik, who not only strongly endorsed Santos, she reportedly was "laser-focused" on getting him elected and even fundraised for her fellow New York Republican.
But other Republicans, like Rep. Warren Davidson (R-OH), are "undecided."
Speaking about the allegations in the Ethics Committee's report, Rep. Davidson told CNN Thursday, "I haven't heard them or read them all myself. But I will say primarily this is between George Santos and the people that sent him here. And I imagine there's probably mixed feelings in his own district."
The Ethics Committee report painted a picture of man who redirected donor funds from campaign accounts to his personal accounts, spending lavishly on expensive dining and shopping trips to cosmetics retailer Sephora, French high-end fashion house Hermès, and Italian luxury fashion house Ferragamo. Donor cash was reportedly also used at spas and casinos, and to pay for luxury vacations, to pay his rent, to pay for Botox, to pay for parking, to pay his credit card bills, and to pay OnlyFans, a subscription and pay-per-view site that streams videos created by sex workers, musicians, artists, and physical fitness experts.
The New York Times on Thursday detailed what it called Santos' "post-election shopping spree," just part of the "tens of thousands of dollars or more" he "siphoned from unknowing donors."
"Over just a few days last November, Mr. Santos dropped $6,000 at Ferragamo, perhaps some of it on the red designer sneakers he later wore to walk the marble halls of Congress. He withdrew $800 in cash at a casino, where an aide said he liked to play roulette. He paid off his rent, and he pulled out another $1,000 in spending money at an A.T.M. near his apartment in Queens," the Times' Nicholas Fandos wrote. "It would have been nothing for the kind of wealthy financier Mr. Santos purported to be on the campaign trail. But that was a ruse. All of it was being illegally funded by Mr. Santos's congressional campaign, which wired him $20,000 just after Thanksgiving without ever telling campaign donors or the Federal Election Commission."
Speaker Johnson's spokesperson on Thursday in a statement said, "Speaker Johnson encourages all involved to consider the best interests of the institution as this matter is addressed further."
But when the House returns after Thanksgiving, and the resolution to expel comes up for a vote, it will be one thing for the Speaker to tell members to "consider the best interests of the institution," and another to use his power to convince his caucus to expel Santos.
Reprinted with permission from Alternet.