New Book: Sean Hannity Wrote Trump 2020 Campaign Ad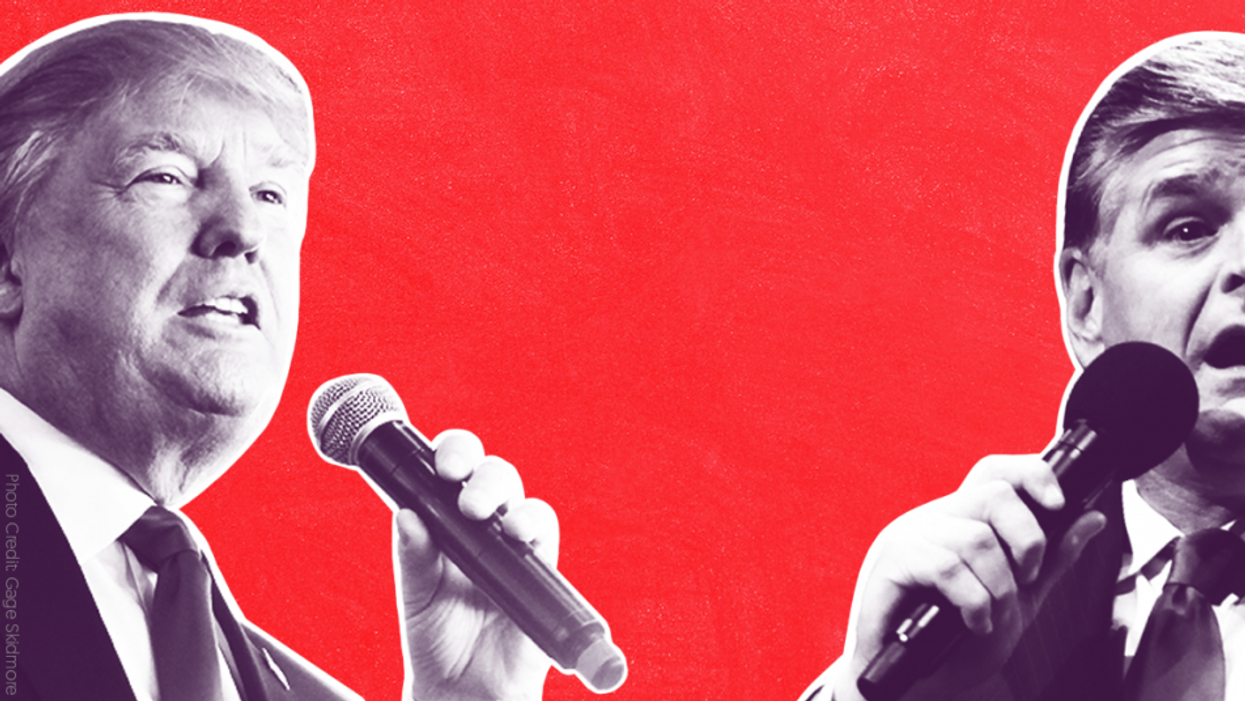 Photo by Media Matters
Reprinted with permission from Media Matters
Fox News host Sean Hannity's role as an off-the-books political operative to former President Donald Trump extended to writing copy for one of the Trump campaign's commercials, according to a new report.
Mike Bender, the Wall Street Journal''s senior White House reporter, reports that Hannity played a role in scripting a Trump campaign ad in his forthcoming book, Frankly, We Did Win This Election: The Inside Story Of How Trump Lost. According to a write-up in PunchBowl News, "The ad was known in the Trump campaign as 'the Hannity ad' and 'the one Hannity wrote,'" and Bender describes internal Trump campaign emails which "referred to the spot simply as 'Hannity'" or "the 'Hannity-written' spot."
The ad, like Hannity's show during the campaign, is a semi-coherent mashup of pro-Trump and anti-Biden talking points that lacks a clear narrative.
And indeed, according to Bender, the ad was widely mocked within the Trump campaign and aired only once, on Hannity's program, at a cost of $1.5 million.
Hannity vaguely denied writing the ad copy, telling Bender, "The world knows that Sean Hannity supports Donald Trump. But my involvement specifically in the campaign -- no. I was not involved that much. Anybody who said that is full of shit."
It's hard to know what to think about a statement like this from a notorious liar. But one reasonable interpretation is that this helps to establish an outer bound for the type of political behavior Hannity thinks his employer would let him get away with. The statement suggests that he believes that Fox would have a problem with him openly accepting responsibility for writing one of the former president's campaign ads.
This is, of course, an absurdly low bar for a cable news host. But as I noted last year, Hannity regularly violated basic tenets of journalistic ethics throughout the Trump years, with the network brass either ignoring his behavior or offering slaps on the wrist:
2016: Amid a presidential campaign that saw Hannity actively using his show to boost Trump's candidacy and promoteunhinged conspiracy theories about his opponent, Hillary Clinton, Hannity endorsed Trump in a promotional video for his campaign, leading to a stern statement from Fox.
2017: Hannity triggered an advertiser exodus and internal dismay when he tried to defend Trump against reports linking his campaign to Russian interference in the 2016 election by championing the Seth Rich conspiracy theory.
2018: Profiles in The Washington Post and New York magazinedetailed the scope of Hannity's White House influence and regular conversations with Trump. He was revealed as a secret client of Trump's longtime lawyer Michael Cohen, a fact the Fox host had not disclosed in his commentary on Cohen's case. And he appeared on stage and spoke at a Trump political rally on the eve of the 2018 midterm elections.
2019: Hannity was a central figure in the Ukraine disinformation plot that triggered Trump's impeachment by the House of Representatives.
2020: Documents uncovered by BuzzFeed News showed that Hannity had served as a backchannel between Trump and his associates under investigation during special counsel Robert Mueller's probe.
Since then, Fox has become even less ethical and more propagandistic. The network hired a slew of former Trump administration officials. The list includes 2024 presidential hopeful Mike Pompeo, as well as the former president's daughter-in-law, would-be Senate candidate Lara Trump. One Fox contributor, Newt Gingrich, is working with Trump to develop the GOP's policy agenda for the 2022 elections.
But taking ownership of a campaign ad appears to still be a step too far.