Sotomayor Laments 'Stench' Created By Right-Wing Partisans On High Court
@alexvhenderson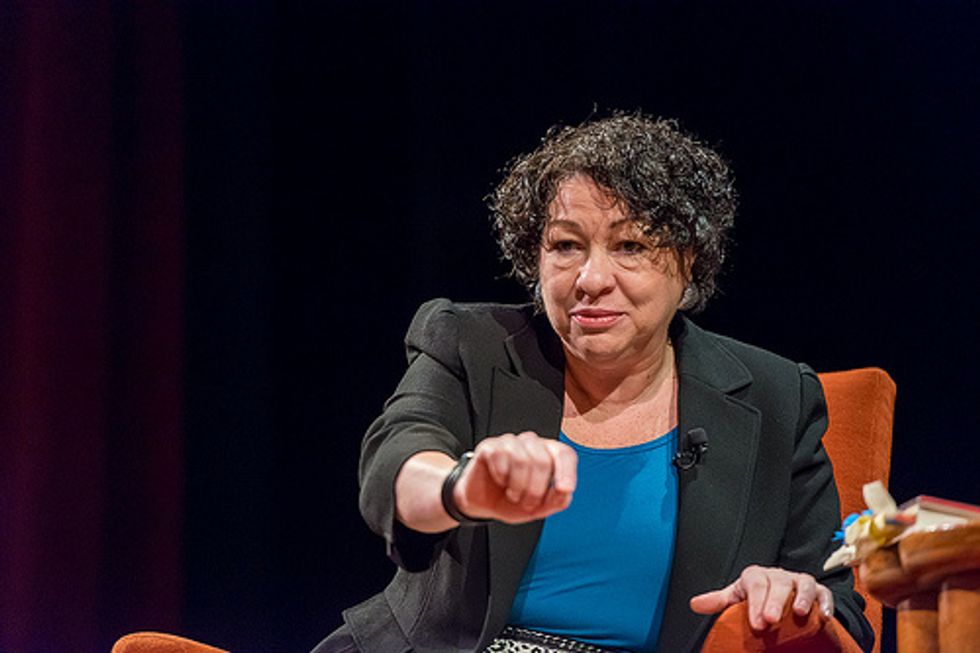 Photo by Gage Skidmore licensed under CC BY-SA 2.0
Reprinted with permission from AlterNet
This week, the U.S. Supreme Court is hearing oral arguments in Dobbs v. Jackson Women's Health Organization and examining the constitutionality of Mississippi's highly restrictive abortion law. Abortion rights defenders fear that the case will result in Roe v. Wade being overturned. Justice Sonia Sotomayor, speaking on Wednesday, was highly critical of the Mississippi law's supporters — expressing concerns that the Supreme Court will be viewed as overly politicized.
Justices appointed by Republican presidents now have a 6-3 majority on the High Court, and Sotomayor is among the three justices appointed by Democratic presidents. The Court moved even more to the right in 2020 when liberal Justice Ruth Bader Ginsburg died and was replaced by Justice Amy Coney Barrett, a Donald Trump appointee. The two other right-wing justices Trump appointed during his presidency are Justice Brett Kavanaugh and Justice Neil Gorsuch.
Sotomayor, appointed by President Barack Obama in 2009, pointed to the fact that the new case is driven by political expediency and as the culmination of a carefully crafted agenda, rather than being the result of a particularly pertinent legal question or a new set of circumstances.
"Now, the sponsors of this bill, the House bill, in Mississippi said: We're doing it because we have new justices," she explained. "The newest ban that Mississippi has put in place, the six-week ban, the Senate sponsor said: 'We're doing it because we have new justices on the Supreme Court.' Will this institution survive the stench that this creates in the public perception that the Constitution and its reading are just political acts? I don't see how it is possible."
Sotomayor says the sponsors of Mississippi's 15-week abortion ban said "we're doing it because we have new justices." \n\nShe asks: "Will this institution survive the stench that this creates in the public perception that the Constitution and its reading are just political acts?"pic.twitter.com/T2MmA56ddf

— Mark Joseph Stern (@Mark Joseph Stern) 1638372172