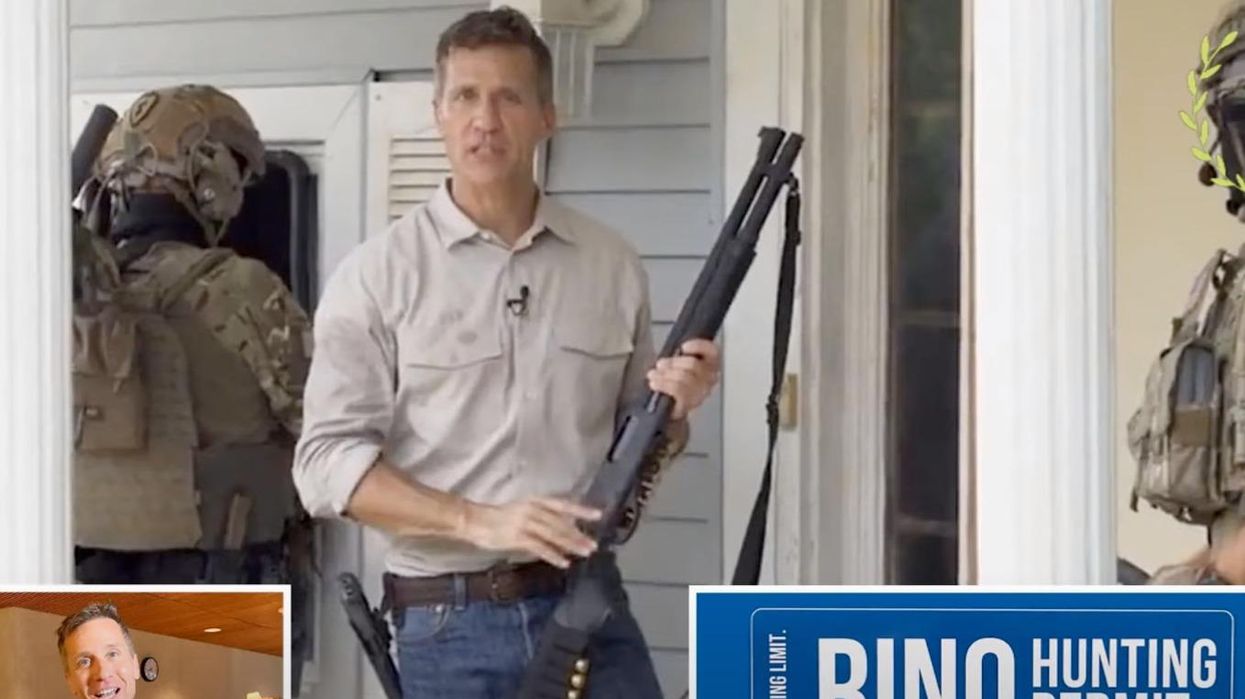 If you want to know where the Republican Party has going, there's been one guiding light since 2016. Not Donald Trump … former Missouri Gov. Eric Greitens. And here is where Greitens' is going today.
Greitens: "Today, we're going RINO hunting. The RINO feeds on corruption is marked by the stripes of cowardice. Join the MAGA crew get a RINO hunting permit. There's no bagging limit, no tagging limit, and it doesn't expire until we save our country."
The video that accompanies this has to be seen to be believed and yes, trigger warning barely seems to cover it.

Facebook has removed the Eric Greitens video:

Meta spokesperson: "We removed this video for violating our policies prohibiting violence and incitement."
— Donie O'Sullivan (@donie) June 20, 2022
In 2016, Eric Greitens ran a campaign entirely focused on shooting things. Shooting things. Shooting more things. And also blowing up things. Seriously, this was Greitens' first campaign ad and it was by far the least offensive. From there, the guns, explosions, and promise of violence only went up.
Greitens, who had never held any sort of public office, went on to win the Missouri gubernatorial election by a large margin over Chris Koster, a moderate Democrat who had been the Missouri Attorney General and a state senator. Then, a year after taking office, Greitens had to resign in disgrace after finding himself charged with felony invasion of privacy "over allegations that he sexually assaulted a woman he was having an affair with, tied her up, took photos of her, attempted to blackmail her, and subsequently participated in publicly humiliating her."
Yeah, that. Subsequently, Greitens' ex-wife—the one he was cheating on when he did all of the above—has claimed she has documentary evidence that he abused both her and their children.
In spite of all this, Greitens announced that he is running for Missouri Senate this year to replace the retiring Roy Blunt. And, because the world is the way it is, he is the leading candidate for the Republican nomination.
It would be easy to dismiss Greitens as some kind of backwoods idiot, waving guns around because he doesn't know anything else. Nope. This guy? He's a Rhodes Scholar. He wrote two books about the importance of caring for others, fighting genocide, and ending the use of landmines. One of his books opens with a foreword by Paul Rusesabagina, the central figure of Hotel Rwanda.
Until 2015, Greitens called himself a Democrat. But as the already malignant Tea Party movement metastasized further into MAGA, Greitens is one of those who jumped on board, spotting a ripe opportunity for self-promotion and profit. It's hard to say he's a hypocrite … because it isn't clear if that term can really be applied to a sociopath. Like Trump, Greitens loves the uneducated. Loves to feed them a stream of pseudo-strength and not-even-disguised fascist imagery.
And every time he has turned the dial toward a nightmare police state in which people are hunted down and summarily executed for failing to have the correct thoughts … he's been rewarded.
Reprinted with permission from Daily Kos.