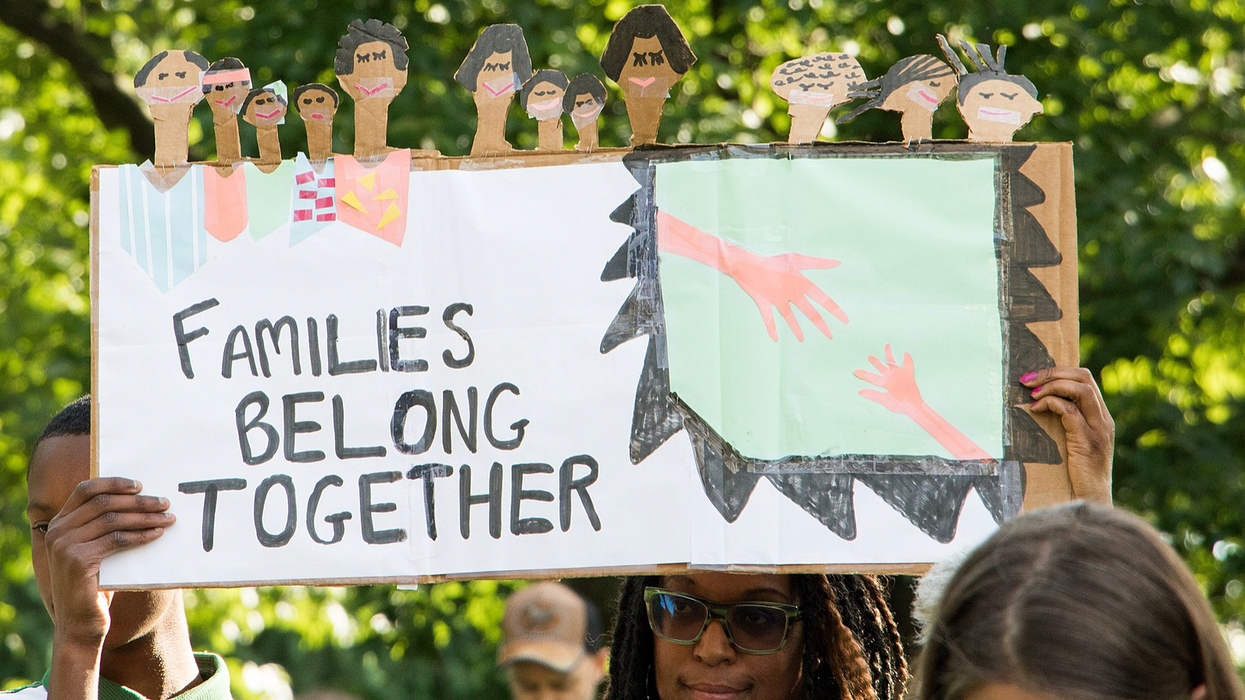 Reprinted with permission from Alternet
So far, Joe Biden's presidency has marked a return to the U.S./Mexico border policy of the Obama years. Biden and others in his administration have stressed that border security is a priority but firmly rejected the widely criticized policy of separating families at the border that former President Donald Trump installed. Biden's change in policy, according to reporting by the Daily Beast's Scott Bixby and CNN's Kate Bolduan this week, is reflected in the reunion of some families that were separated at the border under Trump's presidency.
"Nearly three years to the day after the Trump Administration first forcibly separated thousands of undocumented parents from their children in order to discourage others from seeking asylum," Bixby reports, "the Department of Homeland Security has begun reunifying families torn apart by the policy — four families, to be exact, with a few dozen more expected in the coming weeks."
Bixby points out that the Trump Administration's "zero tolerance" policy at the U.S./Mexico border resulted in "an estimated 5500 families" being separated.
According to Bixby, "Advocates warn that it may take years to reunite parents and children separated by the policy — and could add to the rising crush of undocumented people seeking to enter the United States via other means. The Biden Administration announced, in February, that it was creating a task force in charge of reuniting families separated under 'zero tolerance' and other Trump-era initiatives intended to discourage migrants from coming to the United States."
On Monday, Alejandro Mayorkas — secretary of the U.S. Department of Homeland Security — announced, "The Family Reunification Task Force has been working day and night, across the federal government and with counsel for the families and our foreign partners, to address the prior administration's cruel separation of children from their parents. Today is just the beginning. We are reuniting the first group of families; many more will follow, and we recognize the importance of providing these families with the stability and resources they need to heal."
On CNN, Bolduan reported Wedneday that one of the Biden-era reunions had taken place in Philadelphia — where a Honduran mother who arrived at the border with her two sons in 2017 was reunited with them. The woman was deported from the U.S. and separated from her sons, and they have been staying with extended family. In Philadelphia, the sons saw their mother for the first time since the separation.
Bolduan discussed that reunion with Lee Gelernt, deputy director of the ACLU's Immigrants Rights Project.
Speaking to Bolduan from Philadelphia, Gelernt said of the reunion, "I almost don't have the words to describe it. It was so emotional, really just gut-wrenching, these boys hugging their mother for what seemed like an eternity — all of them sobbing, the extended family sobbing…. If you could see this family and the hardship they had gone through — and then, the joy in being reunited. That's what it's ultimately all about."
Bolduan pointed out that when the Honduran woman was separated from her sons, they were teenagers. One was 14, the other 15; now, they are both in their late teens.
Gelernt told Bolduan, "I think anybody who has teenage sons — you know, these were 14- and 15-year-olds — knows how difficult a period that is. These boys came to another country, to another culture, had to learn a new language. And they had to navigate all of that without their mother. It's just unimaginable. They've stayed strong, and for them to see their mother was just unbelievably joyous."
Bolduan asked Gelernt what will happen to the family now that they have been reunited, to which the ACLU attorney replied, "So, she will be allowed to stay for a minimum of three years with work authorization. But the more important thing is the ACLU is negotiating with the Biden Administration for far more than that. It's not enough just to reunify these families; we need to get them compensation. We need to get them social services, including mental health services. And we need to get them legal permanent status."
Gelernt added, "We'll never make these families whole again, but we need to try at least try — and that's the minimum. So, these are the first four families. It's a long haul."
Watch the video below:
CNN/Family separationwww.youtube.com