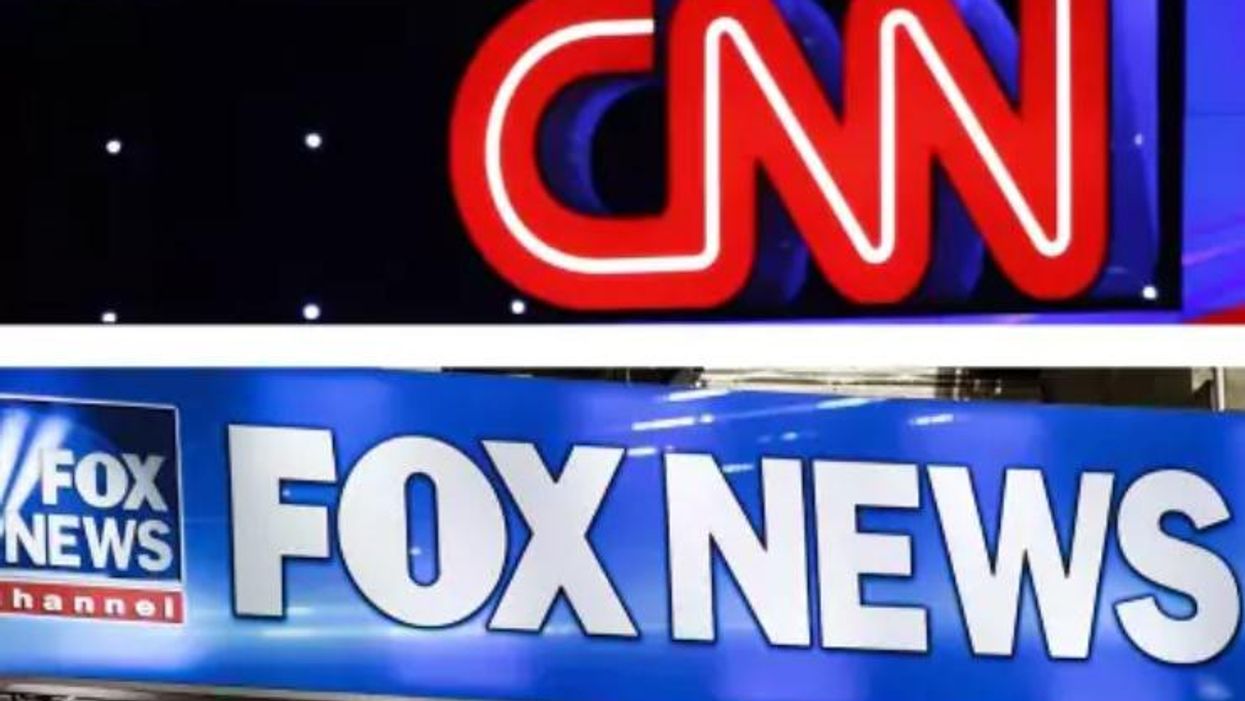 CNN hosts haven't been shy about bashing Fox News, which has given them plenty of material to work with — whether it's Laura Ingraham promoting the nonsense conspiracy theory that Antifa leftists attacked the U.S. Capitol Building on January 6, 2021 or Tucker Carlson praising authoritarians like Russian President Vladimir Putin and Hungarian Prime Minister Viktor Orbán. But according to Daily Beast reporters Lachlan Cartwright, Justin Baragona and Zachary Petrizzo, CNN is seeking a "truce with Fox News" under its new president, Chris Licht.
In a Source Material column published on March 8, the Beast reporters explain, "In recent years, CNN has become known for its forceful coverage of Fox News and its partisan talking heads who've played enormous roles in influencing former President Donald Trump and the right-wing media ecosystem that supports him. In turn, Fox News has returned the favor, often attacking CNN stars — sometimes with potshots about their physical appearances."
But Licht, according to Cartwright, Baragona and Petrizzo, is seeking more reporting and less commentary at CNN — and less commentary means less Fox News-bashing.
"New CNN honcho Chris Licht doesn't actually start until May, but ever the savvy 'operator,' he has already begun backchanneling with key figures, including agents and reporters, and, according to two insiders familiar with the matter, making it known to Fox News that he is working towards a cease-fire on his network's aggressive coverage of them," the Beast journalists report. "On Sunday, (March 6), there were notably no mentions of Fox News on CNN's marquee media show, 'Reliable Sources,' hosted by Brian Stelter, who last year, penned a New York Times Best Seller titled 'Hoax: Donald Trump, Fox News and the Dangerous Distortion of Truth.'"
Russia's invasion of Ukraine, according to according to Cartwright, Baragona and Petrizzo, has underscored CNN's expertise when it comes to hard news reporting — and Licht wants CNN to move more in that direction.
"According to two people familiar with the situation, the former 'Late Show' boss — who has been described to Source Material as an intense 'social climber' by several people who've watched his star rise over the years — will work to tone down the often opinionated and emotional reporting from stars like Jim Acosta, Brianna Keilar, and especially Don Lemon, who currently hosts the network's ratings-deficient 10 p.m. to midnight programming. The Russian invasion of Ukraine has demonstrated CNN's prowess — rivaled only by that of the BBC — for hard-news-gathering during major news events. Under Licht, expect to see more boots-on-the-ground reporting and fewer partisan panels with talking heads like former Trump staffer Alyssa Farah."
Indeed, Clarissa Ward's hard news reporting for CNN from Ukrainian cities during the Ukraine/Russia conflict has been stellar.
Since his departure from Fox News, Chris Wallace has been part of the CNN+ team — and the Beast journalists report that Wallace's name is "being floated internally" at CNN "to take the key 9 p.m. slot" formerly occupied by Chris Cuomo.
"Licht may look externally to make a splashy new hire," according to Cartwright, Baragona and Petrizzo. "One name that continues to pop up is Brian Williams, who revived his career at MSNBC before exiting last year and is looking for one final act, according to two people familiar with his thinking. It would be quite the comeback for Williams, who has always had his sights set on a nighttime talk show — and who better to orchestrate such a move than Licht, who reworked Stephen Colbert's show and took it to first place in the late-night ratings."
Reprinted with permission from Alternet